Tutor in Newport grade-fixing scandal free after posting $200,000 bail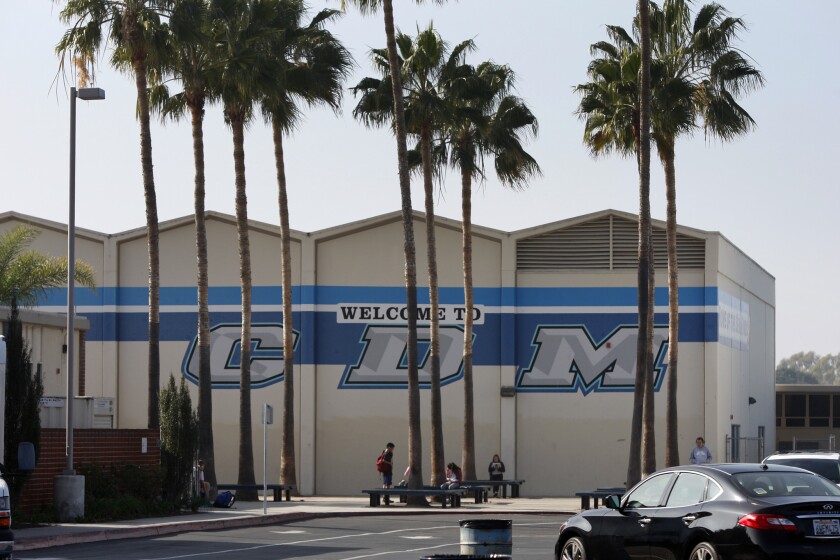 A tutor who authorities say led a cheating ring at a top-performing Orange County high school has been freed after posting $200,000 bail, and his arraignment has been postponed.
Timothy Lance Lai was arrested Monday at Los Angeles International Airport, months after officials said he fled the country as a cheating scandal at Corona del Mar High School came to light. Lai had been a tutor for students at the school, many of them college-bound honors students.
Dressed in jeans and a T-shirt, Lai was arrested in an airport parking lot and held on suspicion of second-degree commercial burglary and four felony counts of computer access and fraud.
The cheating scandal led to the expulsion of 11 students and the resignation of a district administrator who said officials mishandled the case.
Lai is accused of helping the students obtain the passwords and log-on information of teachers in order to hack into the district computer system to change the students' grades and access exams.
Authorities say he instructed students to insert a USB device into two teachers' computers, recording the instructors' keystrokes. He is accused of accessing the school's network from April 1, 2013, to June 14, 2013, using the information from the devices and changing the grades of three students.
School officials also assert that Lai provided students with English, science and history exams, some at the honors and Advanced Placement levels. Parents of students at the school said Lai profited from the school's culture of high academic achievement, charging upward of $45 an hour for his services.
On June 14, 2013, officials said, one of the teachers discovered that some grades had been changed and contacted school administrators.
Police said they were able to identify Lai and 12 students suspected of involvement in the alleged scheme. Officers searched Lai's home the next day, but he was gone, officials said.
"We have not had any contact with him before today," Newport Beach police spokeswoman Jennifer Manzella told The Times on Monday after Lai's arrest.
Authorities seized four USB thumb drives, several electronic devices, a cellphone, a notepad bearing students' names, a notebook containing multiple tests with a female student's name written on it, schoolwork, routers and several exams, according to the property report attached to the search warrant in the case.
Though prosecutors charged Lai with changing the grades of three students, 11 were expelled from the school in January in the aftermath of the scandal.
Jane Garland, the administrator who resigned and was deeply involved in the case for months as Newport-Mesa Unified School District's head of discipline, said the district mishandled the investigation and ignored her recommendations to give the students a lighter punishment or heed warnings that the problem might be more far-reaching.
If convicted, Lai faces a maximum sentence of five years and eight months in prison.
For more breaking news, follow @HannahFryTCN and @AdolfoFlores3 on Twitter
---
The perils of parenting through a pandemic
What's going on with school? What do kids need? Get 8 to 3, a newsletter dedicated to the questions that keep California families up at night.
You may occasionally receive promotional content from the Los Angeles Times.