California's travel ban against anti-LGBT states is keeping athletes from games and students from conferences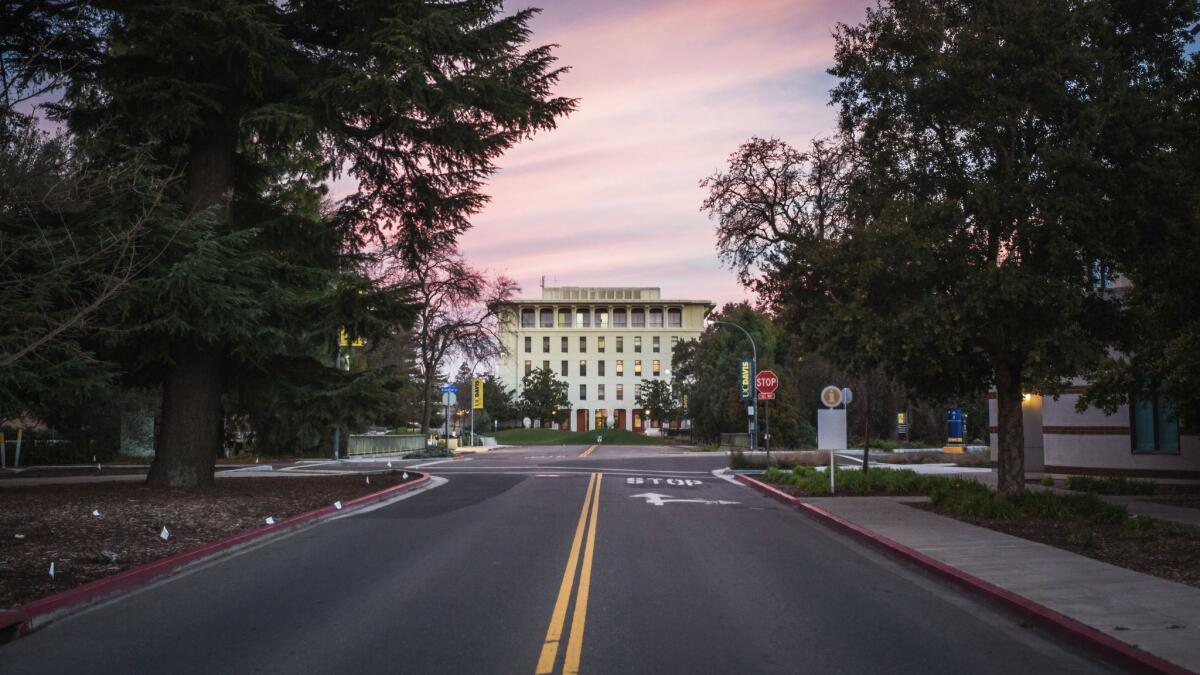 UC Davis senior Acacia Keith was excited to present her research on the anti-abortion movement at what would have been her first national conference this spring.
The Council on Undergraduate Research conference, which showcases work by more than 3,000 undergraduates, is considered a premier opportunity to make an academic mark and network for jobs and graduate programs. UC Davis was going to pay for Keith to travel there.
But there's a problem. The conference is being held this year at the University of Memphis in Tennessee. A new California law bans state-funded travel to states that discriminate against the LGBT community. And the California attorney general has listed Tennessee as one of them, along with Kansas, North Carolina and Mississippi.
At least 18 students at UC Davis, UC Santa Barbara and Cal State Long Beach planned to attend the Memphis conference with their trips paid by the state schools. More than 100 Californians were selected for the April gathering, but Elizabeth Ambos, the council's executive director, could not say how many attended public universities that are subject to the law.
The law also has led to the cancellation of preliminary talks between UC Berkeley and the University of Kansas for a men's basketball series, the Lawrence (Kan.) Journal-World reported.
Kansas is on the banned list because it adopted a law last year that allows campus religious groups to exclude LGBT students and faculty from membership.
Tennessee was included because of a 2016 law that allows allows therapists and counselors with "sincerely held principles" to reject LGBT clients.
At UC Davis, people have been trying to work out how they feel about the new law, which took effect Jan. 1.
Naomi Janowitz, a UC Davis religious studies professor, said faculty members and students have discussed whether the undergraduates should attend the Memphis conference even if they could raise private funds for the trip. At one point, she said, they read the Rev. Martin Luther King Jr.'s "Letter from a Birmingham Jail" to reflect on his words that injustice anywhere is a threat to justice everywhere.
Faculty members are leaving the decision to their students, who planned to present research on the shifting rhetoric of the anti-abortion movement; Christian prayer and Buddhist meditation; environmentalism among Roman Catholics and Southern Baptists; and a new museum in Israel.
Keith, a political science and religious studies major, has decided not to attend even though she has prepared for the conference for more than nine months. She said her determination to stand against anti-LGBT bias far outweighs her disappointment at forgoing the big opportunity.
"I don't want any funding on my behalf from the state, my parents or grandparents to go to a state like Tennessee that discriminates against LGBT people," she said. "It was a very easy decision to make."
But Mark Rivera, a UC Davis senior majoring in religious studies and cognitive science, said he wants to attend if he can find funding. He said it was more important to talk with people with different values than to shun them — especially at a time of such political polarization.
"The law is a juvenile but well-intended reaction to a real problem," Rivera said. "Instead of discouraging travel to supposedly backward places, we should encourage travel; otherwise, campuses will become more insular and make the problem worse."
At Cal State Long Beach, after many conversations with administrators, President Jane Close Conoley decided the campus would encourage its students selected for the conference to pursue research and support their academic success. The school is now looking into fundraising and the possibility of using research money for the roughly $7,200 it needs to send its 12 selected students to the conference, as long as that presents no legal problem, said university spokeswoman Terri Carbaugh.
Those students' research topics include the academic success of Cambodian American students, pocket parks in urban planning, and nutrition and food science.
"Cal State Long Beach absolutely endorses the spirit of the law — that everybody in our state is considered equal irrespective of your socioeconomic background, irrespective of who you love, irrespective of who you pray to," Carbaugh said. "We believe in this instance that having students participate in the research conference is really in line with the much larger spirit of sharing the knowledge that we have with as many people as we can."
Ambos, of the research council, said the University of Memphis was selected to host the conference three years ago — well before either the California law or the Tennessee law it singles out was passed. She said bids for future conferences would be evaluated in the context of the council's commitment to diversity and inclusiveness.
As for this year's California students, she said she felt "very regretful" that some would be missing out.
Both the council and the University of Memphis, she said, have pledged to provide the visiting undergraduates with a "welcoming, safe and inclusive environment for all."
The California law allows exceptions to the travel ban in certain situations, such as if visits are required by grants, litigation or contracts signed before Jan.1.
UCLA's football team, for instance, has one previously scheduled game at Memphis this fall but will not schedule further visits to any banned states and is "fully committed to promoting and protecting equity, diversity and inclusion," said spokeswoman Kathryn Kranhold.
The Cal State Long Beach baseball team will travel to North Carolina for a three-game series that was contracted before Jan. 1.
Carbaugh, the Cal State Long Beach spokeswoman, said the law could prove challenging to keep up with. Activities such as academic conferences sometimes are planned more than a year in advance, and a new state could join the banned list after travel arrangements had been made.
But that won't stop the university from embracing the law, she said. As with the conference in Memphis, school officials will take a hard look at how to handle each scenario as it arises.
"We're fully committed to following not only the letter of the law, but also the spirit of the law," she said. "We have no intention of supporting anything that doesn't share our values."
To read the article in Spanish, click here
ALSO
Grants go to charters and a traditional school to help teachers stay on the job
Orange Coast College suspends student who recorded professor's anti-Trump comments
USC closes in on $6-billion fundraising goal ahead of schedule
Sign up for Essential California for news, features and recommendations from the L.A. Times and beyond in your inbox six days a week.
You may occasionally receive promotional content from the Los Angeles Times.