U.N. monitor says L.A. lags behind other cities in attacking homelessness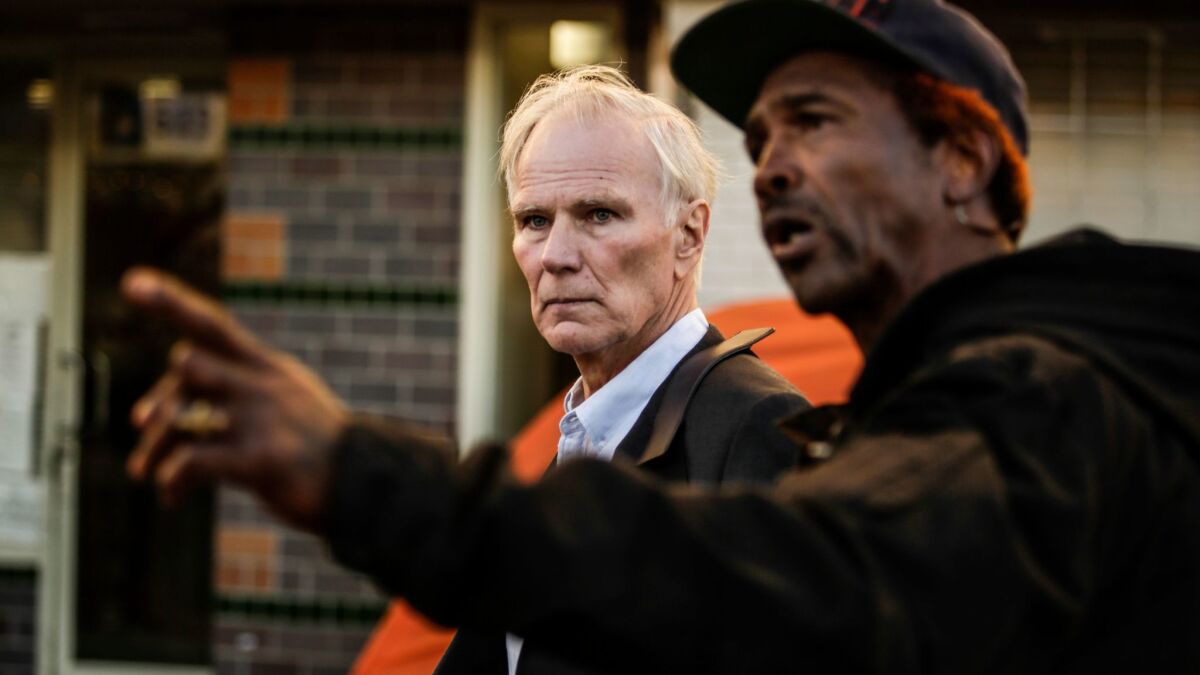 The United Nations' monitor on extreme poverty and human rights said Friday that political will created the hundreds of encampments that he saw lining the streets of Los Angeles, adding that the country is rich enough to end homelessness.
"But we don't want to put the money into it," special rapporteur Philip Alston, just off a two-week fact finding tour that included downtown L.A.'s skid row, said at a Washington, D.C., news conference. "We want to see homeless people as losers, a low form of life."
Alston, an Australian and law professor at New York University, also accused the Trump administration of promoting a "double whammy" of tax reform and welfare cuts that he said will "make the U.S. the world champion of extreme inequality," exacerbating the homelessness crisis.
"The social safety net is riddled with holes," Alston said, adding that if the administration achieves its goals, "it will essentially be torn apart."
Los Angeles is lagging behind other cities in attacking its homelessness problem, Alston said.
In his written report, the monitor was particularly scathing about what he described as an over-reliance by Los Angeles and other cities on criminalization to "conceal" homelessness. Los Angeles police made nearly 7,000 arrests of homeless people on skid row from 2011 to 2016, he said.
Sitting in public places, panhandling or public urination — in cities like Los Angeles that provide almost no public toilets — triggers citations that quickly turn into misdemeanors, warrants, jailings and "unpayable" fines and finally the stigma of a criminal conviction, he said.
"That in turn virtually prevents subsequent employment and access to most housing," Alston said.
Mayor Eric Garcetti's spokesman said he believes the way to solve the homelessness crisis is by focusing on housing and services — not citations and misdemeanor charges.
"That's why he is dedicating unprecedented resources to the construction of permanent supportive housing, and leveraging health and mental health services for people in desperate need," spokesman Alex Comisar said in an email.
Alston also assailed an "Orwellian side" to a database system used by Los Angeles and other cities to match homeless people to social services.
The system, a "pillar" of Garcetti's strategy, asks homeless people to give up "the most intimate details of their lives," including histories of medication theft or sex work, for a slim chance at landing a place to live, Alston wrote.
"According to some of my interlocutors, only a minority of those homeless individuals being interviewed actually acquire permanent housing" because of the statewide housing shortage, Alston said in his report.
While the head of the Los Angeles Homeless Services Authority said police cannot get at the sensitive personal data, homeless people fear disclosure, and pressure is building to let departments in. "Access by the police to the [data] is only one policy decision away," Alston said.
"What is made to appear as the intractability of the situation on skid row cannot be the case," he said in a phone interview after the conference. "You'll find other cities around the country have more integrated policies and are digging down deeper to find the root causes."
Alston was appointed special rapporteur by the U.N. human rights council to investigate whether persistent poverty undermines the human rights of the most vulnerable citizens in the United States.
During his trip, with stops in San Francisco, West Virginia and Alabama, he said he talked to poor and homeless people, state, local and federal officials, including Sen. Bernie Sanders (I-Vt.).
Alston said he found much good in the country, including wealth, a strong work ethic, innovative capacity and municipal officials and community groups determined to improve social protection for the poorest 20% of the people in their communities.
But the strong economy only made the contrast with squalor starker, he said.
In San Francisco, Alston said he watched police hustle homeless people off the streets with no place to go. In Alabama, raw sewage flowed into yards, forming cesspools and spurring the return of tropical diseases largely unknown in industrialized nations.
"Hookworm in Alabama," Alston said. "In the 21st century."
"I saw people who had lost all of their teeth because adult dental care is not covered by the vast majority of programs available to the very poor," Alston said in his report.
Alston's report and remarks addressed his initial findings, with a final report due out in the spring. The U.S. is not expected to face U.N. sanctions, but the report will be closely watched in Europe, as well as by the country's global foes, Alston said.
"No country wants to be seen adopting inhumane policies," he said in the interview. "Hopefully there will be some effort to improve the U.S.' standing internationally."
Alston said the United States is not unique in harboring "blind spots" about its shortfalls in achieving its own high ideals.
"What's different is this is largely a question of resources, and there are ample resources here," he said. "Now is the time with the economy booming to be precisely tackling these issues."
Twitter: @geholland
---
UPDATES:
5:50 p.m.: This article was updated with details from Alston's written findings.
This article was originally published at 12:45 p.m.
The stories shaping California
Get up to speed with our Essential California newsletter, sent six days a week.
You may occasionally receive promotional content from the Los Angeles Times.