U.N. monitor on extreme poverty tours skid row in L.A.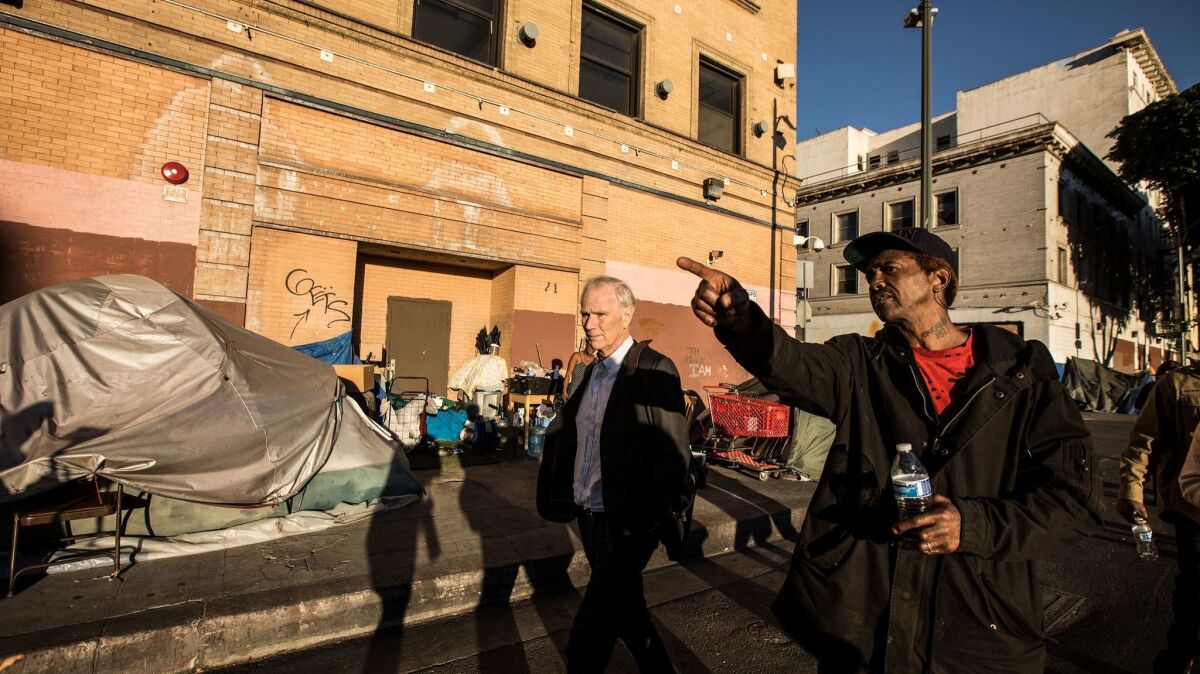 A ghostly chant of "Bill of Rights, Bill of Rights" drifted out of a sidewalk tent as the United Nations monitor on extreme poverty walked the streets of skid row as part of a national tour investigating human rights conditions for the poorest U.S. citizens.
Philip Alston, an Australian and a New York University law professor, got a full taste of the epicenter of L.A. homelessness last week, passing by a shelter courtyard with dozens of people bedding down on the concrete because there was no room inside.
He and his entourage veered into the street to avoid a shirtless man who lay groaning across a wheelchair, a colostomy bag showing below his shorts hem.
"I think it's on a scale I hadn't anticipated, block after block of people," Alston said at the tour's end. "When you see how concentrated it is, it's more shocking."
Alston was appointed by the U.N. human rights council as the special rapporteur on extreme poverty to investigate the plight of the most vulnerable people in the economic doldrums of the richest nation in the world. The two-week mission visited four states, with stops in Washington and San Francisco's Tenderloin district, another homeless enclave.
Los Angeles was the only two-day stop for Alston, who met privately with local government officials and civil rights lawyers, presided over a skid row town hall and walked its streets.
Alston said that because the United States — alone among big industrial nations — has consistently rejected access to housing and sanitation as essential human rights, he is probing whether economic disparities prevent poor people from exercising their full political and civil rights.
The U.S. is not expected to face sanctions if violations are found, but Alston said his recommendations will be closely watched. In his previous post as special rapporteur on extrajudicial killings, Alston drew international attention with a scathing report describing the Obama administration's drone war as a "vaguely defined license to kill."
"There is a significant international audience and other countries are watching," Alston said to open the town hall Wednesday. "They want to know if the U.S. is living up to its great standards as far as human rights."
Much of the town hall testimony focused on racism and what speakers described as the pervasive criminalization of poverty.
"The omnipresence of law enforcement induces fear in people already dealing with a high level of stress and trauma," said Danny Park, who runs a skid row pop-up cafe.
Alston's street ambassador for the tour was General Dogon, a skid row organizer with the Los Angeles Community Action Network, which hosted the town hall.
Dogon was highly critical of the city's approach to homelessness as he led Alston on a walking tour. He said the street cleanings were designed to harass homeless people, accused police of confiscating their belongings and said skid row enforcement was aimed at driving the poor out of downtown.
"But there's no place for people to go," said Dogon, who recommended the police budget be diverted to building low-cost housing on city-owned lots.
Alston acknowledged Dogon's street-level view was very different from what he heard in the halls of power.
"Politicians in any context are there to put a positive spin on what they're doing and to insist that existing problems are about to be resolved," he said. "That's all to be expected."
As Alston wrapped up the tour, a woman tried to give him some money "for your foundation."
"No, I couldn't take your money — you're very kind," Alston said. "I should be giving you money. Buy something good with it."
Alston plans to release his preliminary findings Friday, with a full report due in the spring.
Twitter: @geholland
ALSO
Up to 600,000 expected to apply when L.A. reopens Section 8 housing list this month after 13 years
California's housing costs are driving its citizens into poverty. Lawmakers need to act now
Getting affordable housing in L.A. shouldn't be like winning the lottery
The stories shaping California
Get up to speed with our Essential California newsletter, sent six days a week.
You may occasionally receive promotional content from the Los Angeles Times.