Urth Caffe owner hires lawyer to fight Muslim women's discrimination allegations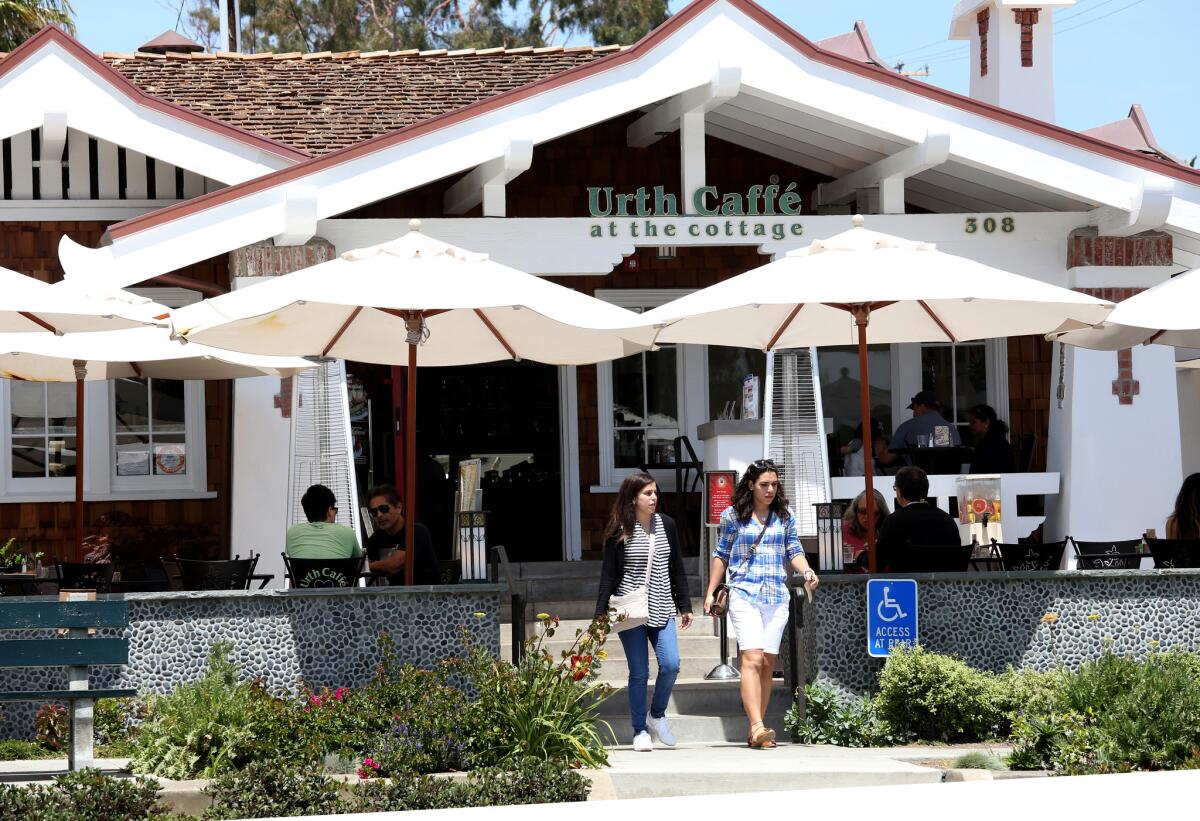 The owner of Urth Caffe has hired a law firm to counter allegations by a group of Muslim women that they were thrown out of his Laguna Beach restaurant because of discrimination.
Shallom Berkman confirmed Wednesday he retained the American Freedom Law Center after a civil rights lawsuit was filed by seven women this week in Orange County Superior Court. He did not offer details, referring questions to his attorneys. The law center has previously represented private businesses that have sought to create so-called "Muslim-free" zones.
David Yerushalmi, the law center's co-founder and senior counsel, called the women's lawsuit "a fraud and a hoax." He said the cafe's owners plans to countersue.
Join the conversation on Facebook >>
"The claim that these women were asked to leave the cafe because they were wearing hijabs is laughable," Yerushalmi said. "That night, as every Friday night, a large number of young people, including a majority who are Muslim and of Arab descent, make up the base of Urth Caffe's customers. Not surprisingly, many of these customers are women wearing hijabs. None of these other Muslim women were asked to leave."
According to the lawsuit, the women had gathered on April 22 to meet with friends when a manager interrupted them about 8 p.m. to ask if they were waiting for more orders.
The same manager returned before 8:15 p.m., saying he "expected a busy evening and needed to clear tables of patrons who had been seated for longer than 45 minutes," according to the lawsuit.
One of the women, Soondus Ahmed, said the alleged ouster "left us shaken, disrespected and shocked."
Her group was ushered out by two police officers after a manager said they had violated the eatery's policy allowing just a 45-minute stay during peak times. "We committed no crime, and it felt surreal that we were escorted out," the software engineer added.
Yerushalmi said the plaintiffs were asked "only to abide by the cafe's policy to give up their high-demand outside patio table after 45 minutes to allow other customers, including those wearing hijabs, to enjoy the experience." He said the cafe's security video showed long lines outside the restaurant door the night of the alleged incident.
On Friday nights, 90% of the cafe's customers are usually people of Arab descent or Muslims, Yerushalmi said, adding "why would Urth Caffe antagonize the basis of their customers?"
In Oklahoma, Robert Muise, co-founder of the law center along with Yerushalmi, represented the owners of a gun range sued by an Army reservist after they allegedly told him to leave when he identified himself as a Muslim.
The incident at the Save Yourself Survival and Tactical Gun Range in Oktaha involving Raja'ee Fatihah was later dismissed because the plaintiff could not prove discrimination, according to Yerushalmi. According to Fatihah's lawsuit, the gun range had posted a sign that said "Muslim-free." only.
"We've represented Muslims who were attacked in the past and we're representing a Muslim in this case," Yerushalmi said, alluding to Jilla Berkman, who co-owns the cafe with her husband. "The point is, we defend free speech. We are strong advocates of the 1st Amendment. There's a big difference between having a sign in an establishment" declaring that a business is "Muslim-free," which is protected speech, "versus outright discrimination based on race or religion. This case is wrong, and this case will come back to haunt them."
The cafe's hiring of Yerushalmi "proves our clients' case," said Mohammad Tajsar, lawyer for the plaintiffs, citing the Southern Poverty Law Center's labeling of the attorney as an "extremist" and "anti-Muslim activist."
"This individual has proposed outlawing Islam, advocating for deporting Muslims because he wants to protect what he considers the national character of the U.S. as a Judeo-Christian country," he said.
His clients said none of the other patrons appeared to be targeted on the night.
Sara Farsakh, another plaintiff, said the manager "came up to us and said it was rush hour," but around us, "there were at least 20 empty tables." Farsakh, a college student, said she had gone to the cafe once before with her husband without a problem.
All the plaintiffs live in Orange County or were born there. Six of the seven regularly wear a head scarf — or hijab — as "an expression of their religion," Tajsar said.
He cited a pattern "of neighborhood hate crimes against Muslims," including egg-throwing, tire slashings and racial taunts during March and April this year, even though the restaurant is popular with the large Muslim American population in Orange County as well as tourists and students visiting from the Middle East.
"These women were singled out and targeted" because Urth Caffe "chose not to make this location a welcome space," he said. His clients seek to end alleged discriminatory practices and to hold those responsible "accountable, so these incidents do not happen again." They are also seeking compensation for "loss of dignity."
Follow me @newsterrier
ALSO
Why a Malibu cave made famous by a Jim Morrison rumor is closing
El Niño rains added fuel to California's upcoming fire season, experts say
Raising smoking age to 21 should ease peer pressure on California's kids, backers say
Sign up for Essential California for news, features and recommendations from the L.A. Times and beyond in your inbox six days a week.
You may occasionally receive promotional content from the Los Angeles Times.