Why a Malibu cave made famous by a Jim Morrison rumor is closing
California State Park ranger Dexter Crowder watches trespassing artists leave Corral Canyon Cave after he issued a citation. The cave is better known by the misleading moniker, Jim Morrison Cave. It was closed to the public until further notice. Large crowds have shown up on a daily basis to see the vandalized cave and in some cases add to the vandalism with graffiti of their own.
(Allen J. Schaben / Los Angeles Times)
A woman puts more clothes on while California State Park ranger Dexter Crowder checks the identification of one of four artists whom he cited for violation of a superintendent's closure order at Corral Canyon cave in Malibu.
(Allen J. Schaben / Los Angeles Times)
Detail of graffiti painted on rocks at Corral Canyon Cave.
(Allen J. Schaben / Los Angeles Times)
California State Park supervising ranger D. Lindsey Templeton, right, watches fellow ranger Dexter Crowder, center, enter the Corral Canyon Cave to cite one of a group of four artists filming for violation of a superintendent's closure order at the cave.
(Allen J. Schaben / Los Angeles Times)
California State Park ranger Dexter Crowder, right, picks up trash and views newly painted grafitti after catching a group of four artists filming and issuing one of them a citation for violation of a closure order.
(Allen J. Schaben / Los Angeles Times)
California State Park Ranger Dexter Crowder climbs through "the birth canal" of the Corral Canyon Cave.
(Allen J. Schaben / Los Angeles Times)
Detail of a Doors lyric graffiti painted on rocks at Corral Canyon Cave.
(Allen J. Schaben / Los Angeles Times)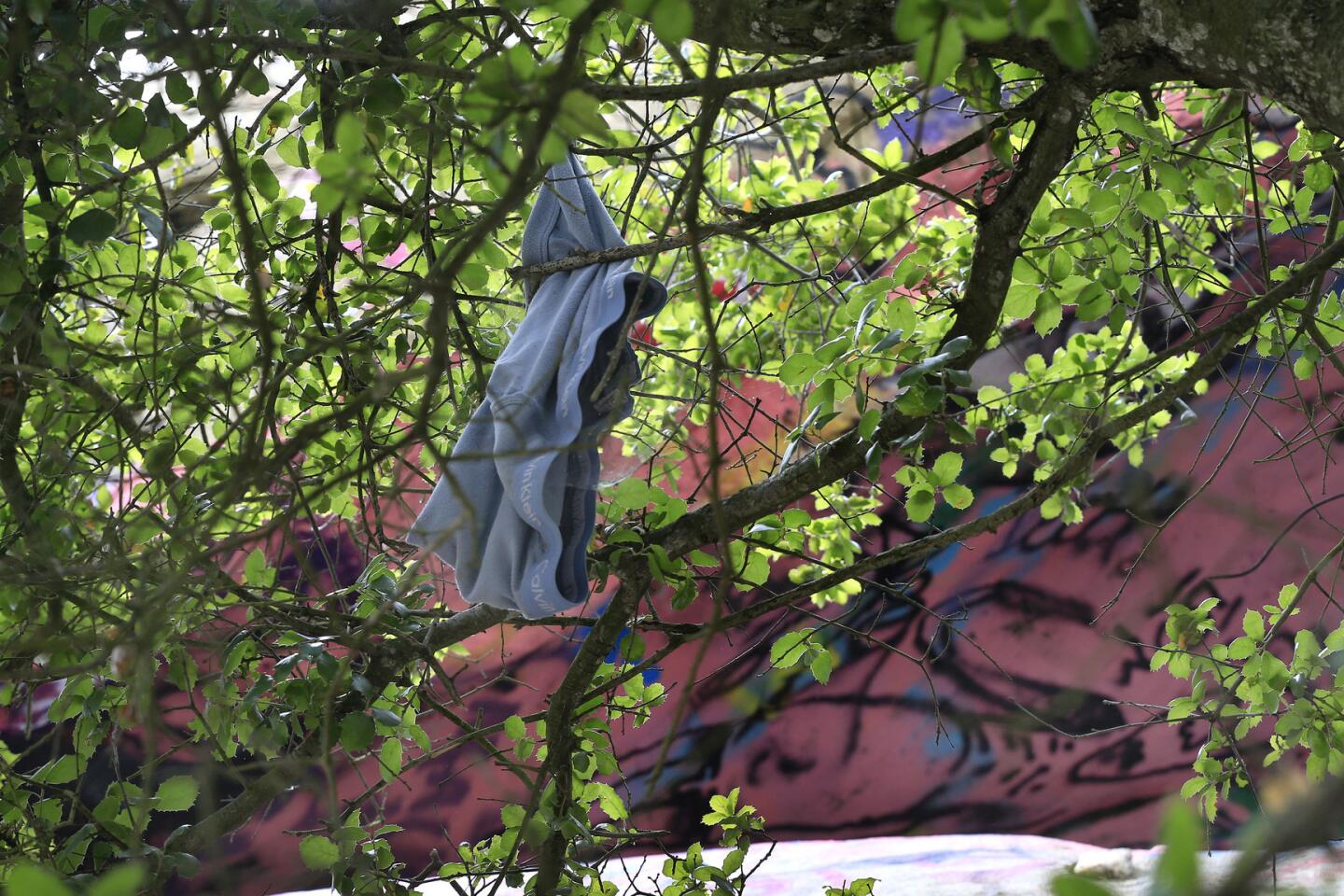 A pair of briefs hangs from a tree branch where state park rangers have also found bras, aerosol paint cans, condoms, trash, burned firewood, people having sex, excrement, cigarette butts and drug paraphernalia at Corral Canyon Cave in Malibu.
(Allen J. Schaben / Los Angeles Times)
Corral Canyon resident Steve Woods, right, whose home was partially scorched from a 2007 fire that was started by people kicking burning firewood out of the Corral Canyon Cave, listens as California State Park Supervising Ranger D. Lindsey Templeton explains to hiking guide Adam McLean of Hollywood that the cave is closed.
(Allen J. Schaben / Los Angeles Times)
Lindsey Templeton hiked down the dirt trail, through the thicket of purple sage and past the manzanita trees shrouding the cavern just a few hundred feet ahead.
Signs marking the path's closure had been removed, thrown in the bushes nearby. Trash hung in the trees, littered the ground and sat wedged into the sandstone formation covered in graffiti.
"It's spreading. It's really sad," said Templeton, a supervising ranger with California State Parks, as he looked at the paint covering the cave.
For years, Corral Canyon Cave has drawn hikers fond of the sweeping views of Malibu Creek State Park. And for years, most visitors respected the environment.
Now, Templeton finds the wilderness he watches over at the center of a surge in vandalism and graffiti, one so grave that the California Department of Parks and Recreation closed the cave to the public earlier this week.
"We come in and we hear shaking cans," he said. "It's like fish in a barrel."
Handling the graffiti used to be manageable, Templeton said. But once a rumor spread on social media that Jim Morrison wrote his music in the cave, the number of visitors spiked. People flocked to take pictures to post on Instagram and add their own touch to the landmark "Jim Morrison Cave." Tagging got out of control.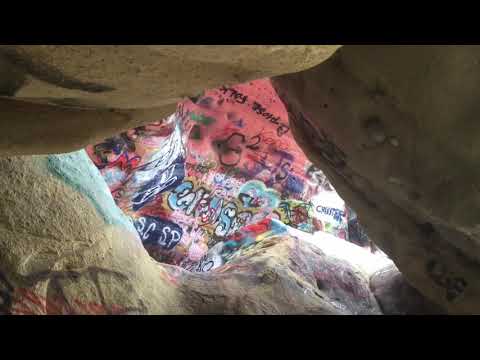 Officials are closing the Corral Canyon Cave in Malibu. (Allen J. Schaben / Los Angeles Times)
"It exploded over last summer and graffiti has been increasing ever since," said California State Parks District Supt. Craig Sap. "People are posting pictures of the cave 30 or 40 times a day."
Inside, where once were Native American cave paintings, Pepto Bismol pink brush strokes, Cheshire grins and lime green skulls cover the walls.
Scrawled Doors lyrics urge visitors to "try to set the night on fire" or "love me 2 times." Tributes to the lead singer have been etched into corners.
All this despite the fact that the Lizard King never came to the spot for musical inspiration.
Closed for an indefinite period, the cave will be blasted with walnut shells to remove the paint while preserving the rocks. The removal process will cost about $40,000, Sap said.
Templeton and other park rangers now patrol the area to let people know visiting no longer is allowed. Entering the closed-off area is a misdemeanor offense, subject to a nearly $400 fine. Taggers found painting the cave could face felony charges and be fined thousands more.
Adam McLean, who leads fellow hikers through this stretch of the park twice a week, said he supports the decision to close the cave for cleaning. Over the last year, he said, he noticed vandalism getting out of hand.
"Even three years ago, there was hardly anybody here," McLean, 38, said.
The Hollywood resident said the trash that comes with all the people in the cave is harming the environment.
"When you're hiking through the wilderness, you do it to enjoy the nature around you," he said. "Graffiti and broken glass ruin the experience."
When Steve Woods first moved to Malibu decades ago, the cave was his secret space — a place where he could come enjoy the park in peace. Woods said he doesn't mind people who want to escape the city, but he's upset by those who desecrate the area. In 2007, a group gathered at the cave sparked a wildfire. About 50 homes were destroyed. His partially burned.
"Every week, we come up here and find more firewood," Woods said.
The recent spate of vandalism, said Templeton, is the most visible example of a tagging problem throughout the state park. Graffiti mars the boulders across from the cave, as well as the rocks that lead to the trail. Tagging and safety concerns led to the closure of the historic Rindge Dam in 2014.
"It's very frustrating for us," Templeton said.
Wednesday morning, as he and fellow ranger Dexter Crowder approached the area, they heard chatter from the cave overhead. A few visitors had made their way into the space and had brought canvas and an easel to paint.
See more of our top stories on Facebook >>
Crowder hunched into the the narrow canal and climbed up to talk to the group. He ducked under the curved ceiling, looking for a spot to stand upright. The four visitors appeared confused and asked why they were being kicked out. Two pushed back that it was a public space they had the right to use.
"Nothing personal," Crowder said as he wrote up a citation. A scantily dressed model wrapped in white cloth reached for her pants.
Fifteen minutes later, the group slowly descended from the cave one at a time, gingerly passing their equipment through its cramped opening.
As they walked away, Templeton asked them to promise to spread the word that the cave is closed.
For more local and breaking news, follow me on Twitter: @sarahparvini
ALSO
3 patients died in a Pasadena outbreak possibly caused by medical scopes
LAPD hacked into iPhone of slain wife of 'Shield' actor, documents show
San Andreas fault 'locked, loaded and ready to roll' with big quake, expert says
Sign up for Essential California for news, features and recommendations from the L.A. Times and beyond in your inbox six days a week.
You may occasionally receive promotional content from the Los Angeles Times.