Case against USC student accused of campus dorm rape thrown out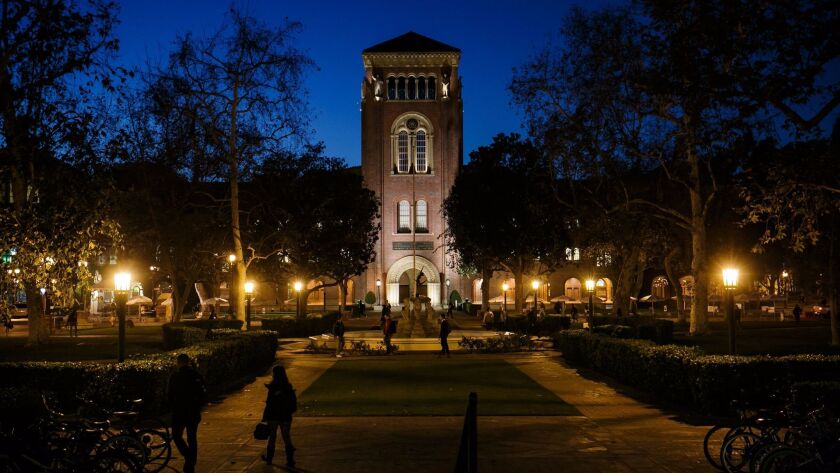 Prosecutors will no longer pursue a case against a USC student accused of raping a fellow undergraduate after a judge's decision that there was not enough evidence to send the case to trial, the Los Angeles County district attorney's office said Monday.
Charges will not be refiled against 20-year-old Armaan Karim Premjee, who was accused of sexually assaulting a 19-year-old student in her campus dorm on April 1, said Shiara Davila-Morales, a spokeswoman for the district attorney's office. Premjee's preliminary hearing was held in Los Angeles Superior Court last week.
Premjee was charged in May with rape by use of drugs and sexual penetration by a foreign object.
On Monday, Premjee's attorney, Harland Braun, said the judge tossed out the case after the defense presented video evidence that showed consent.
Braun said Premjee and the woman were at Banditos Tacos & Tequila, near the USC campus, that night in April and that security footage showed them waiting for an Uber ride.
"There was a camera outside that captured the girl signaling to her friend that she was going to have intercourse with my client," Braun said. The woman, he said, made motions with her hands that indicated sexual activity.
"There could never be any better evidence of there being consent," Braun said. He added: "She was the aggressor."
Premjee told the Times that he met the woman for the first time that night and that they had consensual sex. He said the woman made sexually-suggestive hand gestures to her friend twice behind his back.
"I'm very relieved," he said of the judge's decision. "I've always maintained a lot of faith in the justice system."
Premjee said the publicity of the case has been "very stressful" and that he plans to return to USC in the fall. He will be entering his junior year and is studying business administration, he said.
Prosecutors had said the woman's roommate walked in during the alleged attack.
"Premjee went into a bathroom and when he returned, the roommate confronted him and he left," the district attorney's office said in a statement in May, when the charges were announced.
LAPD Capt. Billy Hayes said the alleged assault "was reported immediately" to USC's Department of Public Safety early on the morning of April 1.
Two weeks later, Premjee was arrested by officers with the LAPD's Robbery-Homicide Division. He was released after posting $100,000 bail, according to jail records.
University officials said they could not confirm whether USC was conducting its own investigation.
"Information pertaining to student disciplinary records and proceedings or any matter of student conduct are confidential and protected by federal privacy laws," the university said in a statement.
Twitter: @haileybranson
---
Life is stressful. Our weekly mental wellness newsletter can help.
You may occasionally receive promotional content from the Los Angeles Times.