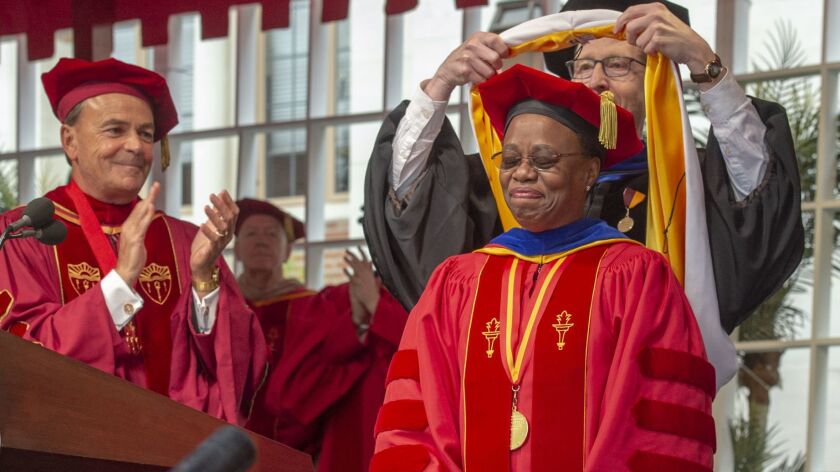 With weeks left in her tenure as USC's interim president, Wanda Austin received an honorary degree Friday celebrating her leadership as the university grappled with extraordinary issues and unprecedented tumult.
Rick Caruso, chairman of the USC Board of Trustees, surprised Austin by conferring the honorary doctorate and praising her for steering the institution "through probably the most challenging period in our 140-year history."
"As interim president, Dr. Austin has led this university with courage, dignity and grace," Caruso said. "She made a difference. She did the right thing, and she created a brighter future for generations of Trojans to come."
Austin, 64, was appointed interim president in August 2018, becoming the first woman and person of color to lead the private university. She replaced C.L. Max Nikias, who stepped down amid revolt by students, faculty and alumni over the administration's handling of sexual misconduct claims against a longtime campus gynecologist, Dr. George Tyndall.
Austin, who earned her doctorate in engineering at USC, was a novice to the role of college president. But she brought experience from serving as chief executive of El Segundo's Aerospace Corp. before retiring in 2016.
Caruso lauded Austin for taking principled stands: "She was never a caretaker, and never once did she avoid making hard decisions — just the opposite."
Austin's move to oust the popular dean of the business school drew a public outcry from wealthy donors, students and even fellow trustees. A small group of alumni staged protests on campus and penned online petitions. Austin remained defiant, and trustees overwhelmingly backed her handling of the dean.
Under her leadership, USC also agreed to resolve a class-action case with scores of former patients of Tyndall, entering into a $215-million settlement that awaits approval by a federal judge.
"We hope that we can help our community move collectively toward reconciliation," she said at the time the settlement was announced.
Other challenges cropped up, testing the university community. In March, a senior in USC's music school, Victor McElhaney, was fatally shot about a mile from campus.
Days later, federal prosecutors in Massachusetts announced charges against dozens of parents and coaches in a wide-ranging college admissions scandal, with half of the 33 parents accused of conspiring to bribe their children's way into USC.
Austin cast the university as a victim and quickly moved to fire an athletics administrator and dental school professor who were named by prosecutors. She has since announced reforms to how student-athletes are admitted.
"I appreciate the patience of our community as we continue to work toward making our university stronger," she said to students and alumni in a letter last month.
Carol L. Folt, the former chancellor of the University of North Carolina at Chapel Hill, will take over as president July 1. Austin will remain a trustee.
On Friday, USC also conferred degrees on more than 19,000 students, with speakers urging graduates to apply their scholarship in service to the world.
While Austin's contributions to the campus were listed, the outgoing president received rare standing ovations and sustained applause.
"As we all look forward today," Caruso told her, "we will always look back in the deepest appreciation and admiration for your leadership, for your grace, and for your strength."
Twitter: @MattHjourno
---