Ex-USC professor and FBI fugitive gets 5 years in prison for child sex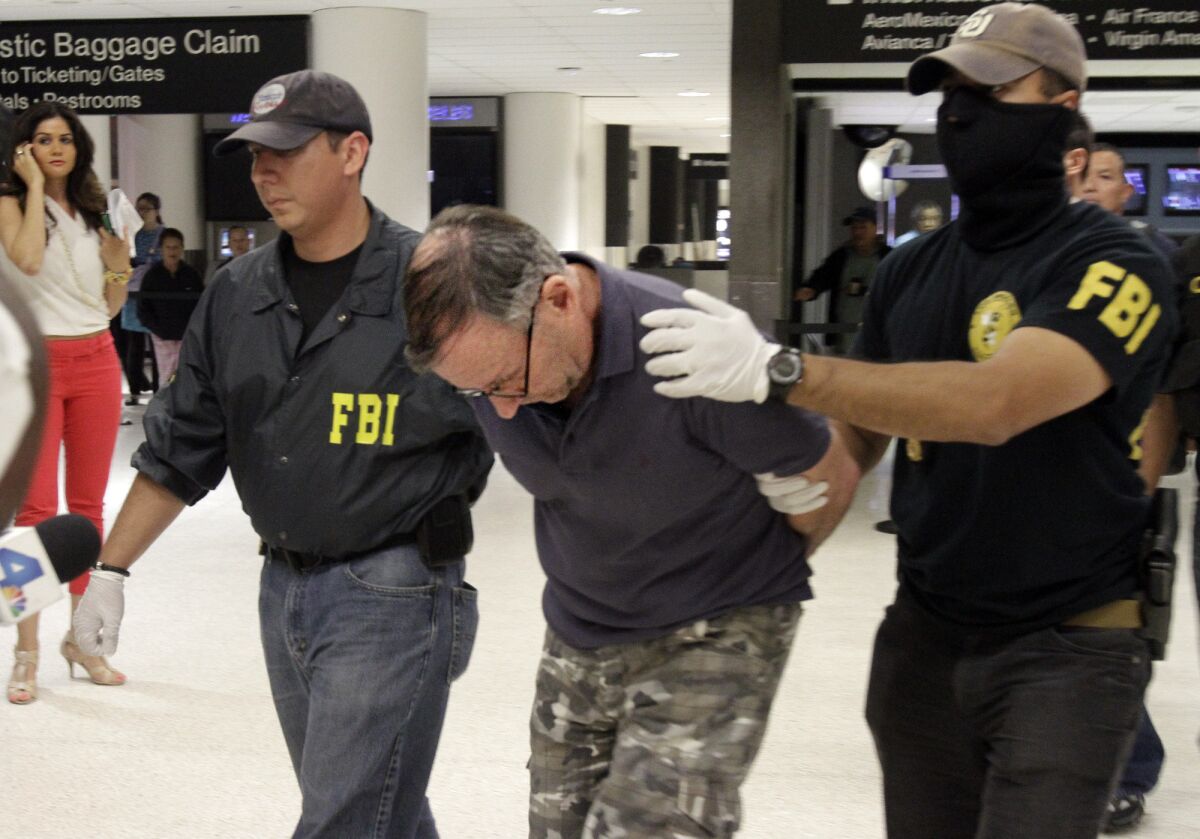 A former USC professor once on the FBI's 10 Most Wanted fugitives list was sentenced to five years in federal prison Monday for flying to the Philippines and sexually assaulting underage boys he had met online.
In addition to the sentence, Walter Lee Williams, 66, of Palm Springs, will be required upon release to register as a sex offender for the rest of his life and will be on 10 years of supervision.
Williams, previously known as a well-respected academic, had pleaded guilty and admitted engaging in illegal sexual contact with minors in foreign places. As part of a plea deal with prosecutors, he must also pay $25,000 in restitution to seven victims.
The professor was apprehended within a day of making the FBI's Most Wanted List in June 2013 after he was indicted on sex charges involving two 14-year-old boys in the Philippines.
He was captured in the Mexican coastal town of Playa del Carmen when a resident recognized his photo from a newspaper article.
Los Angeles Police Deputy Chief Michel Moore said Williams' conduct came to light three years ago when a person concerned about the safety of children contacted authorities.
Recognition for Williams' educational work included the USC General Education Outstanding Teacher Award in 2006. But his academic work was a cover for his criminal activity, according to prosecutors.
Williams taught anthropology, gender studies and history at USC for about two decades until he quit in 2011. Under the guise of academic research on sexuality in the Southeast Asia/Pacific region, he repeatedly traveled to the area, prosecutors said.
Federal prosecutors alleged that the author and Fulbright Award winner used those trips to sexually assault underage boys. Investigators believe he has at least 10 victims across Southeast Asia, aged 9 to 17.
Williams engaged in Webcam sex sessions with two boys, aged 13 and 14, in the Philippines in 2010, prosecutors alleged. The next year, he traveled to the country and sexually assaulted both boys and a 15-year-old boy, according to the plea agreement.
While there, he also had sexual contact with three other 16-year-old boys, records show. When he returned to Los Angeles International Airport on Feb. 11, 2011, he was stopped and child pornography was found on him.
The professor fled Los Angeles a week after being interviewed by the FBI. An attorney for USC last year provided the FBI with materials the professor donated to the ONE National Gay and Lesbian Archives that contained "lascivious visual depictions of minors," according to the plea agreement.
FBI agents also obtained similar images from Williams' former home.
For more Southern California crime news, follow @katemather.
The stories shaping California
Get up to speed with our Essential California newsletter, sent six days a week.
You may occasionally receive promotional content from the Los Angeles Times.