Former L.A. councilman eyed as a temporary replacement for Councilman Mitchell Englander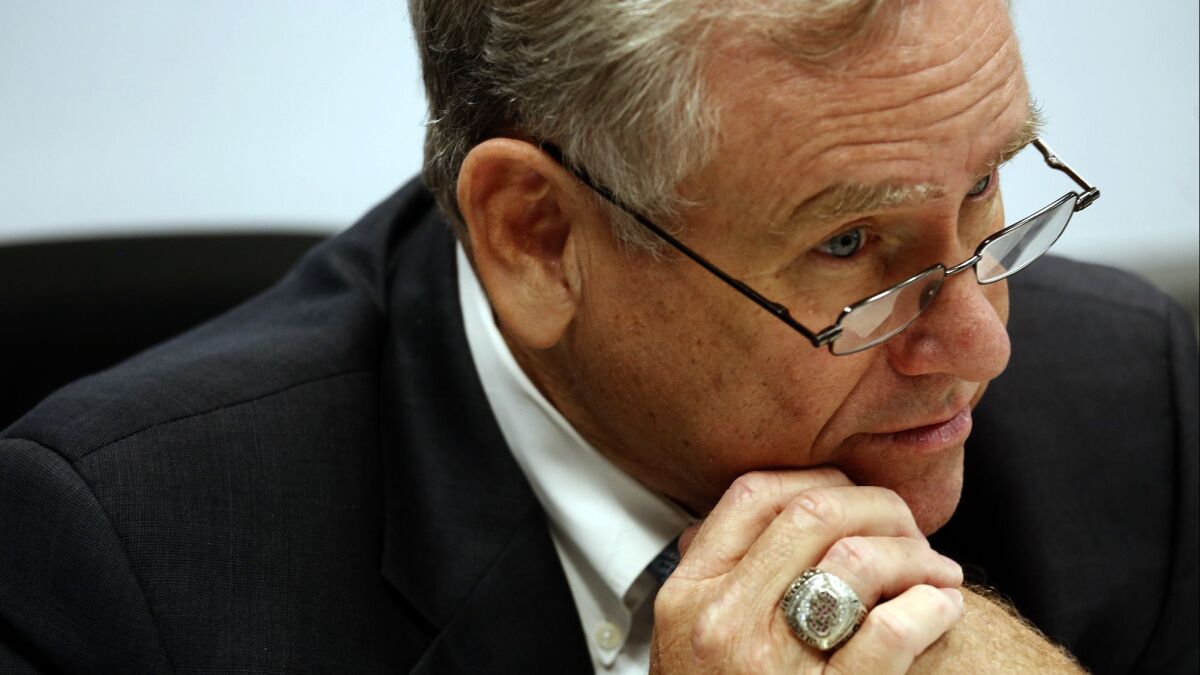 Former Los Angeles City Councilman Greig Smith, who left office in 2011 after deciding he didn't want to seek a third term, could soon come back as a temporary replacement for another departing council member.
Council President Herb Wesson said Friday that he had spoken to some of his colleagues about designating Smith as an interim voting member of the council, representing the northwest San Fernando Valley seat being vacated by Councilman Mitchell Englander.
Wesson said he expects Smith would not run for the seat if appointed. He said he has already spoken with Smith about serving until a special election is held for the seat next year.
"I have not determined that that is exactly what we're going to do," Wesson said, "but that is an unbelievably good option, an option that in my opinion will protect the residents of that district."
Englander, who represents neighborhoods including Chatsworth, Northridge and Granada Hills, announced last month that he would leave his post two years early to take a job with a sports and entertainment firm. Englander, who worked for Smith until he was elected himself in 2011, said his district would be "fortunate" to have Smith return to the seat on a temporary basis.
Making Smith an interim voting council member would be an unusual step. The council usually handles temporarily vacant council seats either by calling a special election or by picking a temporary non-voting person to serve as caretaker or overseer of a district.
For example, after the resignation of Councilman Felipe Fuentes in 2016, Council President Herb Wesson spent nearly a year as a temporary overseer of Fuentes' northeast Valley district.
Smith, who served from 2003 to 2011, is a reserve LAPD officer known for recently solving a 2001 homicide case in Boyle Heights. A resident of Granada Hills, he said it is an honor to be considered for the temporary post.
"Honestly, I do love my district. It would be a great opportunity and kind of fun because I won't have to worry about running for reelection," he said.
Smith said he spent 23 years as chief of staff to Councilman Hal Bernson, who left office in 2003. When he went to work for Bernson, he was the owner of a Northridge tuxedo shop.
If he is picked, Smith would be the council's only registered Republican. Smith said that, if chosen, he would end his work as a consultant for Waste Management, a contractor in the city's RecycLA commercial trash hauling program.
Smith said he would be prohibited from voting on any matter that would benefit Waste Management.
Any decision to designate Smith as a voting member would require a full council vote, Wesson said. Council members who had heard of the idea Friday said they were in favor of it.
"Greig Smith was a very capable and well-respected council member," said Councilman Mitch O'Farrell, who represents an Echo Park-to-Hollywood district. "He's eminently qualified, and the other piece of it is the district will have true representation in the interim, and that's very, very important."
Carl Melnik, former president of the Granada Hills Chamber of Commerce, also was enthusiastic about bringing Smith back. "He knows the community," he said. "Greig would be able to step right in and keep things going."
Because Smith would not run for the seat, "it keeps it a wide open race," Melnik said.
Englander is slated to leave his post Dec. 31. Wesson said he envisions having a special election for the seat in June and, if necessary, a runoff contest in August.
The regularly scheduled election for Englander's seat would then be held in March 2020, with any runoff held in November 2020.
Twitter: @DavidZahniser
Twitter: @AlpertReyes
---
UPDATES:
5:20 p.m.: This article was updated with comments from Greig Smith.
12:10 p.m.: This article was updated with reaction and additional background.
This article was originally published at 11:45 a.m.
---
The stories shaping California
Get up to speed with our Essential California newsletter, sent six days a week.
You may occasionally receive promotional content from the Los Angeles Times.