Should brick-and-mortar shops be able to veto sidewalk vendors?
When pushcart vendors try to set up shop in front of his East Hollywood gas station, Jacques Massachi tells them to leave.
"I don't allow them. I just don't allow them," Massachi said.
The sidewalk sellers can end up obstructing traffic in and out of the gas station, he complained. And if they hawk hot dogs, ice cream or anything else sold at his Ampm store, he sees them as rivals.
If someone can walk up and buy a hot dog out front, Massachi said, "why would he buy a hot dog from me?"
Los Angeles is planning to legalize and regulate sidewalk vending, handing out city permits to the pushcarts and stands that are an everyday sight in the city.
Despite a longstanding ban, about 50,000 vendors ply their trade on its sidewalks, selling ice cream, tamales and other food and goods, according to city officials.
But brick-and-mortar shops, which have complained about blocked walkways, leftover trash and what they see as unfair competition from unregulated sidewalk vendors, could stand in their way. Under a proposal being vetted at City Hall, property owners like Massachi could prohibit vending on the adjacent sidewalks.
Business groups have lobbied for property owners to be able to decide whether vending can happen outside their doors.
They point to Portland, Ore., and San Francisco, which give neighboring businesses a say in whether vendors can set up shop. Some lawmakers have backed the idea as a way to curb conflicts with brick-and-mortar shops.
"It's important to have a kumbaya relationship between the vendors and the business," Los Angeles City Councilman Joe Buscaino said. "It needs to be mutual and beneficial."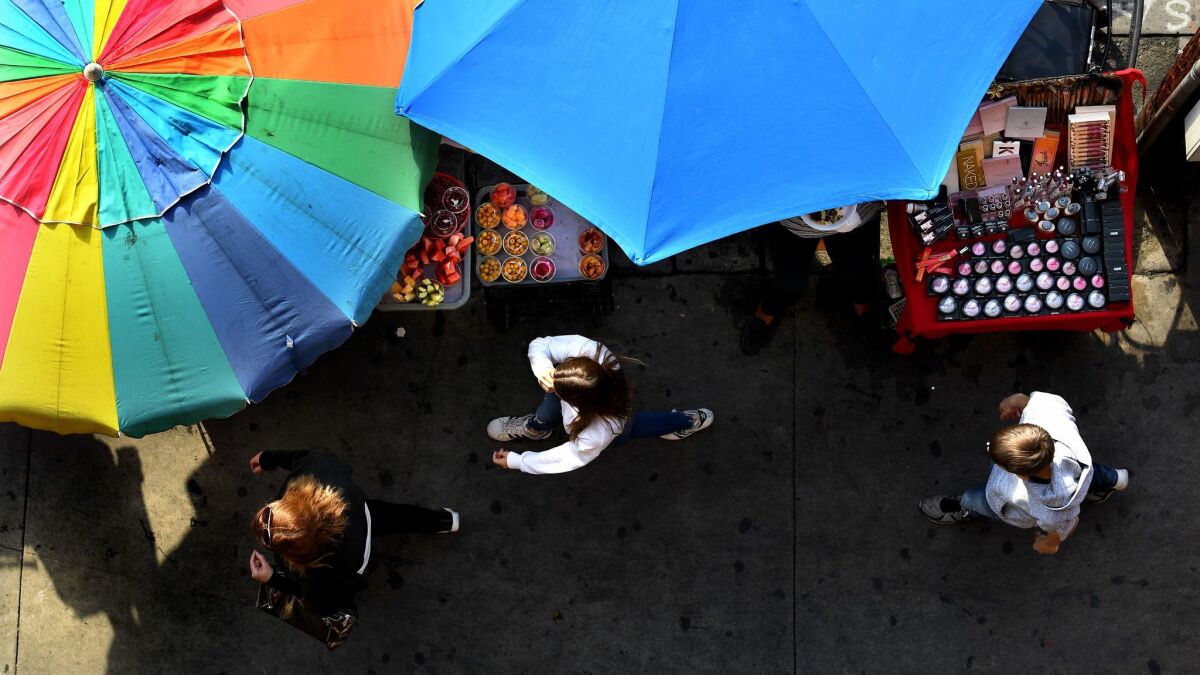 Sidewalk vendors and their advocates counter that it is unfair to give businesses the power to block them. The L.A. Street Vendor Campaign called it "an improper regulatory restraint" that could leave vendors more vulnerable to extortion.
Among the worried vendors is Alejandra Rodriguez, who said that in the past, Piñata District shops have demanded that she pay as much as $800 a month to do business on the sidewalk.
"As soon as they saw that I was making money, they started to charge me," said Rodriguez, who said she had stopped selling toys in the area months ago.
On a Friday morning the Fashion District was abuzz with pushcarts and stands selling sliced mango and watermelon dusted with chile, squeaking toys, fidget spinners, makeup palettes and other trinkets outside storefronts displaying quinceañera gowns, snug jeans and glittering high heels.
Some vendors said that businesses charged them for a bit of space — a wall or the perimeter of a shop — but not to use the sidewalk itself.
"But if the city passes this law, they will have the power," said Aureliano Santiago, who sells frozen treats in the summer, tacos when the weather turns cold. "That is our fear."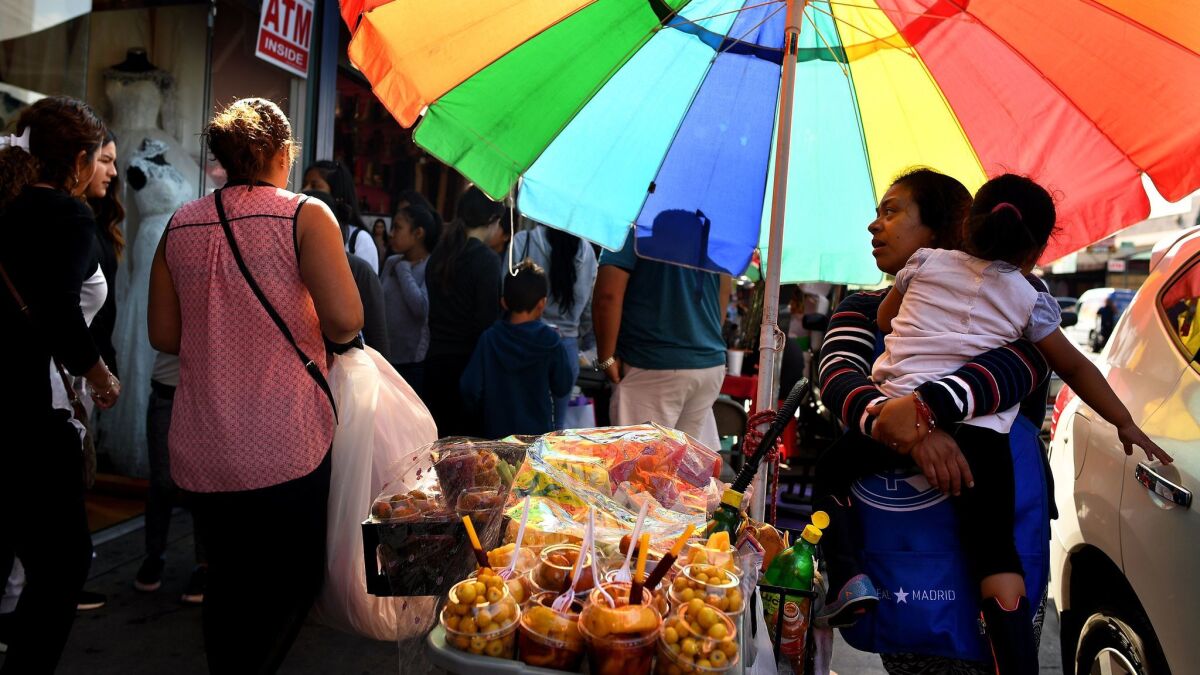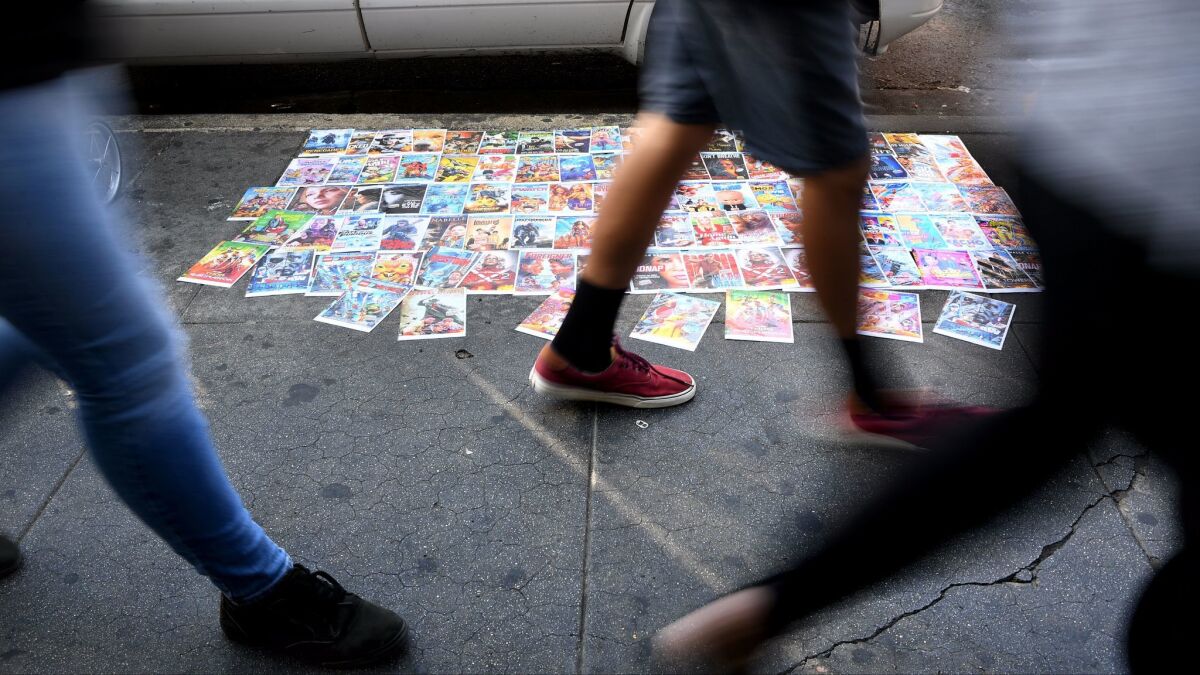 Along Maple Avenue, Santiago pointed out many stores that had stationed racks of their clothing or other merchandise on the sidewalk — a tactic used to block vendors from setting up, he said.
Behind a cart loaded with sliced mango, Wendy Puluc said she worried that many local businesses would simply reject vending.
"We won't be able to sell if they say no," Puluc said. "Where are we going to go?"
The question of where sidewalk vending should be allowed has been the most debated and divisive part of the elaborate rules, more than four years after City Councilmen Jose Huizar and Curren Price first proposed that Los Angeles legalize and regulate the industry.
It has pitted business groups against a coalition of vendor advocates — including nonprofits, immigrant rights groups and attorneys representing sidewalk sellers.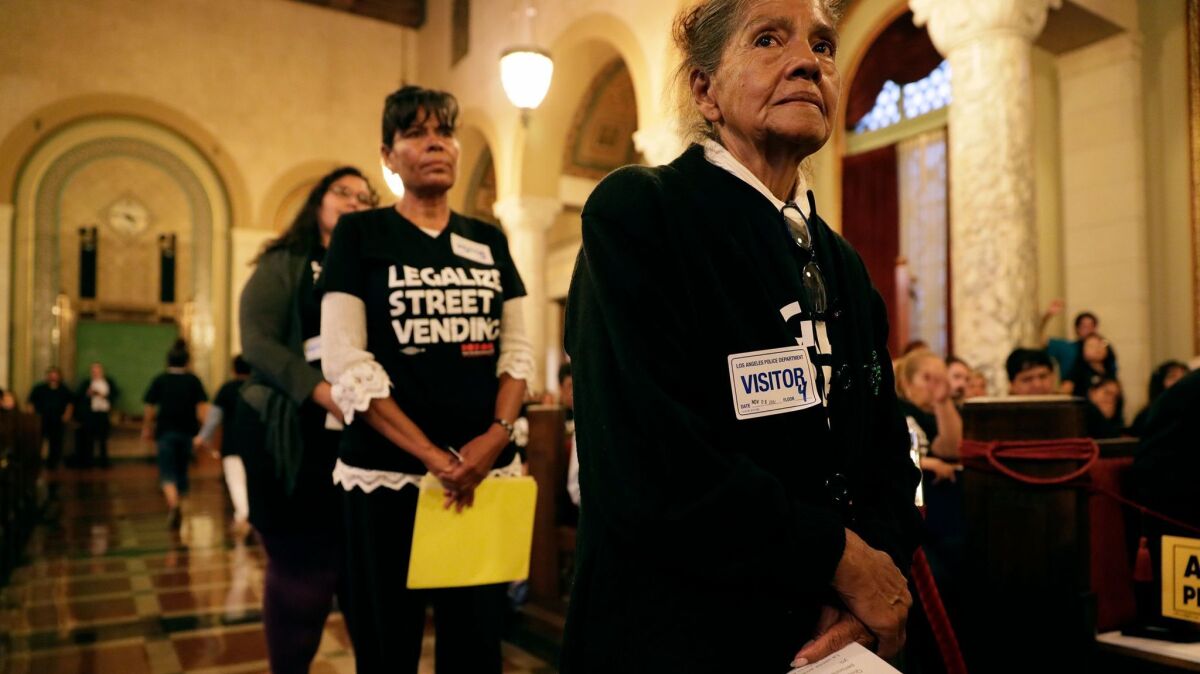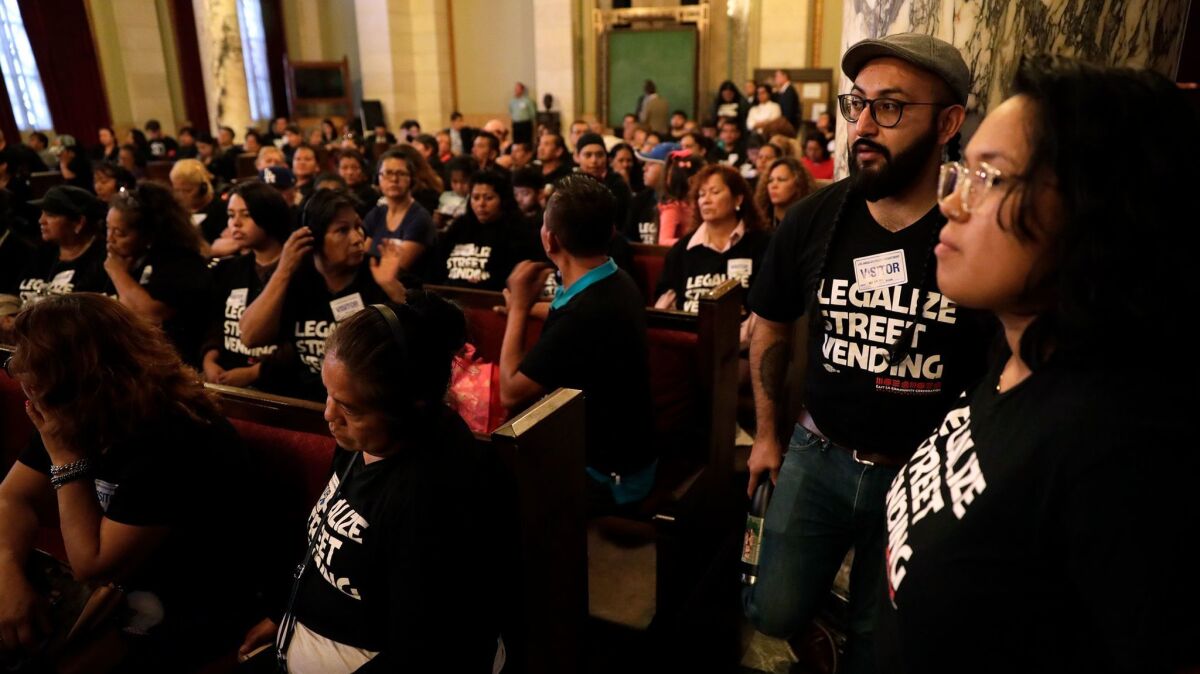 Under the proposed regulations, the city would ban vendors near popular attractions such as Dodger Stadium, the Staples Center and the Hollywood Walk of Fame, cap the number of pushcarts on each block and draw up rules that could limit vending in additional areas based on safety concerns.
At a recent hearing, one Leimert Park vendor accused lawmakers of "redlining."
Giving business owners the power to veto vending could also be legally sensitive: In a report, Chief Legislative Analyst Sharon Tso recommended lawmakers consult the city attorney before deciding whether to let businesses approve or reject sidewalk sales.
Sidewalks are the property of the adjacent property owner, but the city has an "easement" that gives it the legal right to use them, according to Rob Wilcox, a spokesman for City Atty. Mike Feuer.
In an interview, Councilman Bob Blumenfield said if property owners can turn down vending on their sidewalks, that could help the city defend itself against lawsuits.
The city has some rights over the sidewalks, Blumenfield said, but "it is their property … it's a little murky how far we can push our rights."
Wilcox declined to discuss the legal implications of allowing property owners to reject vending, saying that advice from city attorneys was confidential.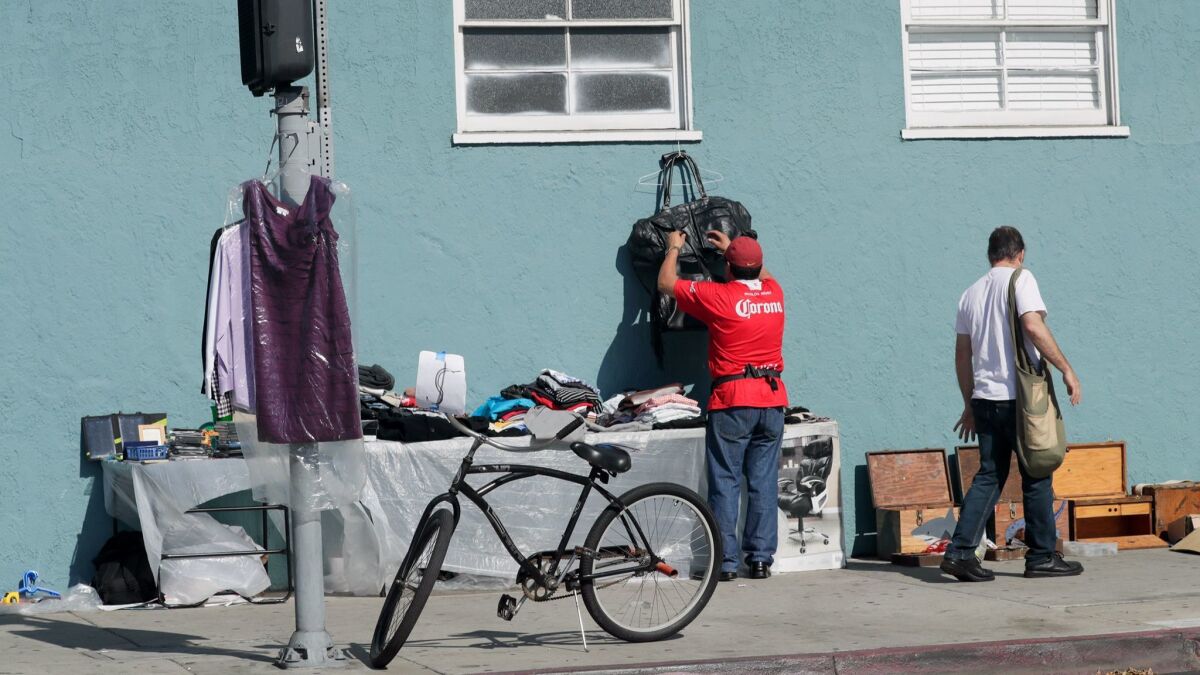 Brick-and-mortar businesses say they have already suffered from unregulated vending and are uneasy about how strictly the city will enforce its newly proposed rules.
Earlier this year, the city eliminated criminal charges for vending under the municipal code, limiting the possible penalties to administrative fines, in an attempt to protect immigrant vendors from deportation.
In East Hollywood, block after block of Vermont Avenue turns into a walkable rummage sale on weekends, when a swap meet is held nearby at Los Angeles City College.
Blankets, tarps and tables line the sidewalks loaded with an eclectic array of miscellanea: a cooking pot, a skateboard, leather boots, a carton of gleaming Christmas ornaments, dusty bottles of cologne. The blue fence ringing an auto repair shop becomes a makeshift thrift store, bearing shirts on hangers. Faded pairs of pants lie over bushes outside a mini mall.
Jeff Zarrinnam, president and chief executive of the Hollywood Hotel down the street, complained that some vendors have dumped grease or strewn the sidewalks with trash.
Even if the city enforces the new regulations — which would require vendors to keep sidewalks clean, leave a minimum amount of room for people passing, and not block other businesses — Zarrinnam argued that sidewalk sellers could hurt his hotel.
"If I have guest rooms that face the sidewalk, and someone is cooking and the smoke and smell goes into their room, is the guest going to be happy?" Zarrinnam asked.
Massachi, the gas station owner, peered down the sidewalk on a balmy afternoon. "It's a free country. People make money how they can," he said. "But it has to be in a proper place."
Twitter: @LATimesEmily
The stories shaping California
Get up to speed with our Essential California newsletter, sent six days a week.
You may occasionally receive promotional content from the Los Angeles Times.