Venice homeless activists challenge beach curfew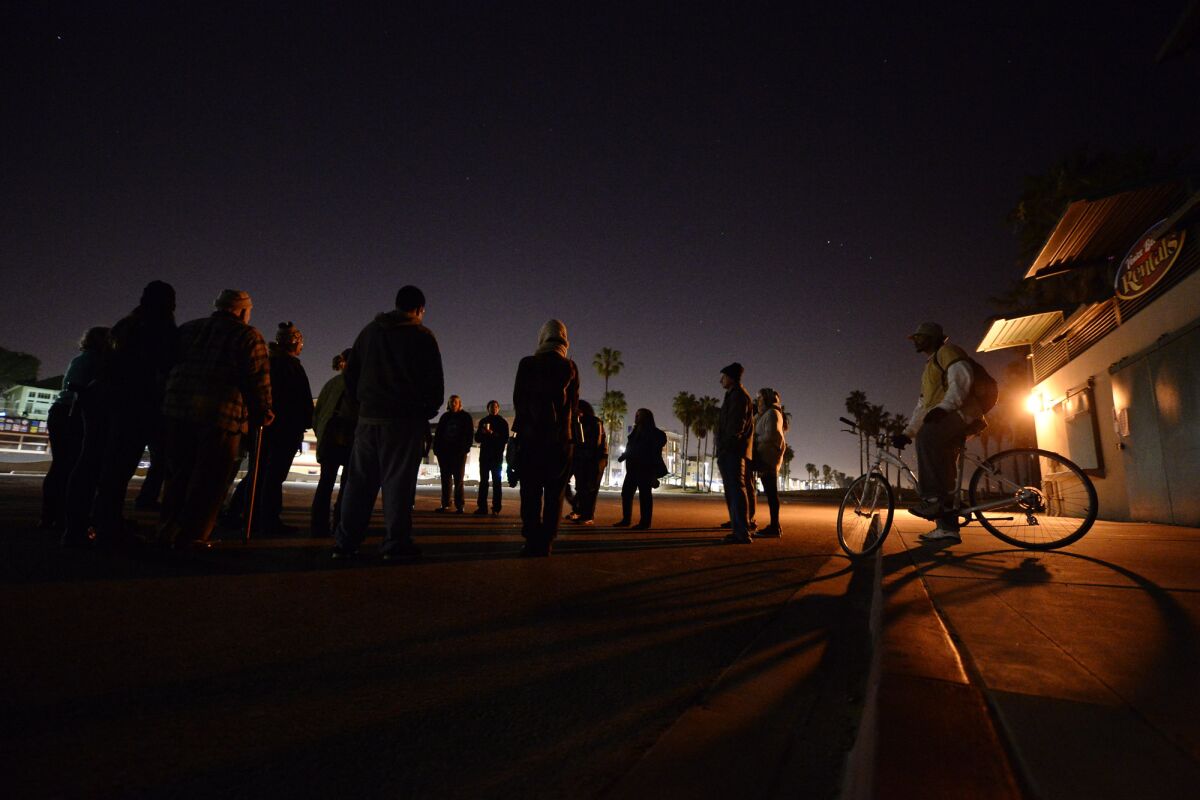 Venice homeless advocates early Sunday defied the city's overnight beach curfew, sipping coffee and star-gazing well past the midnight cutoff.
But they failed to draw the attention of police.
A pair of Los Angeles police SUVs lumbered down the shoreline and a law enforcement helicopter flew overhead, but police did not confront several dozen protesters gathered around a portable telescope on a concrete spit leading from the Rose Avenue parking lot to the water. Becky Dennison, an organizer with Los Angeles Community Action Network, said the inaction showed department enforcement of the curfew against homeless people was "discriminatory in nature."
Lt. Lydia Leos of the LAPD's Pacific Division said officers patrol until 2 a.m. for people sleeping on sidewalks or burrowing into the sand to sleep.
"If they're ticketed it's because they're out in the sand," she said.
Protesters watched Saturn rise and viewed Jupiter's four moons through the telescope Chuck Bloomquist, an amateur astronomer, dragged down four blocks from his Venice home.
"I've lived here for 56 years and I've never been bothered by anybody" homeless, Bloomquist said.
"The beach is a place of refuge," said General Dogon, a skid row activist. "The city needs to let people come anytime they feel like it."
John Raphling, a Venice criminal defense attorney who oversees a volunteer legal clinic that assists homeless people who have been ticketed, said lawyers are seeing a steady stream of curfew citations.
"Sitting on the sidewalk, curfew violations; tickets just for being homeless," Raphling said.
A midnight-to-5 a.m. curfew and sleeping ban has been in place along the city's 11-mile coastline since 1988, when a downtown campground for the homeless shut down, sending scores of the displaced to Venice. Activists said the curfew was lightly enforced until 5 or 6 years ago, when complaints about Venice's homeless population grew.
The Coastal Commission last year told the city it needed a permit to maintain the ban. The commission's letter said the city must show "credible evidence" of a continuing public safety threat to get the permit.
City Atty. Mike Feuer, at Councilman Mike Bonin's request, drafted an ordinance that proposed opening an overnight corridor to the water at Dockweiler and Will Rogers beach parks, but excluded Venice from any curfew easing. At a February committee meeting, Bonin said Feuer was negotiating with the Coastal Commission to resolve the issue.
For news on homelessness and poverty, follow @geholland.
The stories shaping California
Get up to speed with our Essential California newsletter, sent six days a week.
You may occasionally receive promotional content from the Los Angeles Times.