Venice skateboarder who claimed LAPD beat him loses case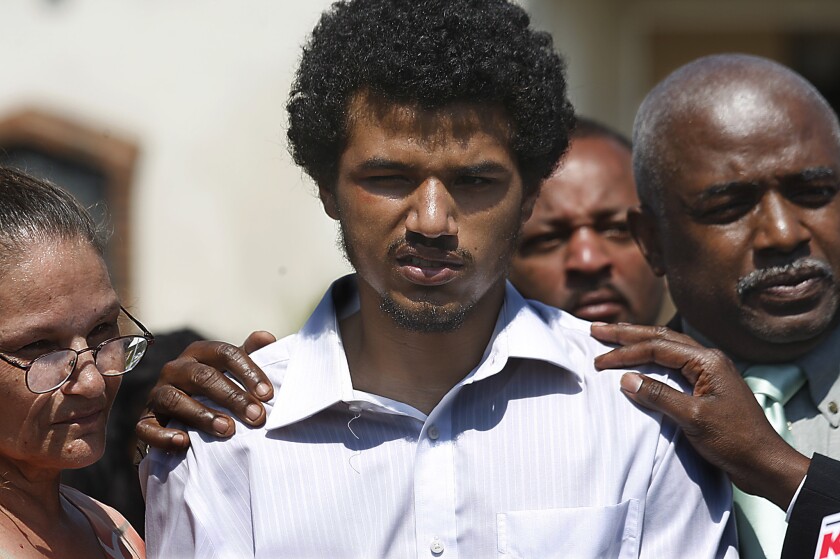 A Los Angeles federal jury unanimously rejected a civil rights lawsuit by a Venice skateboarder who claimed several Los Angeles police officers wrestled him to the ground, beat him and punched him in the head.
Ronald Weekley Jr., a 20-year-old African American college student, had alleged that the officers wrongly perceived him as a threat based on his race. He said the officers used unreasonable force on him in August 2012 when they stopped him for skateboarding on Sixth Avenue in Venice.
A video from a cellphone showed Los Angeles police officers on top of Weekley, with three wrestling with him on the ground as a fourth appears to punch him in the face. His attorneys alleged that Weekley was hit while restrained, and that other officers did nothing to prevent the use of excessive force.
Jurors found the city and the officers not liable for any damages. Rob Wilcox, a spokesman for the L.A. city attorney, said the office won't be commenting on the specifics because of a potential appeal by Weekley's attorneys.
LAPD officials said that officers tried to stop Weekley near the corner of Sunset and Sixth avenues because he was riding his skateboard on the wrong side of the street. He attempted to flee, and officers used force to handcuff and subdue him, they said. Weekley was arrested on suspicion of resisting arrest.
"This is one of those examples of the video looking worse than the facts," said Tyler Izen, president of the police union, the Los Angeles Police Protective League. "At the time, it was all, how could the LAPD do this? Well, a jury examined all the facts and found the LAPD wasn't liable and its officers did nothing wrong here."
But Carl Douglas, one of Weekley's attorneys, said the jury reached the decision "despite hearing from witnesses that officers lied about their initial encounter with Mr. Weekley," when they said he struck one of the officers.
"It is a stunning loss," Douglas said, adding that an appeal decision has not been made.
At a news conference after the incident, Weekley told reporters, "I was opening the door to my apartment when I was attacked from behind. They grabbed my hair and my back and tried to smash my face into the ground. I started screaming and yelling because I thought I was going to die."
---
The stories shaping California
Get up to speed with our Essential California newsletter, sent six days a week.
You may occasionally receive promotional content from the Los Angeles Times.