In Little Saigon, some Latinos are learning Vietnamese to get ahead
Nearly 25 years ago, Roberto Torres moved from the Mexican state of Guerrero to Orange County, landing a job as a dishwasher at a Vietnamese restaurant.
Torres was part of a tide of immigration from Mexico and Vietnam that has transformed the central section of the county, where Asians and Latinos are now the dominant groups.
Torres found Vietnamese specialties served at Song Long — fish stew, herb-marinated chicken — a little bland. But he rose over the years to become head waiter.
"Chao anh. Chao chi. Anh chi thich an mon gi hom nay?" Torres says, greeting a fashionable couple from Santa Ana, the man in a suit and dark silk tie, the woman draped in a Burberry scarf. "Hello sir. Hello, miss. What would you like to eat today?"
Although Latinos have long worked in kitchens and on cleanup detail at Vietnamese restaurants, Torres is one of the few to have stepped from behind the scenes. In his own humble rise, he underscores how two immigrant communities have coalesced to drive the region's commercial and cultural life.
In Westminster, Garden Grove and Santa Ana — three cities that comprise Little Saigon — there are nearly 145,000 Vietnamese and more than 344,000 Latinos, according to the 2010-14 American Community Survey, an ongoing statistical study by the U.S. Census Bureau.
Despite their political differences — the Vietnamese tend to be Republican, and the Latinos Democratic — experts say they come together to solve a labor shortage facing the area.
NEWSLETTER: Get essential California headlines delivered daily >>
The Vietnamese retail district is thriving, but owners have a limited pool of Vietnamese help because new immigration from the homeland has slowed so much. Immigrants from Mexico and Latin America have found Little Saigon an entry point into the retail economy — albeit at the lowest rungs.
"Immigration has stopped for Vietnam. These shop owners had to look for another employee source so they continue to turn to Latinos who are still coming in as newer immigrants," said Linda Vo, a professor of Asian American studies at UC Irvine. "Latinos have been willing to take the lower-end jobs, and given their growth, there are more of them available to work such jobs."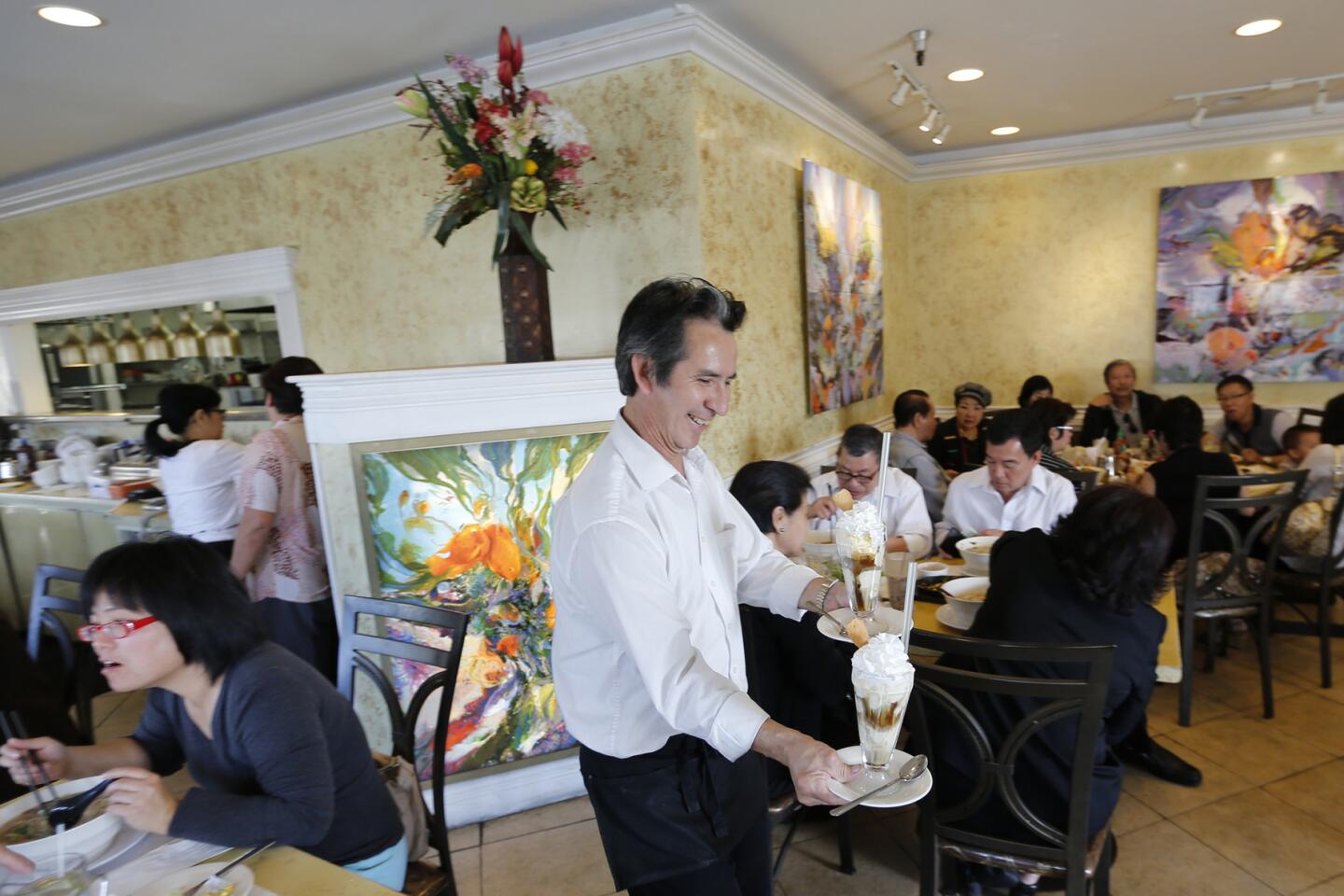 Roberto Torres, an employee of 25 years, serves desserts at hotspot Song Long Restaurant, which serves French and Vietnamese fusion cuisine in Westminster.
(Allen J. Schaben / Los Angeles Times)
Lan Vo, owner of hotspot Song Long Restaurant, trains her Latino employees in customer service and the intricacies of French-Vietnamese cuisine.
(Allen J. Schaben / Los Angeles Times)
Roberto Torres, right, picks up meals prepared by chef Juan Ramirez, left, and Omar Reynoso, middle.
(Allen J. Schaben / Los Angeles Times)
For Roberto Torres, becoming the headwaiter meant a crash course in Vietnamese language and culture. Every so often, a customer will test how much he actually understands.
(Allen J. Schaben / Los Angeles Times)
Chef Juan Ramirez, left, and Omar Reynoso, right, prepare meals at hotspot Song Long. Despite their political differences — the Vietnamese tend to be Republican, and the Latinos Democratic — experts say they come together to solve a labor shortage facing the area.
(Allen J. Schaben / Los Angeles Times)
Waitress Suong Truong, left, and owner Lan Vo, middle, pick up food orders at Song Long.
(Allen J. Schaben / Los Angeles Times)
It's far from a level playing field — with the Vietnamese often being the bosses and Latinos confined to low-paying work. Torres was able to move up at his restaurant, but many other Latinos never get beyond the kitchen or cleaning crew.
"The Vietnamese did start out in those positions, but in the early years, they mainly worked with family and friends and had more opportunities for advancement," Vo said.
Vietnamese and Latinos, mostly of Mexican descent, began populating the starter tracts of Central Orange County in the late 1970s and early '80s — the Vietnamese fleeing the Communist government after the war and Latinos looking for better economic opportunities. Vietnamese at first settled largely in Westminster and Latinos in Santa Ana. But over time, those boundaries blurred and greatly expanded.
Vo said some Vietnamese started in the U.S. with advantages. Some already knew English when they arrived and had received extensive education back home. A 2010 census survey showed that the Vietnamese median household income in Orange County was about $64,000 compared with $56,000 for Latinos.
Mexican immigrants working in every kind of restaurant are a normal part of the culinary life in Southern California and beyond. But even in Asian restaurants stocked with Latin American workers, it's relatively unusual for them to be such a front-and-center part of the dining experience.
For an employee like Torres, becoming the head waiter meant a crash-course in Vietnamese language and culture. Every so often, a customer will test how much he actually understands.
"I talked to him in Vietnamese. I tested him on the dishes. He really does understand," said Mai Hoang. Her brother Will said: "Yeah, that guy. Every time I'm here, he's here. He always gets my order right."
Juggling two cellphones, businessman Vince Doan said he wasn't too surprised."Since we're in Southern California, I guess I should expect a marriage of cultures," he said. "Everyone mixes."
There are more than 10,000 Vietnamese-owned businesses in Orange County, according to the Vietnamese American Chamber of Commerce. At mom-and-pop stores and supermarkets across Little Saigon, Latinos pack and unpack shipments and are frequently assigned to jobs like cleaning. But at some restaurants, including Van Restaurant, these workers occupy a more prominent role in the day-to-day operations.
"If they were in the back, they don't have to develop the kind of communication skills they would need if they're more visible," says Andrea Nguyen, cookbook author and restaurant consultant. "But being in public, they're representing, man. They're representing the food. And they're trying to sell it at the same time."
For Vietnamese restaurant owners there's an added benefit, though few like to admit it openly: They worry less about Latino workers, especially chefs, taking what they've learned and being able to become rivals in hypercompetitive Little Saigon.
"In the Viet owner's eyes, it's easy to understand how they can rely on Latino workers to keep family recipes within the family," Nguyen says.
Torres' wife, two brothers and two nephews all worked at Song Long. There's not a lot of turnover, and he describes their hard-to-find jobs at the restaurant or bakery as "all in my family. It's a good tradition."
"Little Saigon is cool. I don't have time to go out much. I am here — inside the restaurant," Torres said. "This is my life."
He works seven days a week, leaving between his morning and evening shifts for his apartment five minutes away. He has four children, the youngest about to turn 18.
Torres said that from the beginning, a generation ago, he closely watched how Vietnamese refugees interacted with each other — how they bowed to each other and served each other tea.
He observed what broth-filled bowls or rice platters were most often chosen and memorized their names and even their smell. He worked equally hard to stay healthy, minimizing his sick days so he could staff every shift assigned to him. Torres makes $10 an hour, and though he's grateful for the steady work, he said he still feels he "needs to advance."
"I always try to watch and learn, even in the same job," he said.
Lan Vo, the owner of Song Long, guides the Spanish-speaking employees in customer service and Vietnamese-French cooking. She uses photos and step-by-step instructions. Vo instructs them on the use of courtesy titles that Vietnamese speakers use to address each other.
At Brodard, arguably the best-known Vietnamese restaurant in the U.S. and one with a global tourist following, owner Chau Dang Haller and her older sister, Giao Dang, explain each ingredient and train their Spanish-speaking staff on how to assemble their most popular item — the grilled pork rolls, crunchy and stuffed with herbs.
On peak days — Fridays through Sundays — at least 10,000 rolls are sold.
Inside the noisy Garden Grove eatery, Amelia Najera, a seven-year employee, does not pause on the assembly line as she explains how she makes more than 100 rolls per hour.
"Easily," she adds. "It is like breathing. I follow the rhythm and I make it tight."
See the most-read stories this hour >>
"They're like a spring roll machine," Haller said. "Every Vietnamese home cook brings their own variation to the dishes we try to teach. But for the Latinos, it's fresh material. They respect how you guide them, and they show us they're totally open to learning."
Torres said that what surprised him at the beginning was how many short, seemingly clipped words there were in the Vietnamese language. Now, other employees look at him as a role model. As Torres rushed to a grandmother and granddaughter who spilled hot tea, dishwasher and part-time cook Juan Ramirez listened to his soothing voice, saying, "One day, maybe I can be like him."
"I practice. I listen and listen," Ramirez adds, noting the staccato beats of Vietnamese. "This is a family culture — everything around the children or the elderly."
Adrian Jimenez, a busboy, said he's "just learning Vietnamese. I never knew anything about Vietnam until I came here."
The Hoang siblings, who tested Torres' understanding of Vietnamese, said they were overdue for learning more about him, other than his familiar face.
"This way, he's not just amigo," Mai Hoang said, giggling. "That can be so annoying. It's only fair I know who he is when he knows what to say to the rest of us."
Times staff writer Sandra Poindexter contributed to this report.
ALSO
Patrick Soon-Shiong, already trying to cure cancer, dives into a newspaper takeover fight
Expo Line, meet the real world: A car on tracks, a broken-down train
A boarding school in India saves girls from lives of prostitution
Sign up for Essential California for news, features and recommendations from the L.A. Times and beyond in your inbox six days a week.
You may occasionally receive promotional content from the Los Angeles Times.