Ly Tong, the 'Vietnamese James Bond' and anti-communist folk hero, nears death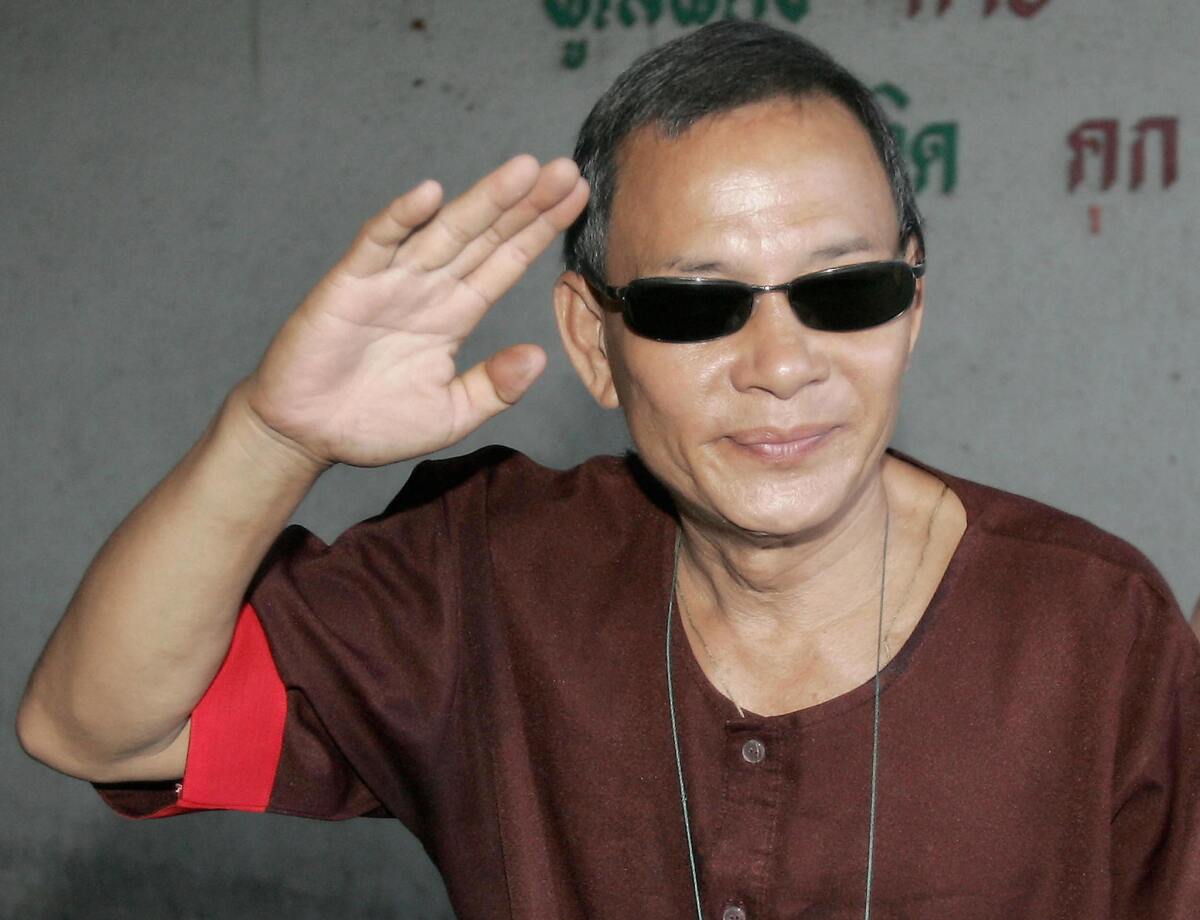 They called him the Vietnamese James Bond.
On a September day in 1992, Ly Tong hijacked an Airbus A310 on a charter flight for Vietnam Airlines, flew over Ho Chi Minh City, formerly known as Saigon, and dropped his munition: thousands of little paper bombs calling for the overthrow of the communist government.
After the rain of leaflets, he jumped from the aircraft, parachuting right into a swamp.
Today, hooked to tubes, the former South Vietnamese fighter pilot lies on a hospital bed and battles for consciousness as he nears his final descent, diagnosed with lung disease.
A longtime supporter, Thien Thanh Nguyen, leaned toward him. "If you can hear me, please let me know," he said.
In a coma in San Diego since March 21, Tong turned his head slightly.
"He's trying his best," Nguyen said.
For many Vietnamese immigrants from the older generation — staunch Republicans and parents and grandparents who saw their progeny become increasingly liberal — Tong, 74, was an uncompromising enemy against communism. And that, in their eyes, made him a hero.
"Many Vietnamese in the community respect how he risked himself in the name of freedom for everyone," said Hoa Thai Cu, president of the South Vietnamese Air Force Assn. of San Diego. Cu is coordinating Tong's medical treatment and promises that the group will pay for his funeral.
But to many members of the younger generation, Tong is a relic of the past — if they think of him at all.
"I respect the beliefs of the older people, but they are not my beliefs," said Jessie Nguyen, 21, of Los Angeles. The graphic designer said she would "protest against the same government by not buying any products made in Vietnam. But I would not line up for a demonstration."
Sipping jasmine milk tea from 4 Seasons Tea in Westminster, Lili Bui, 25, said she grew up hearing about Tong's escapades from her grandparents.
"Every generation has its heroes…. But people like my grandpa focus on the past because that's what they understand best," said Bui, who is studying to be a cosmetologist. "They grew up with an anti-communist philosophy that sometimes favor extreme situations. I don't agree with that, but then I was raised in America."
For a man like Tong, the Vietnam War never truly ended.
Tong joined the South Vietnamese Air Force and at 17 was assigned to the Black Eagle fighter squadron. In the 1970s, his A-37 jet was shot down, and at the end of the Vietnam War, the North Vietnamese imprisoned him, sending him to reeducation camp outside the coastal city of Nha Trang.
He tried several times to escape, succeeding in 1980. On the loose, he would recall an 18-month adventure on foot, bicycling or riding buses through Cambodia, Thailand and Malaysia — ultimately swimming across the Johore Strait to Singapore, where he strode into the U.S. Embassy to ask for asylum.
In 1984, he resettled in Louisiana, later enrolling in a political science graduate program at the University of New Orleans. After graduating, he moved to San Jose, where he got involved in community politics, joining protests and eventually writing books on Vietnamese history and culture.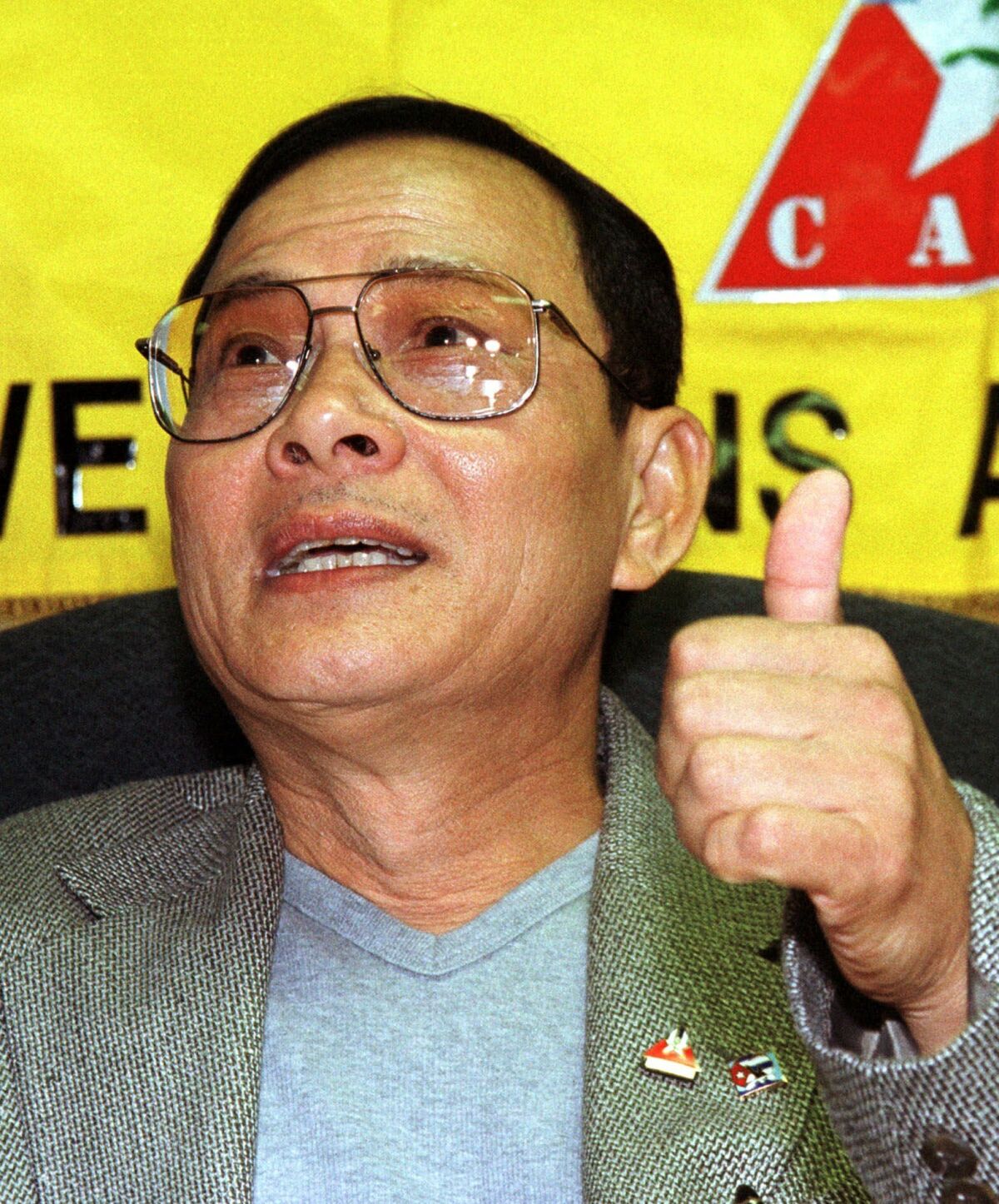 What made Tong both famous and infamous among Vietnamese was the hijacking of the Airbus in 1992.
The passenger jet was flying from Bangkok to Vietnam. With the plane about 80 miles from the former Saigon, he brandished a plastic knife and coat hanger and claimed that he had a bomb, according to the Aviation Safety Network.
Tong ordered a flight attendant to take him to the cockpit, where he directed the Bulgarian captain, piloting 155 passengers, to fly low. Quickly, he released sacks with 50,000 fliers out of the cockpit window over Ho Chi Minh City.
The leaflets urged Vietnamese to "build an independent, free and prosperous Vietnam." He signed it: "Commander of the Uprising Forces."
He parachuted from an emergency exit into a swamp, where the Vietnamese government arrested him two hours later. No one aboard the aircraft was harmed.
His sentence of 20 years in prison was cut short after the U.S. and Vietnam normalized relations. Tong was granted amnesty in 1998.
The hijacking forged Tong's reputation as a hero for many of the Vietnamese immigrants who fled their homeland and communism, prompting donations to his "freedom fighter" cause.
In January 2000, Tong rented a Cessna, flying from Florida to Cuba to distribute newspapers urging citizens to revolt against the government of Fidel Castro.
As punishment, he lost his pilot's license, but later that year he offered a flight instructor $10,000 to depart Bangkok in a single-engine plane — again heading to Ho Chi Minh City to drop thousands more leaflets, demanding armed demonstrations against the communists.
Police took him into custody when he returned to Thailand, where he was convicted and imprisoned.
Tong was released and came back to California in 2006. Two years later, he rented a South Korean aircraft, intending to sprinkle leaflets over North Korea, but he was arrested before he took off. Online, fans lauded his anti-communism campaign "for the world — not just for Vietnam."
In 2012, a judge sentenced Tong to jail after he disguised himself as a woman and pepper-sprayed a Vietnamese singer in Santa Clara whom he deemed sympathetic to the government of his homeland.
"A lot of people recognize that what he did, he did out of love for country," said Chinh Nguyen, 47, who joined a chat about Tong from the steam room of a gym in Fountain Valley. "He did things no one else can do."
But Nguyen said she would stop short of venerating Tong like older Vietnamese Americans do.
"I would not tell my children about him and call him a hero," she said. "It's OK to have motivation and passion. But you just cannot go and steal an airplane. Passion and reasoning are different."
Huong Nguyen, 71, a San Diego resident and former communications officer in the South Vietnamese Armed Forces, said Tong was a complicated man.
He didn't like that Tong used pepper spray to assault that singer, "but we cannot judge him. We are ordinary, while he is a hero."
In past years, Nguyen said, he asked the man now languishing in an intensive care unit why he did the things he did, knowing he could land in jail.
"He told me, 'If I push the people to overthrow the government, I need to be with them. Why would I run? I would never run. I am not afraid — even if I die.'"
For the last five years, Tong has lived in San Diego, where he has kept a lower profile, first renting a room in a Vietnamese veteran's home, then applying for subsidized government housing. Newly retired, he cooked porridge, made appearances at community celebrations and, according to niece Xuan Loc Le, had plans to write a poetry dictionary.
Tong has three children but never married. Le remembers him as "always affectionate," someone "who never forgot about his relatives, especially my sisters and I."
Tong's health has gradually worsened, and he has been at San Diego's Sharp Memorial Hospital since early March.
"I look at my uncle now and I think this cannot be happening. Death faces him and he has eluded it," Le said. "He may be lying there, but he's still fighting."
Supporters have kept vigil, with his older brother and niece visiting from Northern California.
Word of his failing health has prompted people from across the state to appear at his bedside, prepared to say goodbye.
Doctors waited for his family to arrive to make decisions about his medical care. On the day the fighter pilot slipped into a coma, his older brother, Nhuan Xuan Le, came to the hospital with a computer drive with Tong's time of birth, day and year. He planned to consult a fortune teller to pick an auspicious moment to end life support.
But his research was interrupted. The information on the drive could not be read by several computers. "Nothing worked," recalled Nguyen, a shuttle bus operator from Garden Grove. "It was as if some force was trying to give him a little more time on Earth."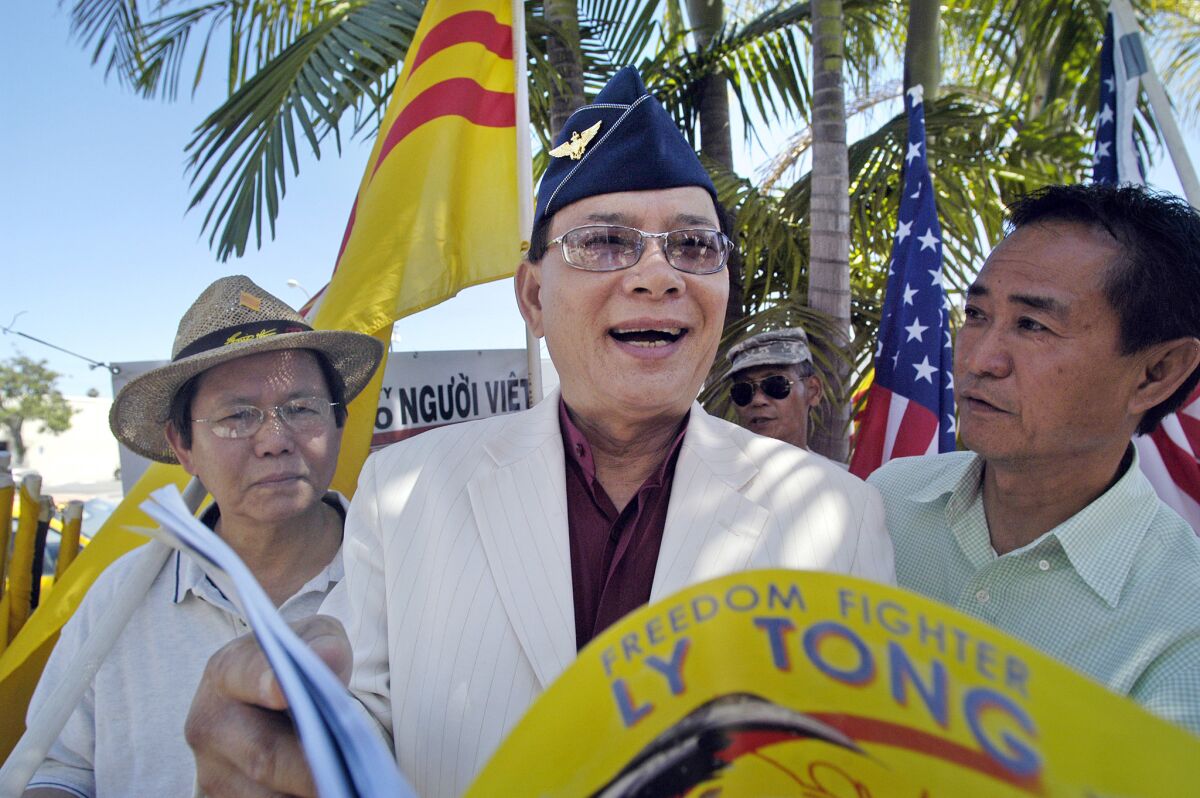 Stuck, Nguyen sought advice from a visitor at the hospital room, who had been talking to a Buddhist nun who came to pray for Tong. After meeting with Nguyen and Le at the hospital, the nun returned to Quan The Am temple to examine documents that would help her determine a time to let Tong go.
The next day, Le and his daughter went to Tong's room to see him one last time. Nguyen pulled out a camera to videotape when, suddenly, Tong made a swallowing movement in his throat, moving his tongue several times as if he were trying to speak.
Family members decided to keep him on life support.
Visitors streamed in and out — aging soldiers who trudged through Vietnam's jungles, other pilots from the war, musicians, writers. There were too many, so Cu, Tong's caregiver, moved him to another room to prevent disturbing other patients.
Still, people kept coming. More than 200 showed up last weekend, crying, bearing flowers. Some stood outside the room and peeked through a window in the door.
Late last week, Cu changed his room again, and — for the moment — the hallway is silent.
Twitter: @newsterrier
---
The stories shaping California
Get up to speed with our Essential California newsletter, sent six days a week.
You may occasionally receive promotional content from the Los Angeles Times.