Vietnamese Americans rally in Little Saigon against Trump administration's push to deport thousands of war refugees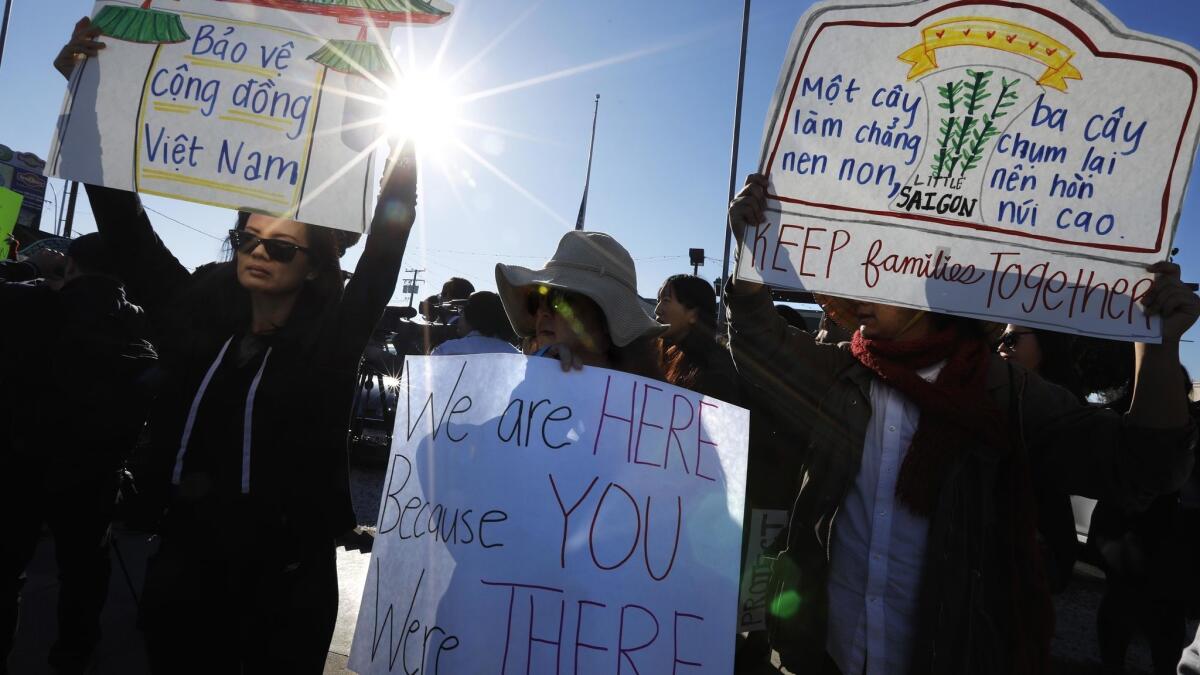 Their faces were grim, but with their voices united in a common cause, Vietnamese Americans rallied in Little Saigon on Saturday to protest the Trump administration's push to deport thousands of war refugees.
"We stay together," and "Pho-Get Trump," they shouted, carrying signs and sharing photos of their colorful designs on social media. At first, the morning gathering in Westminster drew about 100 people, but by 10 a.m., dozens more arrived after word spread on Facebook and via texts.

For the record:
7:00 p.m. Dec. 15, 2018A previous version of this article mistakenly attributed a quote from accounting student Lan Ngo to UCLA master's student Lan Nguyen.
Community activist Xuyen Dong-Matsuda, a mental health specialist, stepped into the middle of the crowd, pleading for people to "fight for those who need our passion and our help." The chants grew louder.
"Bao ve gia dinh. Bao ve gia dinh," protesters repeated, demanding protection against separating families. More than 300,000 Vietnamese Americans and nationals live in Orange County, the largest Vietnamese population outside Vietnam.
Over 8,000 Vietnamese residents in the U.S. who escaped their homeland but later committed crimes — even minor crimes for which they have served time — will face deportation if immigration officials succeed in renegotiating an agreement that sheltered their residency status.
Rally organizers said representatives from the U.S. and Vietnam met in Washington this week to talk about changing a pact the two countries signed in 2008 under President George W. Bush that protects Vietnamese who came to the U.S. before July 12, 1995, from being deported.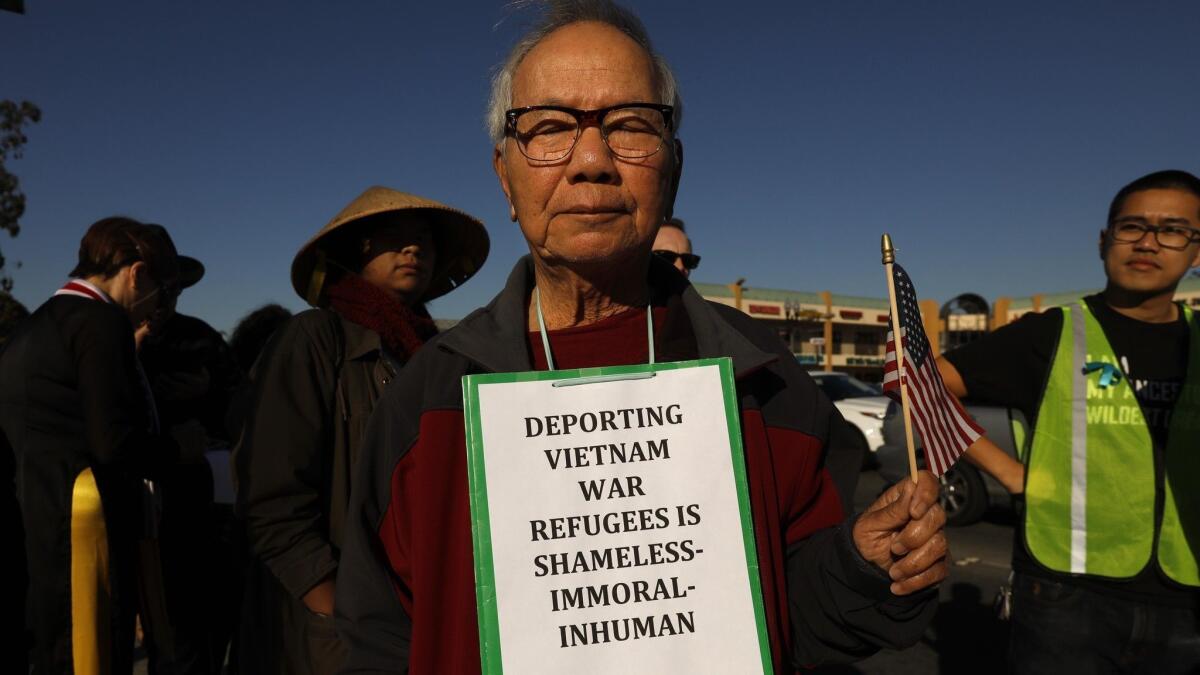 Since 1998, more than 9,000 Vietnamese immigrants have received a final order of removal, according to the Southeast Asia Resource Action Center. Changing the agreement could affect the vast majority of these individuals, leaving them immediately vulnerable to deportation, center officials said.
At least 7,000 of those who have received a final order of removal were "noncitizens who during previous administrations were arrested, convicted and ultimately ordered removed by a federal immigration judge," Department of Homeland Security spokeswoman Katie Waldman said in a statement. "It's a priority of this administration to remove criminal aliens to their home country."
Activists argued, however, that many of those targeted for deportation should be given a second chance.
"Most of these immigrants entered the U.S. already deeply traumatized, right after the end of the Vietnam War. But they rebuilt their lives. And now this?" questioned Tung Nguyen, founder of Asians & Pacific Islander Re-Entry of Orange County and an activist from Santa Ana who's working to better integrate formerly incarcerated people into society.
"We need to open our hearts and minds to offer others a second chance," said Lan Nguyen, a filmmaker and UCLA graduate student pursuing a master's degree in Asian American studies. On Saturday, she represented VietUnity, a group focused on global peace, justice and self-determination, and said she was marching to ensure that the Vietnamese also stand in solidarity with the Cambodian community because "both of our communities are being targeted for deportations."
"The fear and paranoia is heartbreaking," said Lan Ngo, an accounting student from Los Angeles. "We cannot sit on the sidelines. We, the young people, have the education and the energy to share our demands and to keep immigrants safe."
Farrah Khan, who won a seat on the Irvine City Council last month to become the first Muslim American woman elected to office in Orange County, said she could not miss joining the chorus of supporters rallying in Little Saigon.
"I see the different cultures represented here, and it makes me happy that people are banding together," said Khan, pointing to the white, Latino and Asian faces in the throng. "There's no boundary to this issue. I'm going to share it widely…. The more people who are involved, the better."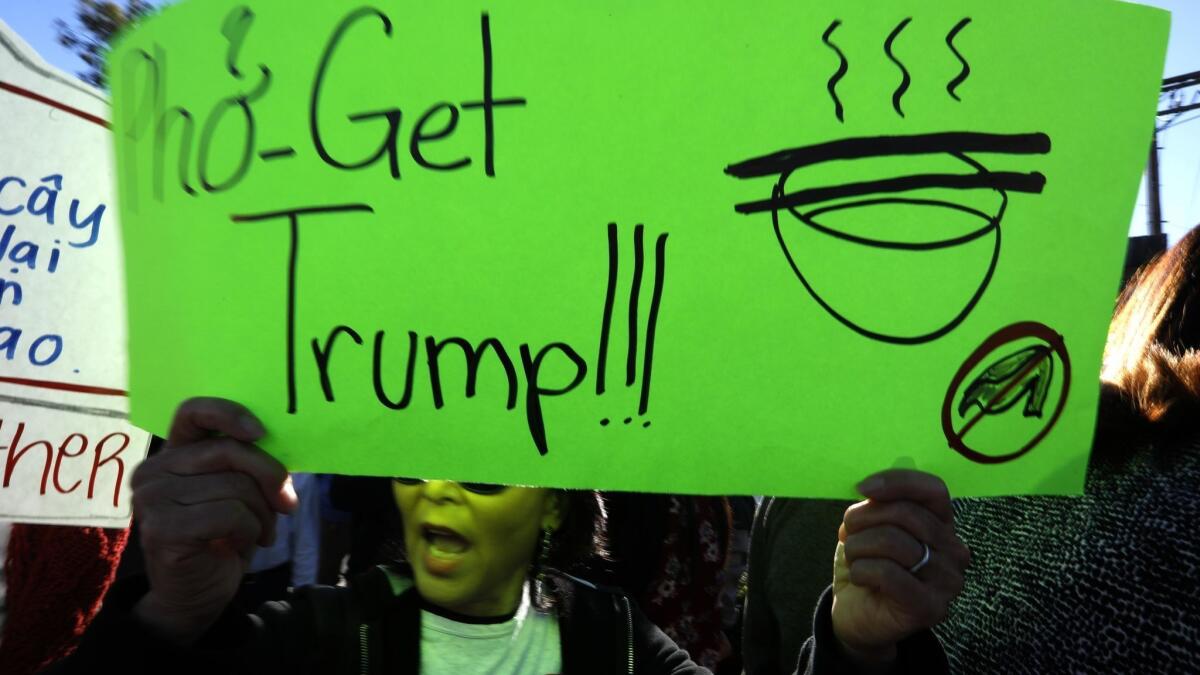 Khan heard about the protest from former Garden Grove Mayor Bao Nguyen, who stood next to her, shouting in unison.
"At times like this, we have to stand up for the voiceless," he said. "There's a reason this hasn't gotten a lot of attention and that's because people didn't feel empowered. They should — and we are working to boost our activism."
Many participants said the gathering is the first to be organized around threats of deportation facing their community members.
Tracy La of VietRISE, a grass-roots organization, said she and team members organized the rally in just two days because "we knew a lot of people of all ages are outraged at what's happening. Knowing that a huge number of our community members are in deportation limbo compels us to act and to share our demands. No one will listen unless you speak up."
Orange County was once considered a solidly conservative bastion in part because it drew high numbers of refugees who registered as Republican after they fled Vietnam and became U.S. citizens. But in the November midterm elections, the Democratic Party signaled a major change when it flipped the GOP's four House seats to sweep six of seven districts in the county.
Some California Republicans worried that the Trump administration's efforts to revise its deportation agenda for Vietnamese immigrants will only make it more difficult for the party to regain a foothold in the state.
"Trump shovels more dirt on California Republicans' grave..." tweeted Assemblyman Chad Mayes (R-Yucca Valley), a leader of a political action committee that is trying to reimagine GOP politics.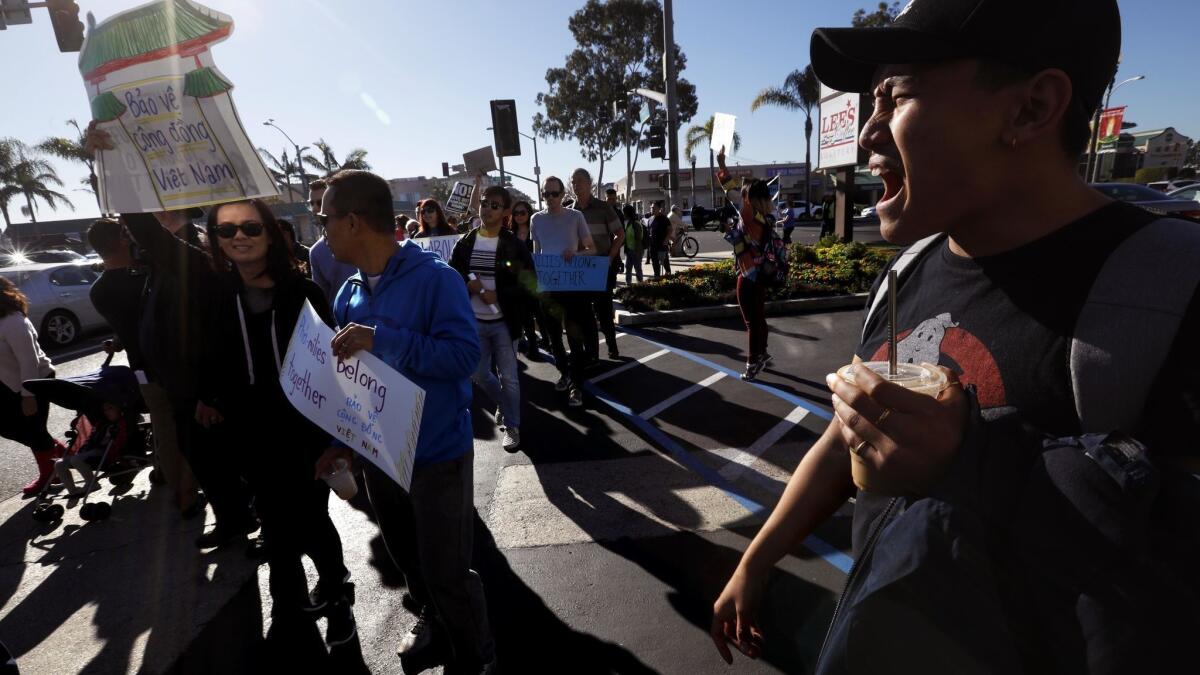 Twitter: @newsterrier
Sign up for Essential California for news, features and recommendations from the L.A. Times and beyond in your inbox six days a week.
You may occasionally receive promotional content from the Los Angeles Times.