Kevin Short, a towering figure in West Hollywood known as WeHo Jesus, dies at 57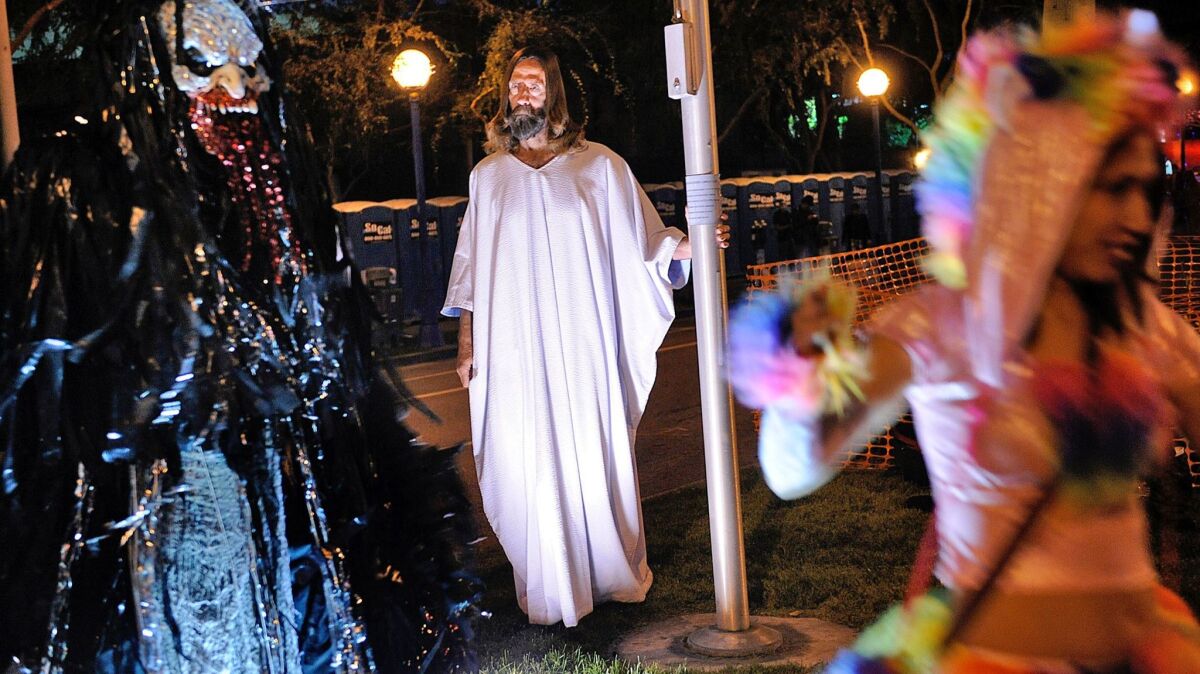 The U.S. Supreme Court had just given its blessing for same-sex marriage in California in the summer of 2013 and West Hollywood was in a mood to celebrate.
As the crowds gathered and the enthusiasm swelled, there — standing silently amid the masses — was Jesus, wearing sunglasses and a long white robe. He held a sign that read, simply: "Marry Who You Love."
The towering figure wasn't Jesus of Nazareth, of course, but rather Kevin Short, a man who'd become a familiar figure as he walked the streets dressed as Christ in a community where he came to be known as WeHo Jesus.
Short, who also went by the name Kevin Lee Light, died Dec. 13 at Cedars-Sinai Medical Center, according to California death records. Brian Hamilton, a longtime friend and neighbor, said Short died after a brief illness. He was 57.
In a city that embraces the counterculture — from the go-go dancers thrusting their hips at gay bars to boozy rock stars playing the Sunset Strip — WeHo Jesus was an eccentric saint, always open to a selfie and a hug.
In his own particular way, Short seemed omnipresent. He marched in the L.A. Pride parade, hung out at The Comedy Store and posed with drag queens at the West Hollywood Halloween Carnaval. He danced in a music video for the band LMFAO's tune "Champagne Showers," and, according to lead singer Steven Tyler, inspired Aerosmith's song "Street Jesus."
Once on Sunset Boulevard, Short ran into Snoop Dogg, who tried to offer him a "tithe and offering" of $20. When WeHo Jesus refused the money, Snoop said: "He's bigger than money, man, that's Jesus!"
A thin man with long, flowing brown hair and a full beard, Short stood 6 feet 7 and was an arresting figure even without the robe and sandals. But he wore the Jesus-like garments most of the time, even when he was just out getting coffee or gardening outside his Laurel Avenue apartment.
Friends said he'd been dressing as Jesus for at least a decade. He even wore his robes to city planning commission meetings.
Lisa Belsanti, a spokeswoman for the city of West Hollywood, said Short told her that he used to dress as Jesus for Halloween, and it got such a great response that he started dressing that way most of the time. Plus, with his size, the robes were a comfortable fit.
In recent years, Short helped West Hollywood city officials with promotional events and appeared in a city-produced YouTube series called "The WeHoans." In an episode about earthquake safety, a drag queen shrieks, "Oh, my god!" when the ground starts shaking. WeHo Jesus responds, "Oh, my dad!"
"I think West Hollywood was a perfect place for him because he stood out, and it was in an endearing and charming way," Belsanti said. "People did not regard him as some weirdo street character. People embraced him as West Hollywood's own."
People embraced him as West Hollywood's own.
— Lisa Belsanti, spokeswoman for the city of West Hollywood
The sight of Short at LGBTQ events could be powerful, Belsanti said. Sometimes he'd stand next to anti-gay protesters, undercutting their intolerance simply by radiating a peaceful calm.
"There's some disassociation within the LGBT community and people who broke with their faith because of their identity, and seeing Kevin out there dressed as Jesus — especially at Pride, where he'd stand up next to these vicious protesters saying you're going to hell — would give people a lot of comfort," Belsanti said.
West Hollywood Councilman John D'Amico said people seemed drawn to Short, who appeared to love talking to everyone.
"He was the opposite of the prophet in the desert. He was Jesus in the city," D'Amico said. "Often the version of religion you see in the streets is one of confrontation … but Kevin embodied the ideals of a sort of religiosity that is welcoming and caring."
Once, D'Amico said he saw Short checking his cellphone messages outside the House of Blues on Sunset Boulevard and snapped a photo.
"I thought, 'How fun, there's Jesus texting,'" D'Amico said. He posted the photo on Instagram this week, saying WeHo Jesus was "checking messages in heaven now."
Hamilton, Short's friend and neighbor for two decades, said Short was a soft-spoken man who wasn't particularly religious but enjoyed discussing faith, politics and current events.
"He was inquisitive and intellectual, grounded in reality, and loved to talk about many complex issues, things that the average person wouldn't chit-chat about," Hamilton said.
Hamilton, a local board member for the SAG-AFTRA actors' union, said he tried to gently protect Short when celebrities leaned on him to appear in videos. He told Short to make sure he got paid, yet Short never seemly overly concerned with collecting what might be owed him.
"I was always trying to look out for him, to make sure he was given money," Hamilton said. "But it seemed like his primary motivation was to spread joy and love."
Though Hamilton knew Short before he started wearing robes and sandals, he said he never bothered to ask his friend why he suddenly started dressing as Jesus.
It just seemed to happen naturally.
Twitter: @haileybranson
Times director of library services Cary Schneider contributed to this report
---
The stories shaping California
Get up to speed with our Essential California newsletter, sent six days a week.
You may occasionally receive promotional content from the Los Angeles Times.