West Hollywood plastered with rainbow #ShootBack signs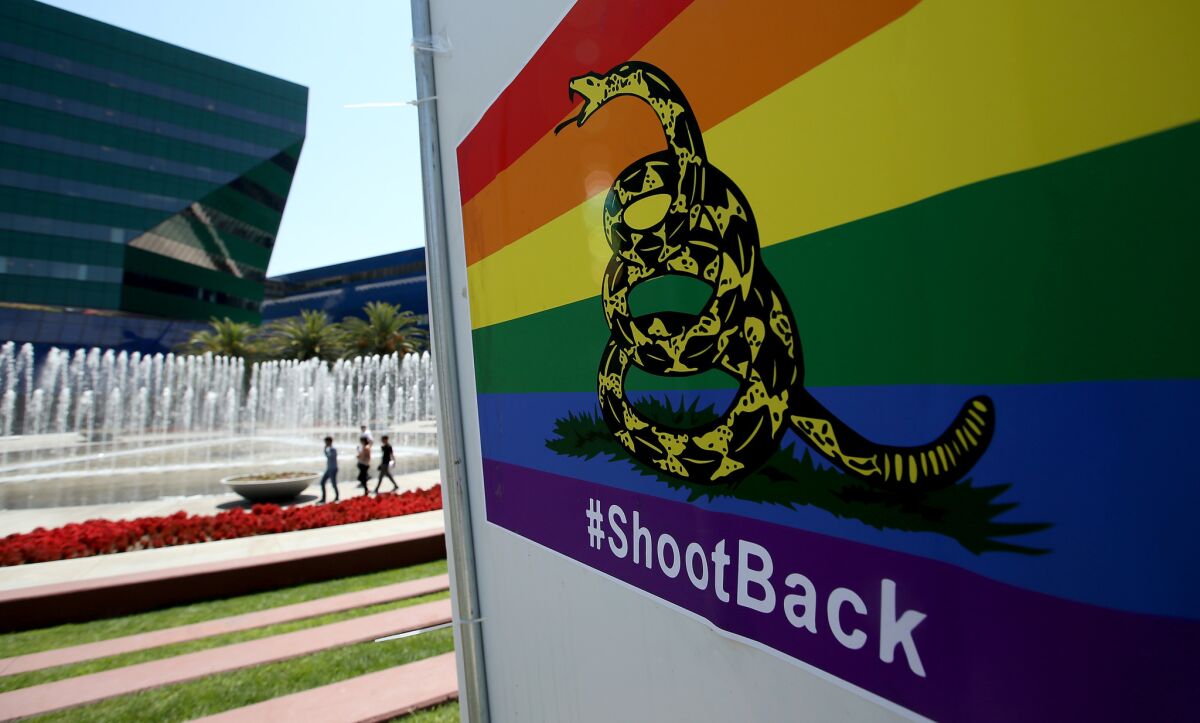 Stickers and posters featuring a rainbow-colored version of the Gadsden flag and the hashtag #ShootBack were raising eyebrows in West Hollywood on Thursday morning in the wake of the massacre at a gay nightclub in Florida.
The signage was affixed to electric boxes, light poles, trash cans and other fixtures near West Hollywood City Hall, the Pacific Design Center and along Santa Monica Boulevard. Several were hung near the Abbey Food & Bar, a well-known gay lounge.
The posters featured a coiled, striking rattlesnake, similar to the yellow Gadsden flag that reads "Don't Tread On Me" and often is used by the Tea Party movement. The West Hollywood signs were rainbow-colored, like the gay pride flag.
"We are disturbed by them," West Hollywood Mayor Lauren Meister said of the posters. "We don't believe in an eye for an eye, and we advocate against gun violence."
The signs were posted just days after Sunday's shooting at the Pulse nightclub in Orlando, Fla. The 29-year-old gunman, Omar Mateen, had spoken in the past of his hatred for gay people before killing 49 club-goers and wounding 53 more.
Capt. Holly Perez of the Los Angeles County Sheriff's Department West Hollywood Station said she first noticed one of the rainbow #ShootBack signs Wednesday night as she was running along Santa Monica Boulevard. She was surprised, initially thinking it was just something leftover from Sunday's L.A. Pride parade and "a fluke."
But then she kept seeing them — in the public right of way and on private property — and alerted others in the Sheriff's Department.
"I understand the sentiment behind them and 1st Amendment rights, but it's a bad message," Perez said. "I hope it's just people venting that they could do this, and I'm hoping their calmness will take over. It's our job to keep you safe."
FULL COVERAGE: Orlando nightclub shooting »
Perez said the past few days in West Hollywood — which has a famously large lesbian, gay, bisexual and transgender population — have been tense. The Orlando slayings occurred just hours before the city hosted a massive LGBT Pride parade, and a candlelight vigil for the victims drew hundreds of people on Monday evening.
"I understand that people want to fight back after Orlando," she said. "But there are ways to do that without a gun."
The mayor said she, too, was surprised by the signs.
At Monday night's vigil at the gay bar Micky's, people spoke of wanting to end gun violence, and many loudly voiced their support for an assault weapons ban, Meister said.
"It's been a very emotional and turbulent week for the city and the LGBT community," Meister said. "There's a lot of frustration, a lot of rage, a lot of sadness, but we firmly believe that love conquers hate."
Meister said it was unclear who designed or posted the signs.
"Whoever is doing this, this is not the voice of the city," Meister said.
West Hollywood Councilman John Duran, who is gay, said the signs were upsetting and not the right message for the gay community.
"Even during our heightened days of civil disobedience and protest, we have only advocated peaceful means, never arming ourselves and retaliating with violence," Duran said.
Oscar Delgado, West Hollywood's director of public works, said city crews would be removing signs within the public right of way, which is standard procedure.
"We are looking for them," Delgado said Thursday morning. "Ones that are on public property are going to be removed."
Asked what he thought about the signs, David Cooley, owner and founder of the Abbey, said in an email that "the best way to shoot back is to enact serious change to our gun policy."
"We need an outright ban on all assault weapons and better protections to keep all guns away from bad people," Cooley said.
The Abbey on Sunday upped its security presence and posted armed security guards at its entrances. The bar is considering making armed guards a regular presence, especially during peak times like Pride, said Brian Rosman, a spokesman for the bar.
Two stickers displaying the rainbow #ShootBack image were stuck to a light pole on Fountain Avenue near the public art installation "No One is Safe," in which visual artist ChadMichael Morrisette placed 50 mannequins atop the roof of his house to represent the dead in Orlando.
Morrisette said he did not know who put the stickers up and that he was going to rip them down Thursday afternoon.
He said they had a "twisted message that doesn't represent what the people in my neighborhood are feeling, not at all."
Twitter: @haileybranson
ALSO
Obama in Orlando, reprises his role as comforter-in-chief and repeats call for tighter control of weapons
Congress remains unlikely to change U.S. gun laws after Orlando shooting
Victims of the Orlando nightclub massacre: Who they were
The AR-15-style rifle: a popular seller tainted by mass murder
---
UPDATES:
3:32 p.m.: This article was updated with comments from ChadMichael Morrisette.
1:38 p.m.: This article was updated with comments from Councilman John Duran.
This article was originally published at 1:01 p.m.
The stories shaping California
Get up to speed with our Essential California newsletter, sent six days a week.
You may occasionally receive promotional content from the Los Angeles Times.