These grandparents sold gay porn for decades and almost went to prison. Now, they are calling it quits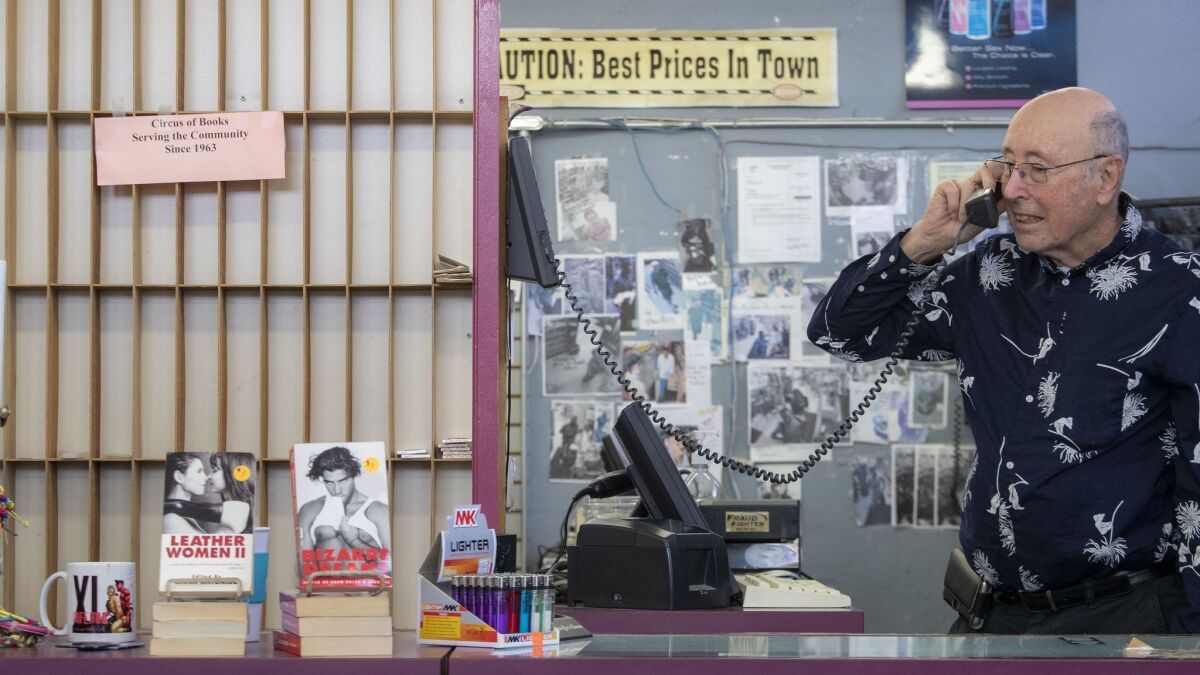 Karen and Barry Mason swear they never planned to sell porn for long.
They were just really good at it.
For 37 years, the couple — now septuagenarian grandparents — have run Circus of Books, a West Hollywood bookstore that sold gay and straight nudie magazines, hardcore pornographic films and sex toys, as well as international newspapers and classic literary titles.
"I always assumed that we would end up doing something else," Karen said. "We don't know anything, really."
The Santa Monica Boulevard store gained legendary status in Southern California's LGBTQ community as a place where people could peruse gay erotica or meet other gay people, hanging out in a place free from homophobia.
Over the years, Circus of Books has survived an FBI raid, federal obscenity charges and complaints from law enforcement who said the store attracted prostitution and other criminal elements. It remained open during the AIDS crisis, when numerous employees died.
But it could not survive Amazon.
Strangled by the internet — where pornography and dating apps abound — Circus of Books will close for good Saturday.
"A lot of people are sorry to see it go, grateful it's been there all this time," Karen said. "And as we're closing, people are saying, 'You know, this store saved my life.' "
When the Masons started out in the early 1980s, "Circus of Books and the gay bars were places where people would go to meet, to find each other," said West Hollywood Mayor John Duran, who is gay. "There was no Grindr or Scruff or Tinder. If you wanted to find community, you had to go out and seek it."
For many customers, the gay erotica was revolutionary, he said.
"It's not like any of us got this through sex ed or at home with Mom and Dad," Duran said. "We had to learn."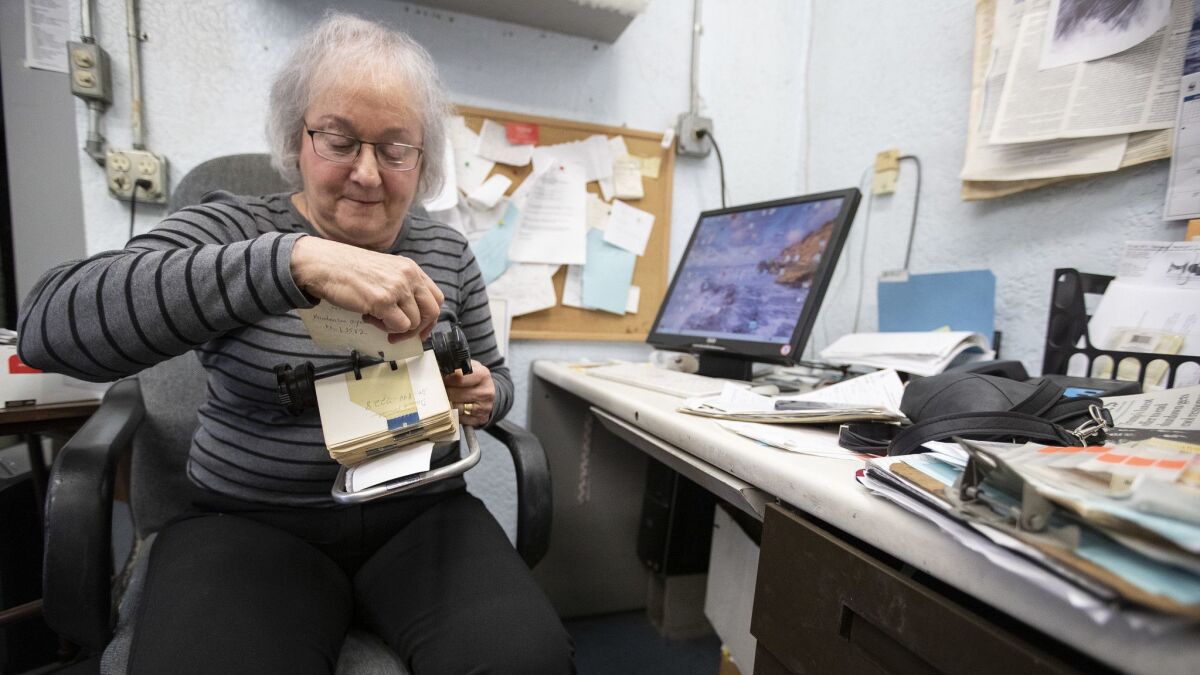 In the 1970s, Barry made a decent living selling accessories he'd invented for dialysis machines until the cost of medical malpractice insurance became too much.
After Karen, who had worked as a journalist, spotted a newspaper ad seeking magazine distributors for Larry Flynt — the publisher of Hustler and Chic — Barry started driving around to liquor stores and newsstands, taking orders.
Karen did deliveries. She was pregnant at the time, so she hired unemployed musicians — she preferred drummers, who always seemed the most reliable — to help with heavy lifting.
One West Hollywood store, Book Circus, ordered 600 gay titles, including Blueboy and Honcho, each month and instantly sold out. "I'd have to fill the whole truck up just to fill those titles," Barry said. Customers were so glad when the magazines arrived, "they would come out front and help me unload it."
The Masons eventually learned the bookstore's owner, who had fallen behind on magazine payments, was being evicted. Barry made a deal with the property manager: He'd pay half the man's $1,400 monthly rent until he was evicted if the Masons could take over the lease afterward.
The couple kept the staff and changed the name to Circus of Books. Along with the pornography, they sold obscure novels from LGBTQ authors, as well as science fiction books, foreign newspapers, even Bibles.
Gay-themed magazines played an important role in assuring people they weren't alone at a time when homosexuality was taboo, said Joseph Hawkins, director of the ONE National Gay & Lesbian Archives at USC.
For decades, gay magazines — including ONE, the non-pornographic magazine for which the archive is named — that were sold at newsstands in big cities were obscured behind a tarp or curtain and sold alongside bawdy straight magazines, even if the gay periodicals had no nude pictures.
"There was just enough space to edge in and look, and there were porn magazines for the straight men and the gay men. Everybody was in there," Hawkins said. "Sometimes the men in there looking at straight erotica would see you looking at a gay-oriented magazine and get upset.
"You never had a sense of safety. You'd worry there was a vice officer in there who would arrest you for looking at the magazines. ... The place was selling the magazine, but you weren't allowed to look at it."
Rachel Mason said that when she was growing up, her parents were much more strict than her friends'. She and her two brothers had to get straight A's. They weren't allowed to watch TV. They had to go to synagogue with their mother.
"I was this little rebel, and what I didn't know was that they were outlaws in their own way," she said. "They were just so good at this balancing act that we had no clue about it. I was fighting with my mom about my hair color … and they were actually dealing in hardcore videos."
Rachel, 40, an artist and musician, is making a documentary about her parents' shop, which will debut on the film festival circuit this spring. It wasn't until she started making the film that she realized how revered Karen and Barry were in the LGBTQ community.
"This store represents a time capsule of a different era … when being queer was really underground," she said. "It was truly a hidden culture."
Rachel and her brothers sometimes sneaked into the pornography section to giggle at the movie covers until their mom yelled at them to get out. In the 1980s, young Rachel noticed that her parents' clerks kept disappearing.
They were dying of AIDS.
"Somebody I just met would be dead the next week, then another person and another person … as a kid, I didn't have any perception that that was unusual.
"They were extraordinary young guys who I looked up to."
If employees felt well enough to work, the Masons encouraged them to come in so they could have some normalcy. If they needed public assistance to pay for expensive medication, the couple would pay them off the books in cash so they could keep unemployment benefits. It was the only time, Karen said, she ever broke the rules.
"They were just so young," Karen said, sighing. "It just — um — they shouldn't have died."
The Masons by that time had bought the building, which had several apartments upstairs, and their tenants were dying, too. Many were estranged from their families.
"A lot of parents wouldn't come to get their things or come to their funerals," Barry said.
"And sometimes," Karen said, "I would get a call from a mother. 'Tell me about my son.' Where were you, lady? I had nothing to say to parents like that."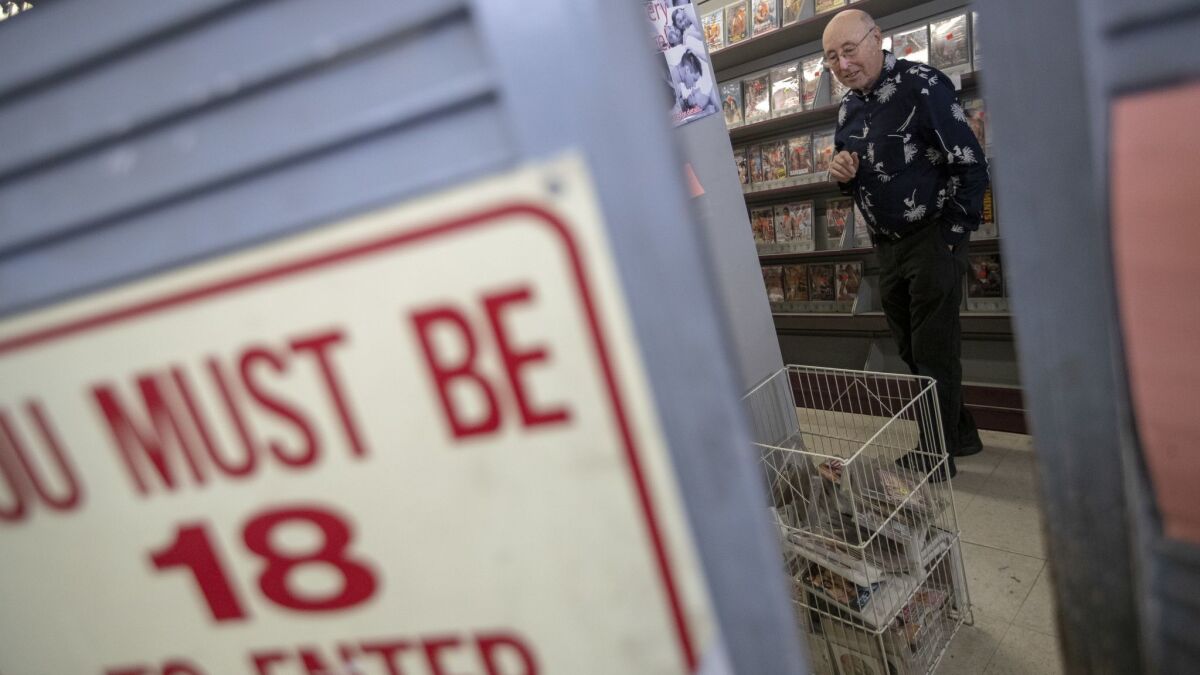 At its peak, Circus of Books had three locations. A short-lived Sherman Oaks store closed in the late 1990s after the city ordered it to stop selling porn because it was too close to an elementary school. The Silver Lake shop closed in 2016 amid declining sales.
The West Hollywood store had its share of drama. The alleyway behind it was a well-known gay cruising spot, and residents and sheriff's deputies said the 24-hour bookstore attracted prostitutes and drug dealers.
In 1989, the city ordered the store to close daily from 2 to 6 a.m. Karen told The Times then that they were being used as a scapegoat for a problem they didn't create.
"The hustlers are around the building like roaches," she said at the time, "and we've tried to get rid of them."
In the early 1990s, an employee shipped several gay and straight pornographic VHS tapes — including "Licorice Twists," "Latex Slaves Discipline" and "The Best of Bruce Seven, Vol. 1" — to a customer in Pennsylvania's Lebanon County.
But it was a sting. The Masons were indicted on federal charges of interstate transportation of obscene materials, and the FBI raided their warehouse, carrying guns.
"They were looking for a copy of what was shipped," Barry said, "a girly title, and all of them, every time they'd pull out a box they'd laugh at the titles."
After years of litigation, the Masons avoided jail time by agreeing to a pretrial diversion program and a $20,000 fine. For about a year, Barry had to report to federal court once a month to show he was still working and not committing any crimes. Federal investigators, he said, later mailed back the tapes they'd taken as evidence.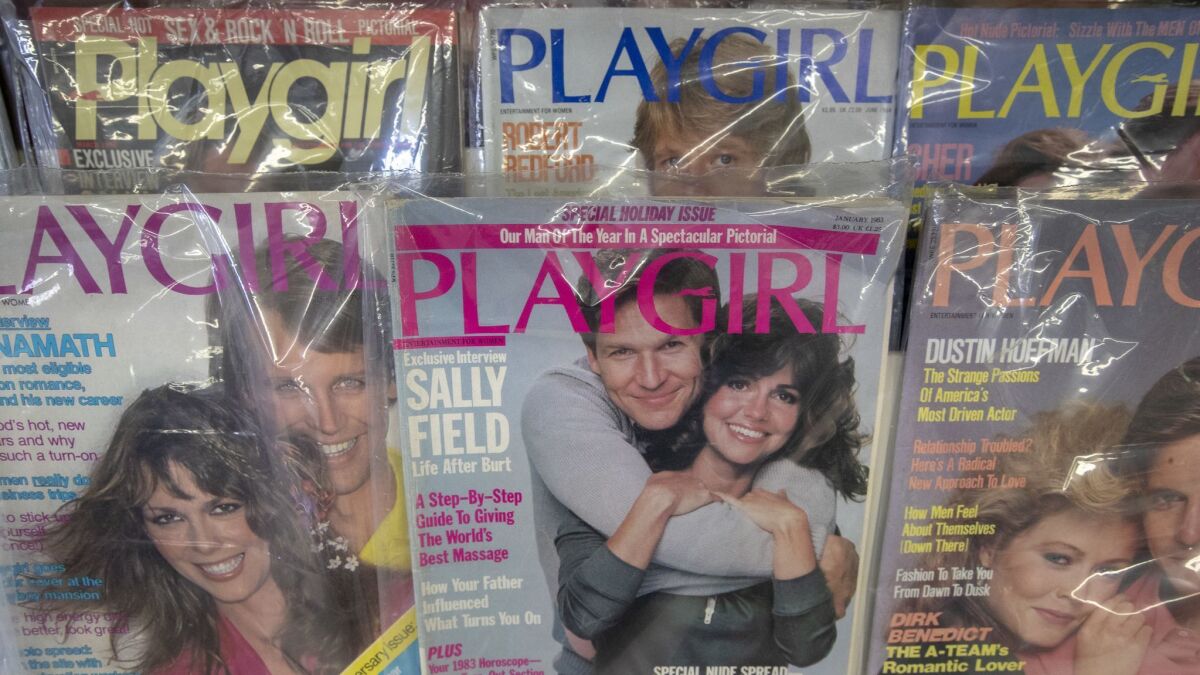 Karen, who gets a bit embarrassed when talking about the pornography, said she'd never watched any of the films. It all seems kind of boring, she said with a shrug.
In her spare basement office, Karen still keeps contacts on a Rolodex. She also keeps two sketches done by her children hanging above her desk.
One is a portrait of Mother Teresa. The other is a drawing of a frail man with an oxygen tube in his nose. They're a reminder, she said, that everything in life is finite.
Twitter: @haileybranson
The stories shaping California
Get up to speed with our Essential California newsletter, sent six days a week.
You may occasionally receive promotional content from the Los Angeles Times.