West Nile virus kills at least 4 in California, health officials say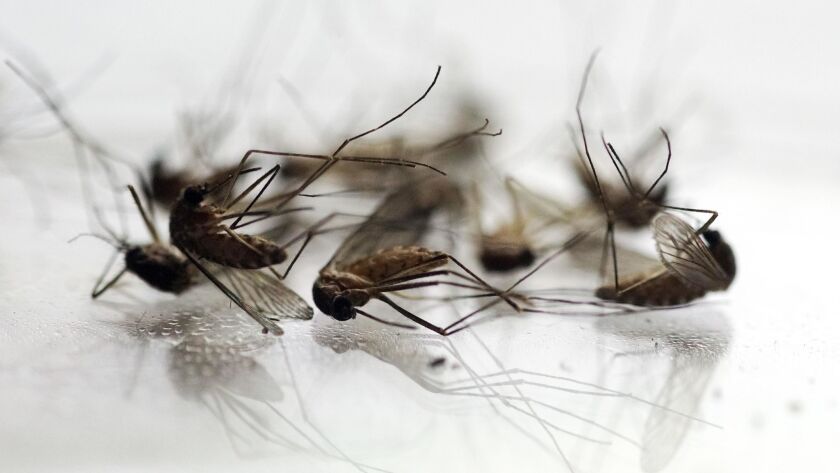 At least four people in California have died of West Nile virus this year, state health officials said.
The first deaths were reported earlier this month in Glenn and Yuba counties, the officials said. Two other deaths occurred in Placer and Yolo counties.
On Monday, Butte County reported a West Nile virus death. The patient who died reported symptoms in August and was between 50 to 70 years old.
The California Department of Public Health lists the total number of West Nile deaths at four. Officials said the department did not include the Butte County fatality in its count because the tally is updated at the end of each week.
West Nile season typically begins with warmer weather in the summer and continues into the fall. One hundred people from 25 California counties have tested positive for West Nile virus this year, authorities said.
The virus exists mostly in birds but can be transmitted to mosquitoes that bite infected birds. Humans — and horses — get the disease when they're bitten by those mosquitoes.
Most people who contract the virus don't notice any symptoms. But a very small number can develop encephalitis or meningitis that can be fatal. In 2017, mosquitoes infected at least 553 Californians with serious cases of West Nile virus, leading to more than 40 deaths.
Health officials recommend wearing insect repellent, long pants and long-sleeve shirts outdoors, especially during dawn and dusk, when mosquitoes are most active. They also recommend draining any standing water, such as in flower pots or buckets, where mosquitoes can lay their eggs.
For more California news follow me on Twitter: @sarahparvini
---
The stories shaping California
Get up to speed with our Essential California newsletter, sent six days a week.
You may occasionally receive promotional content from the Los Angeles Times.