Live in Santa Monica, West Hollywood, or Beverly Hills? Quake retrofits for apartments may be coming to you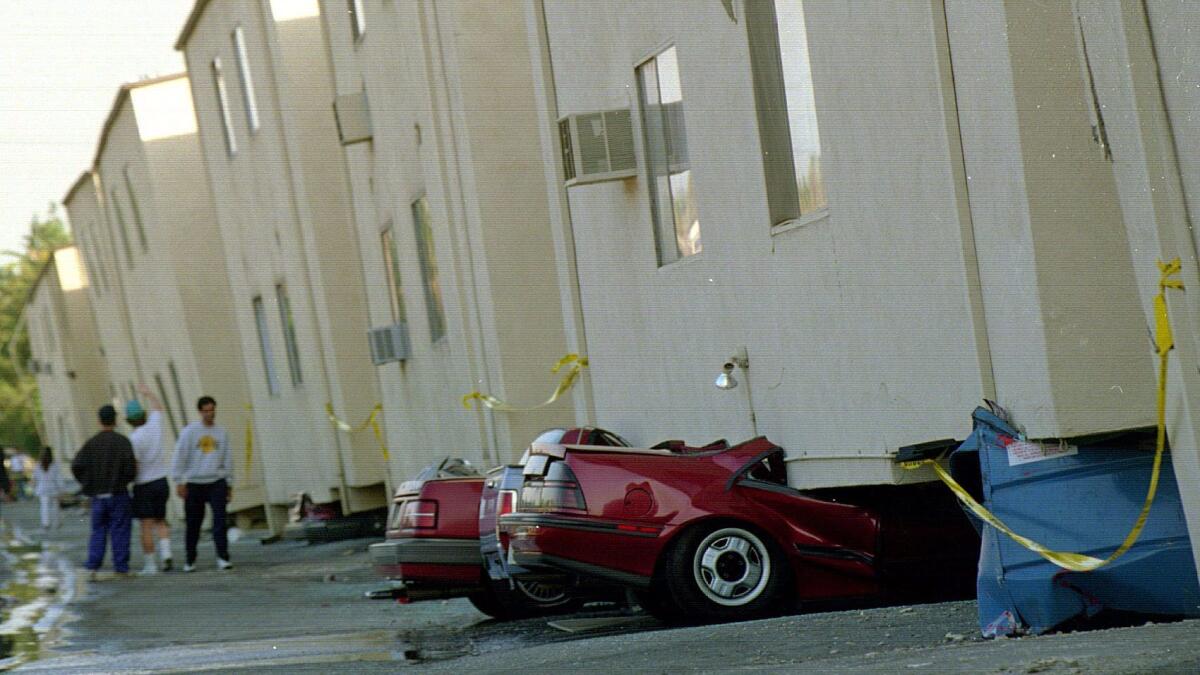 The movement to retrofit buildings at risk of collapse in a large earthquake could take a major step forward in the coming months as three prominent Westside cities — Beverly Hills, Santa Monica and West Hollywood — consider sweeping laws mandating that thousands of structures be strengthened.
The move is part of a larger political movement that began in San Francisco and Los Angeles to tackle seismic retrofitting that is slowly spreading to smaller communities around the state.
The three Westside cities are affluent and boast some of the region's most valuable real estate. But seismic experts have long been concerned about how the cities would fare in a major quake, especially because the Hollywood fault runs through the heart of them. A 2014 Times data analysis found that about 12,000 properties were within 500 feet of earthquake faults newly mapped that year in Los Angeles County, including landmark structures on the Sunset Strip, Wilshire Boulevard and Hollywood Boulevard.
If all three cities approve the rules, it would greatly expand a campaign launched last year in Southern California by Los Angeles Mayor Eric Garcetti that created the nation's toughest earthquake safety law. Los Angeles' law requires retrofitting of wooden apartment and concrete buildings. As many as 13,500 wooden buildings and 1,500 concrete buildings are now being evaluated for possible retrofitting.
Beverly Hills officials said they consider the effort an important safety as well as financial priority.
"We're really concerned about economic sustainability — wanting to make sure that in the event there's an earthquake, we want to be able to get our community back and up and running with as little problem as we can," said David Yelton, deputy building official for Beverly Hills.
West Hollywood City Councilman John Duran agreed, adding: "Seismic retrofitting is critical to the future of West Hollywood." The city did not suffer major damage in the 1994 earthquake, but, Duran said, "we may not be so lucky next time."
As other cities consider new seismic safety laws, a new survey by seismologist Lucy Jones and the Structural Engineers Assn. of Southern California found that most local governments in the region have done nothing to mandate retrofits of important building types known to be at risk, such as concrete and wooden apartment buildings.
Officials have known for decades that these types of buildings are particularly vulnerable to collapse in a huge quake. But government agencies until recently have struggled to require retrofits, largely because of opposition from property owners.
The design defect in concrete buildings became clear after concrete hospital buildings tumbled during the 1971 Sylmar earthquake, killing about 50 people. The flaw of wooden apartment buildings was dramatized when 16 people died in the collapse of an apartment building in the 1994 Northridge earthquake — one of about 200 that were damaged or destroyed during that event.
The smaller cities of Berkeley and Fremont require retrofits of wood apartments. Downey requires all buildings built before 1957 to be evaluated for seismic safety and retrofitted if deficient. But those cities are the exception. Retrofitting concrete buildings is much more expensive, and Los Angeles is the only major city to require strengthening of those structures.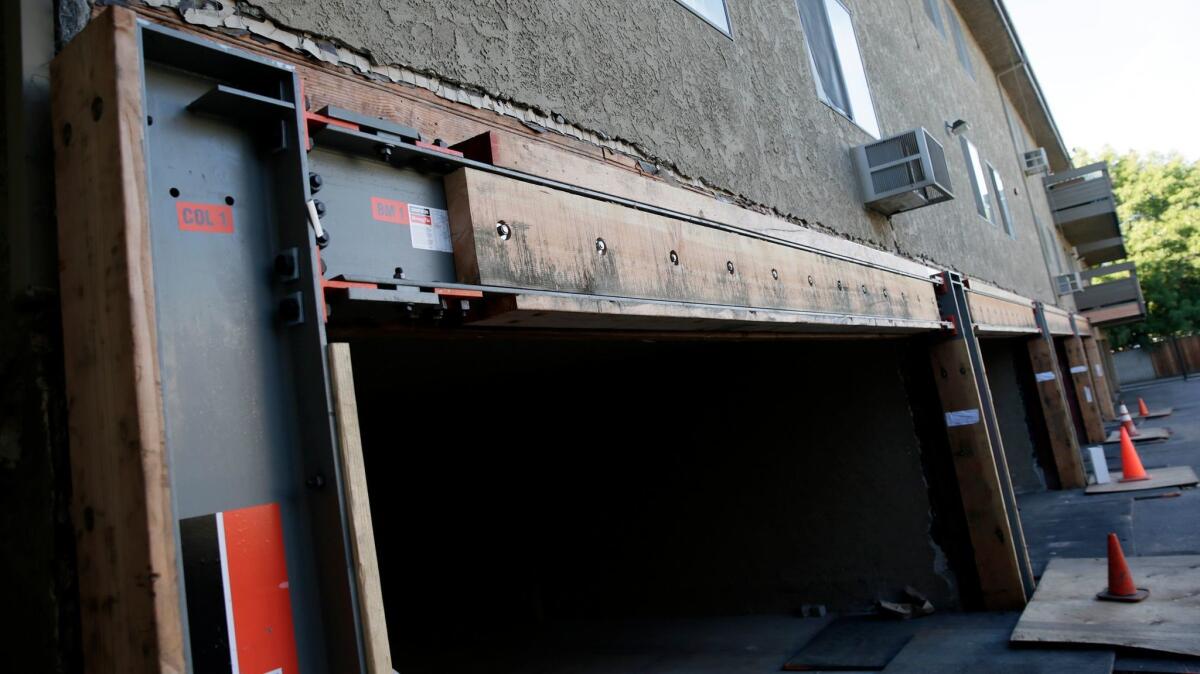 There has long been opposition to mandatory retrofitting in Los Angeles, mainly because of the concern about the price tag. It can cost more than $100,000 to retrofit a smaller wooden apartment building, and more than $1 million for a concrete building. But following a year of public outreach by Garcetti and Jones, there was also recognition from both owners and renters that will share in the costs that it was essential to make those structures safer.
"We know what are the bad buildings. We know they're out there," Jones said. "That doesn't make them disappear. You're going to have to act if you want to not be killed in them."
Even unreinforced brick buildings — whose construction was outlawed in many communities after the deadly 1933 Long Beach earthquake — remain unfixed in many local jurisdictions, despite decades of work mandating retrofits or demolition in cities like Los Angeles. Among communities in Los Angeles, Orange, Ventura, Riverside, San Bernardino and Imperial counties that have unreinforced brick buildings, 58 out of 139 local governments did not have mandated and fully enforced retrofit programs.
Jones said a city's failure to require retrofits could devastate the local economy. When an earthquake struck New Zealand's third-largest city, Christchurch, in 2011, 70% of the central business district was damaged, but 100% of it was shut down for years because the collapsed buildings made the entire area too dangerous.
"These older buildings, we know … they can be death traps," Jones said. "We know where people will die. We have to deal with it."
Southern California has a couple hundred known faults. "Everybody in the 23 million people of Southern California lives within about five miles of an active fault," Jones said. "We don't know which subset of us is going to be the ones that'll suffer in the next 50 or 100 years. But we know that some of us will. And it's actually really likely that we are all going to be suffering from a big San Andreas earthquake."
Overall, there are tens of thousands of buildings in Southern California at risk in an earthquake. A U.S. Geological Survey simulation of a magnitude 7.8 quake on the San Andreas fault in Southern California projected that an astonishing 1,500 buildings would collapse, and 300,000 more would suffer serious damage.
"And we basically know which ones they are," Jones said. "Which ones will be in the next earthquake will depend on which fault [ruptures] in the next earthquake."
Some local governments have begun to pay attention to the problem. The Southern California Assn. of Governments, known as SCAG, is working with Jones to educate local officials about earthquake risk and how to address the problem.
Jones was optimistic that progress was being made — even though it has been more than 20 years since Los Angeles' last big damaging earthquake. "The fact that we are moving forward without an earthquake is unprecedented," she said.
Beverly Hills officials are focused on a mandatory wood apartment retrofit ordinance, which targets so-called soft-story buildings. Sometimes called dingbats, these apartments — common throughout California — have ground-floor carports, garages or storefronts held up by flimsy supports, which can buckle in an earthquake. Beverly Hills has about 300 of these buildings that contain 1,800 units, and the City Council could consider an ordinance on Jan. 17.
At a recent planning commission meeting in November, some commissioners questioned whether moving too quickly on requiring retrofits would be a burden on owners. But, as in Los Angeles a year ago, much of the discussion focused on the best way to get the retrofits done, rather than debating whether a law was needed.
Santa Monica and West Hollywood officials are proposing not only retrofits for wood apartments and concrete buildings but also inspections and repairs of steel buildings.
During the 1994 Northridge earthquake, engineers discovered a troubling defect that occurred during construction that caused cracks to form in the welds of the steel frame during earthquakes. If left unrepaired, experts fear, the weakened building could collapse in a subsequent temblor. Researchers point to the collapse of a floor of a steel building in Japan during the 1995 Kobe earthquake as a cautionary tale.
Santa Monica officials say they're determined to avoid the mistakes of the past. The coastal city has actually had laws on the books requiring retrofits of wood apartments and concrete structures and repairs of steel buildings since the 1990s, but they were not rigorously enforced. A 2013 story in The Times reported that a top city official acknowledged that he could not even find the old list of buildings at risk.
"We will notice, and we will follow up, and we will take enforcement action when necessary to ensure that folks are moving forward with retrofitting the buildings," said Salvador Valles, assistant director of Santa Monica's Planning and Community Development Department. "It's going to be a more proactive approach than it was before, in the hopes that we can actually get these buildings retrofitted."
Santa Monica estimates there are more than 2,200 buildings that will need evaluation for retrofit, including more than 1,800 soft-story buildings and more than 220 brick buildings. Officials also counted 73 concrete buildings and 71 steel-frame buildings.
Officials plan to publish a list of these buildings before a Dec. 6 council meeting to discuss the issue, and a formal plan could be presented to the City Council for approval by February.
West Hollywood has been holding community meetings about a draft ordinance, and officials hope to return to the City Council at the beginning of the year, said acting building official Cynthia Zabala.
About 900 buildings in West Hollywood are expected to need a seismic evaluation — 780 thought to be soft-story, as well as 55 concrete, 31 steel and 60 other structures of an undetermined type.
Twitter: @ronlin
MORE LOCAL NEWS
Orange County complains that flight changes at John Wayne Airport could significantly increase noise
Pepperdine will open a Staples Center classroom in partnership with AEG
Air pollution hot spot in Paramount spurs calls for action on metal factory emissions
Sign up for Essential California for news, features and recommendations from the L.A. Times and beyond in your inbox six days a week.
You may occasionally receive promotional content from the Los Angeles Times.