Off-duty LAPD officer suspected of DUI in crash that killed 3 in Whittier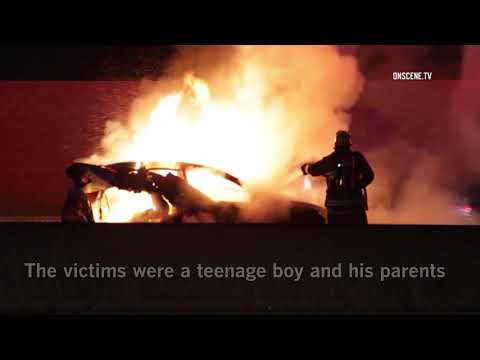 An off-duty LAPD officer was the driver of a Chevy Camaro that rear-ended a vehicle on the 605 Freeway in Whittier on Tuesday night, killing its three occupants, the California Highway Patrol said.
The Los Angeles Police Department has opened an administrative investigation after one of its officers was arrested on suspicion of driving drunk and causing a crash that killed a boy and his parents Tuesday night.
The officer, 26-year-old Edgar Verduzco, was driving a 2016 Chevy Camaro in the southbound carpool lane of the 605 Freeway about 10:30 p.m. in Whittier when, for reasons still unknown, he steered the vehicle to the right and into the fast lane, where it collided with the rear of a Nissan carrying a mother, father and their son, the California Highway Patrol said.
The Nissan, which had been traveling about 65 mph, burst into flames, trapping the family inside, the CHP said. All three were pronounced dead at the scene. The boy was believed to be in his teens, CHP Officer Al Perez said. The victims probably won't be positively identified until at least next week because the bodies are so badly charred, the coroner said.
After colliding with the Nissan, Verduzco's Camaro continued into the No. 2 lane, where it struck a Toyota Scion before coming to a stop, the CHP said. The driver of the Scion suffered minor injuries.
LAPD Chief Charlie Beck addressed his officer's arrest at a news conference Wednesday.
"My heart goes out to the victims and their families, and I cannot tell you how angry and disappointed I am that a Los Angeles police officer would disregard the law and cause an accident with such awful, awful consequences," Beck said. "This is an awful, awful thing."
The agency has opened an administrative investigation into Verduzco and is cooperating with the CHP, he said.
Verduzco is an Army veteran who did a tour in Afghanistan and joined the department two years ago, Beck said. Verduzco was stationed at the front desk of the Central Division and has had an "unremarkable" career thus far, Beck said.
Beck said it was too early in the case to discuss discipline, but he said that if the allegations proved to be true, it could merit sending the officer to a disciplinary board for potential termination.
The officer will continue to be paid pending further disciplinary action by the department.
Verduzco suffered a broken nose in the crash and was arrested on suspicion of felony DUI causing injuries, authorities said. He is being held on $100,000 bail.
The Los Angeles Police Protective League also released a statement regarding Verduzco's arrest.
"No words can express our deep sorrow over this horrible tragedy and the loss this family will carry with them for the rest of their lives," the union's statement said. "There's never an excuse for driving under the influence, and if Officer Verduzco is found guilty of what he is accused of, then he should suffer the consequences for his reckless actions."
There were no open containers or alcohol in the car, but Verduzco showed symptoms of intoxication, Perez said.
A SigAlert was issued and traffic lanes were shut down. They reopened before 4 a.m. Wednesday.
The cause of the crash remains under investigation.
joseph.serna@latimes.com | Twitter: @JosephSerna
kate.mather@latimes.com | Twitter: @katemather
Los Angeles Times staff writer James Queally contributed to this report.
ALSO:
Deputies arrest man accused of attacking hiker in Santa Clarita
Rapper Young Dolph expected to survive after shooting in Hollywood tourist district; one person detained
Killer clown unmasked after 27 years, Florida cops say
---
UPDATES:
2:05 p.m.: This article was updated with additional comments from LAPD Chief Charlie Beck.
12:05 p.m.: This article was updated with statements from LAPD Chief Charlie Beck and the police union.
9:35 a.m.: This article was updated with details about the suspect and victims, including confirmation from the California Highway Patrol that the suspect is an LAPD officer who was off-duty when the crash occurred.
8:30 a.m.: This article was updated to reflect that the suspect works for the LAPD.
6:20 a.m.: This article was updated with details of the crash and the suspect's identity.
Sept. 27, 5:25 a.m.: This article was updated with the freeway lanes being reopened.
This article was originally published Sept. 26 at 11:10 p.m.
Sign up for Essential California for news, features and recommendations from the L.A. Times and beyond in your inbox six days a week.
You may occasionally receive promotional content from the Los Angeles Times.