Who is new L.A. Unified Supt. Michelle King?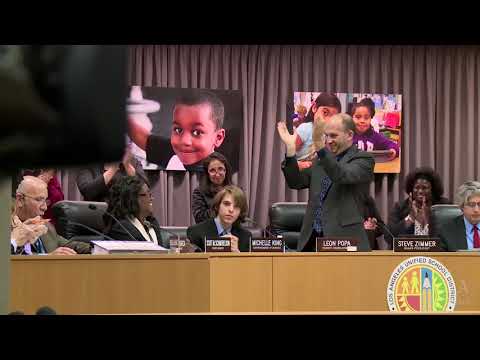 Michelle King, 54, who spent her entire career at L.A. Unified schools, was named the new superintendent.
For all the months devoted to a national search, Los Angeles school officials ended up turning to someone with deep local roots as the new superintendent.
Michelle King, 54, was educated in L.A. Unified schools and spent her entire career there starting in 1978, when she took a job as a student aide.
In announcing that she would now run the nation's second-largest school district, school board members touted her deep familiarity with the city and its education bureaucracy. "What a historic moment this is," said school board President Steve Zimmer. "A daughter of our city, a student and graduate of LAUSD, a teacher from our schools, a principal from our system, a leader of our community, will now take the helm."
If King has had nonconformist ideas about how to run the behemoth system or turn around lagging student achievement, she's never made them widely known.
On Monday evening, she spoke in generalities about the issues facing the district.
"We cannot allow a student's background or family circumstance to dictate what is possible," she said. "The very best is what every parent wants for his child and what everyone in L.A. Unified wants for our students."
Longtime district observers have described King as someone who worked her way up quickly through management by being a team player and loyal to her superiors.
In interviews for the top job, however, she tried to explain to board members how she would lead — and she made a strong impression, sources close to the process said. King had at least two interviews.
Zimmer said he is convinced that King will re-energize efforts to make all graduates eligible for admission to state colleges.
Interested in the stories shaping California? Sign up for the free Essential California newsletter >>
King's experience in L.A. Unified began when she entered a district school in kindergarten.
She also received her higher education locally, with a bachelor's degree in biology from UCLA and a master of science in administration from Pepperdine University. She is currently pursuing a doctorate in education at the University of Southern California.
King became a secondary school life sciences teacher in 1985 at Porter Junior High School. She also taught at the Porter magnet school for gifted students and at Wright Middle School before becoming an assistant principal at Hamilton High in 1997.
When she became that school's principal, she won praise from teachers for bringing stability and evenhanded leadership to the campus after the departure of a controversial predecessor.
A succession of district roles and rapid promotions followed: assistant superintendent in health and human services, chief instructional officer for high schools, senior regional administrator, chief of staff to the superintendent, head of operations and, finally, chief deputy superintendent — the district's No. 2 administrator, under the last two superintendents, John Deasy and Ramon C. Cortines.
King persisted near the top of the leadership ladder despite sharp shifts in district policy, which she managed to support without alienating opposing factions. She also remained respected by parties who disagreed sharply with each other, district insiders said.
School board member Scott Schmerelson, a retired principal, has known King as a fellow principal, and, later, as his superior. He said she has long stood out for intelligence and fairness.
And in her interviews, he said, he realized that "she has some wonderful ideas." He predicted that as superintendent, King will "blossom."
But Schmerelson, too, was hard-pressed to offer details Monday.
King's own generalities hit the right notes, but offered little more.
After being named superintendent, King said she would undertake a "listening tour" of campuses to get feedback about setting the right priorities and pledged to bring people together on behalf of improving schools.
And, true to past form, she avoided controversy.
When asked about an outside proposal to enroll half of district students in charter schools — a plan that some experts say could push the district into insolvency — King avoided taking sides.
"I am not for or against the plan," King said. "I am about L.A. Unified's plan."
Twitter: @howardblume
Times staff writer Zahira Torres contributed to this report.
MORE: Get our best stories in your Facebook feed >>
MORE EDUCATION COVERAGE
Michelle King is new superintendent for Los Angeles Unified School District
PAC shielded $2.3 million in donations by L.A. charter school backers
What students and parents are expecting from the Porter Ranch school relocation
Sign up for Essential California for news, features and recommendations from the L.A. Times and beyond in your inbox six days a week.
You may occasionally receive promotional content from the Los Angeles Times.