As California fire disasters worsen, insurers are pulling out and stranding homeowners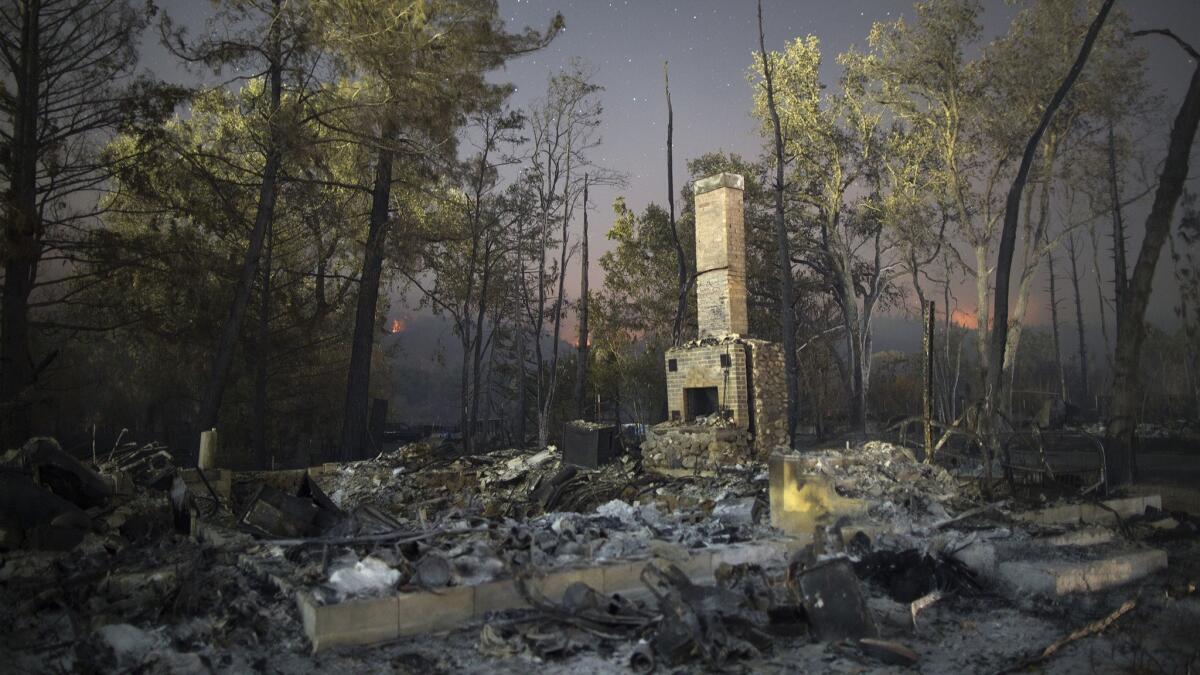 Sheri Madrzyk and her husband got the letter from their insurer two years ago: Because they live in an area at high risk for wildfires, the company would no longer insure their home.
The couple live in Lake County in Northern California, where more than 50% of the land has been burned by fires in the last several years. They were forced to scramble, eventually securing coverage through Lloyd's of London — the insurer of the uninsurable — with a $2,100 premium. It was costlier than their last plan, but still within their budget. Then, in early 2018, they got another notice: Their rate had ballooned to $5,800.
As California wildfires grow larger and more intense, an increasing number of insurance companies are not renewing policies for customers who live in areas they deem too risky to cover. The state estimates that more than 1 million California homes are considered at high risk for wildfires.
A California Department of Insurance report found that the number of homeowners in the wildland-urban interface who complained about getting dropped by their plans more than tripled from 2010 to 2016. Complaints about increased premiums rose 217%.
Those statistics provide a limited view of the problem, as the state has no way of tracking policy nonrenewals and individual premium hikes. But they reflect the cusp of a trend that is expected to worsen, state Insurance Commissioner Dave Jones said.
"There's no question of that," he said, "given the severity of the 2015, 2017 and 2018 fires."
California has faced historic fire losses since October, with more than 10,000 homes destroyed and more than 50 people killed. Experts expect the toll will make insurers look even more closely at their level of risk in the state.
Lake County residents were among the first to confront the insurance issue after the Valley fire in October 2015, which destroyed nearly 2,000 buildings in Lake, Sonoma and Napa counties and at the time ranked as the fifth-worst wildfire insurance disaster in California's history.
Increasingly, residents living in or near forested areas are facing rate hikes so significant that they're taking circuitous routes to find cheaper and less comprehensive coverage.
Such was the case for the Madrzyks, who balked at Lloyd's new rate and opted for a less pricey plan with a higher deductible — and $200,000 less in personal property coverage. It is also through a non-admitted insurer, meaning it is not regulated by the state. It's "a sacrifice, I guess," Sheri Madrzyk said, to live in their quiet town so close to nature.
The California Department of Insurance acknowledges that this trend is a rational response on the part of insurers, who in 2017 received nearly $12 billion in claims from wildfires that destroyed more than 32,000 homes in the state. It makes sense that companies will write fewer — if any — policies in areas where they predict losses will outweigh what they can recoup through premiums.
Still, the agency contends, legislators must take action to protect consumers — especially those who have made an effort to reduce their wildfire risk — from increased rates and canceled coverage.
For now, those who want to keep living in high-risk areas have options, the last resort being the California FAIR Plan, a state-sponsored program that provides insurance for homeowners left behind by companies in the open market.
But those tracking the issue note that not everyone can afford FAIR Plan premiums. And if wildfires intensify and become more frequent, as predicted, the admitted insurance market may keep shrinking, causing residents to either forgo wildfire coverage or abandon their communities altogether.
Lake County Supervisor Jim Steele said he became a "lightning rod for insurance complaints" in late 2015. At first, they were from constituents who had lost their homes and couldn't get insurance companies to cover them so that they could rebuild. Within a few months, he started hearing from residents who were dropped by companies once their policies came up for renewal. And then, suddenly, he was one of them.
Steele was paying an $1,800 insurance premium through Farmers when his policy was nonrenewed. After being denied by several other admitted insurers, he turned to the FAIR plan. But his premium doubled, and the coverage was minimal. He had to buy an additional plan, known as a surplus line, for his house's contents, outbuildings and machinery.
Like Steele, a growing number of Californians are turning to the FAIR plan after being dropped by private insurance companies. In the last four years, the number of residents covered by FAIR policies in the wildland-urban interface has grown by 35%, or about 8,000 homeowners, according to FAIR Plan Assn. data.
Steele learned from insurance representatives that smaller companies are more willing to cover homes in fire-prone areas. That's because rather than assessing the overall risk of larger swaths of land, they are more likely to evaluate individual properties, taking into consideration efforts homeowners have made to reduce risk, such as clearing brush and trimming trees. But these smaller companies are mostly non-admitted, leaving customers more vulnerable to excessive rate hikes.
Steele was toying with the idea of using a non-admitted insurer when he learned about Yapacopia, a public benefit corporation that connects people who've been non-renewed with independent insurance agents.
Steele was able to find a plan through an admitted insurer — the safer option — at a relatively reasonable rate this way. Now when the supervisor gets calls from constituents who've been slapped with premium hikes or nonrenewal notices, he refers them to Yapacopia.
As residents of places like Lake County learn to navigate the evolving insurance landscape, state regulators insist that more must be done to protect consumers from rate hikes and nonrenewals.
In a January report, the California Department of Insurance proposed a measure that would prevent admitted carriers from dropping homeowners who take measures to reduce wildfire risk. The agency also suggested implementing a partnership between insurers and communities — similar to one in Boulder, Colo., that's funded by the state and the Federal Emergency Management Agency — that would allow homeowners who complete certain risk-mitigation efforts to obtain coverage from participating insurers.
The agency would also like the power to regulate the computer models used to assess property risk. According to the Department of Insurance, most models base fire-risk scores on satellite images that capture the type and distribution of vegetation on the property, the slope of the land, ease of access for firefighters and proximity to the nearest higher-risk area. But by and large, these models do not consider efforts taken by homeowners and communities to reduce risk, such as clearing brush and fortifying homes with fire-resistant materials.
These proposals and several others made by Jones have gained little traction in the Legislature. The insurance commissioner chalks this up to lobbying efforts on the part of the insurance industry. Since 2011, insurers have spent more than $5 million supporting or opposing legislative candidates, committees or ballot measures, and more than $11 million to influence specific bills in front of the Legislature, records show.
Industry representatives say companies have good reason for not factoring individual mitigation efforts into risk models.
"If I clear my brush around my house and my neighbors don't, and a fire breaks out, insurers still pay for that loss," said Mark Sektnan, vice president of the Property Casualty Insurers Assn. of America, which represents more than 30 homeowners insurance companies. And the cost of boosting satellite resolution to zoom in at the property level would likely be passed onto consumers, according to a letter written by industry representatives in response to the state's regulatory proposals.
Insurers contend that before they can begin considering such changes, their premium rates must reflect the actual cost of insuring high-risk areas — and they don't right now, Sektnan said.
"A healthy insurance market is one where insurers are allowed to charge rates that are relative to risk," said Lloyd Dixon, director of the Rand Center for Catastrophic Risk Management and Compensation, which recently released a report on homeowners insurance as part of an annual climate-change assessment for the California Natural Resources Agency.
Even in the long term, it is unlikely that admitted insurers will pull out of the wildland-urban interface entirely, according to researchers who study the industry. Instead, insurance companies may offer policies that do not cover wildfire damage, said Carolyn Kousky, director of policy research at the Wharton Risk Management and Decision Processes Center.
This could trigger dire consequences for fire-prone communities.
"If a big fire comes, people won't have the money to rebuild," Kousky said. In turn, municipalities could lose residents, stressing local economies that depend on property taxes for K-12 education, road maintenance and public safety.
In the short term, some of California's most picturesque communities could become even more exclusive, Kousky said, with real estate markets catering to those who can afford the steep insurance premiums.
Ultimately, California residents need to pay attention to what the homeowners insurance market is telling them, said Alice Hill, a research fellow at the Hoover Institution.
"The insurance industry is a signal of risk. The fact that the insurance companies are pulling back is a signal that the risk is too great," said Hill, who served as senior director for resilience under President Obama. "And that, for all of us, should cause us to think how can we better protect against this risk."
That means thinking twice before building in the wildland-urban interface, Kousky said. But in a booming housing market where it is difficult for local governments to curtail development tax revenue, it could also mean constructing homes with fire-resistant materials and providing incentives for residents to clear brush on and around their property.
Then there is the solution that no one likes to talk about, Kousky said — moving out.
The idea crossed Sheri Madrzyk's mind, but only briefly, after the brutal Lake County wildfires in 2015 and 2017. It would be hard to sell a house with such a high insurance premium, the Kelseyville resident said. And her family loves this bucolic hamlet, with its rolling green hills and country roads and locally owned vineyards.
So instead of buying a new car this year, the Madrzyks invested in an excavator to remove brush around their home.
"We have to protect it," Madrzyk said of her community, "and whatever we can do to protect it, we will."
Times staff writer Maloy Moore contributed to this report.
laura.newberry@latimes.com | Twitter: @LauraMNewberry
Sign up for Essential California for news, features and recommendations from the L.A. Times and beyond in your inbox six days a week.
You may occasionally receive promotional content from the Los Angeles Times.