Wilshire Boulevard, once a mecca for drivers, is trying a different path. It could offer a blueprint for L.A.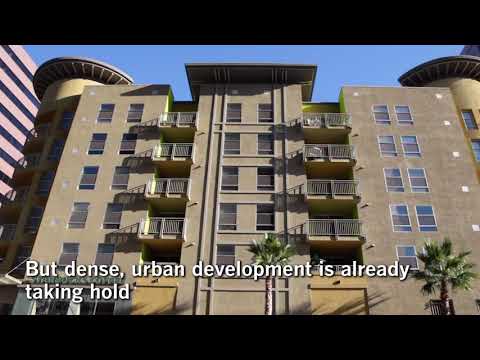 What was once a center of commerce has now become more of a residential neighborhood, expected to grow even more once the Purple Line subway is built.
Los Angeles built Wilshire Boulevard as a majestic path for the automobile, and perhaps no place reflected that grandeur more than the Miracle Mile.
In its heyday, this stretch of Wilshire offered drivers wide roadways divided by palm tree-lined medians and ornate street lamps built around sculpted metal of svelte topless women. Back then, the Miracle Mile was one of L.A.'s top shopping destinations, with gleaming neon signs luring drivers to sprawling parking lots behind the streamline-designed stores.

For the record:
8:59 a.m. Nov. 29, 2023An earlier version of this story incorrectly identified the Academy Museum of Motion Pictures as the Academy Museum of Motion Picture Arts and Sciences.
The retail scene on Wilshire began fading decades ago as department stores closed and shopping malls became more dominant. But over the last few years, the Miracle Mile has been the center of a remarkable transformation that offers a window into what a Los Angeles of the future might look like.
Office buildings and shops are being replaced rapidly by upscale apartment complexes and mixed-use projects. What was once a center of commerce has now become more of an urban residential neighborhood, expected to grow even more once the Purple Line subway is extended under the Miracle Mile.
In a scene that makes some longtime Angelenos marvel, the area around Wilshire and La Brea Avenue has become a construction zone as workers begin building the Metro line, which eventually will connect downtown L.A. to the Westside.
The new Wilshire Boulevard often is cited by urban planners as a way Los Angeles can evolve. Voters on Tuesday will decide whether they agree. Measure M is a half-cent sales tax increase that would nearly double the length of Los Angeles County's rail network, adding nearly a dozen rail lines and extensions, including a tunnel through the Sepulveda Pass and connections to Pacoima, Norwalk, Claremont and Torrance.
Backers say Measure M is essential to creating more mass transit and reducing solo driving. But beyond laying down new rail, officials are trying to build up residential development along corridors such as Wilshire so residents can live closer to transit options.
Developers are finding that Wilshire is a hot draw for residents, not necessarily because of the coming Metro line but because of its central location near the Los Angeles County Museum of Art, the Grove, the Farmers Market and other hip shopping and entertainment spots. The Miracle Mile is a relatively short ride from Beverly Hills, Hollywood and downtown.
When Brad Gold opened Black Dog Coffee 17 years ago, Miracle Mile "was like a fading showgirl," Gold said. "When I went in there, what had been the Broadway Department store catty-corner to me was just a big empty hole.
"Those new apartment buildings have been great for me," Gold said. The slowest days at Black Dog Coffee used to be Saturdays and Sundays, but the new residents have tripled weekend sales, he said.
The economic boom isn't being enjoyed equally, however. There's growing concern that the newer and pricier developments will squeeze out small businesses.
"My belief is we will see the closing of some mom-and-pop stores and that we will see more chains," said John Barrentine of Red Real Estate Group. "I believe we will see a squeeze as rental rates go up."
Others are more wary of the changes, saying they miss the distinctive restaurants and famous department stores like May Co., Ohrbach's and the Broadway that once lined the Miracle Mile.
"I do not have the sense of a neighborhood with a main street anymore. Main Street USA as the Miracle Mile went away," said longtime resident Jerry O'Sullivan.
"It's changed radically from a place that had a service component to it that supported the community to something now that — I'm not sure what it is," he said.
Development on the milelong stretch between La Brea and Fairfax has flourished thanks to relaxed height restrictions and zoning rules that allow for multifamily housing.
In place of the Broadway department store, there's now a five-story complex with 284 units. One block east, Mullen and Bluett was replaced with a faux-Art Deco apartment complex housing a Chipotle on the ground floor.
Behind Wilshire Tower, where 14-karat gold ceiling details once greeted shoppers entering Desmond's, studio apartments rent for as much as $2,800 a month.
A four-story apartment complex is planned for the parking lot behind the Art Deco Dominguez-Wilshire office building.
And on the corner of Wilshire and La Brea is an enormous $105-million development with nearly 500 units.
A subway roaring under Wilshire isn't exactly what the street's namesake envisioned.
When Gaylord Wilshire gifted the strip of land that would bear his name, he did so with the condition that rail lines and commercial trucks would be banned, said Kevin Roderick, author of "Wilshire Boulevard: Grand Concourse of Los Angeles."
Wilshire was the "epitome of that driving culture," Roderick said. Shoppers driving on Wilshire west from downtown would have seen drive-in restaurants on nearly every corner and dozens of gas stations, he said. Today, there are virtually no gas stations between Westlake and Fairfax.
"It's kind of a cool vehicle — no pun intended — to look at the history of L.A.," Roderick said of Wilshire.
The subway eventually will have stations at La Brea, Fairfax (which is home to LACMA, the Petersen Automotive Museum and the upcoming Academy Museum of Motion Pictures) and La Cienega Boulevard. Two additional phases of construction will extend the rail line to the Veterans Administration's West L.A. campus by 2035. If the half-cent sales tax increase on Tuesday's ballot is approved, the full line is slated to begin service by 2024 — when Los Angeles hopes to host the Summer Olympics.
Skeptics remain, doubting whether more rail lines will get people out of their cars. Metro has been aggressively expanding the rail network in recent years, but L.A. County has not seen a major spike in ridership. Boosters say a Wilshire subway could be a game-changer because it runs through the heart of the city.
Still, developers and officials appear to be hedging their bets: There's still plenty of parking available with the new apartments.
In addition to the subway, Councilman David Ryu wants to make improvements along Fairfax Avenue to make the area more walkable, with possible pedestrian paths to Park La Brea and the Grove.
"It's about not being reliant on your car in that area," Ryu said.
The new Purple Line is expected to bring even more residential development, some of it likely from Metro's Joint Development program, which works with developers to build housing, hotels and commercial space around transit stations. At Hollywood and Vine, the program led to more than 500 new housing units and a hotel. In the Arts District, One Santa Fe has more than 400 residential units and 79,000 square feet of commercial space.
Realtors say they already are seeing a resurgence in the neighborhoods just north and south of the Miracle Mile.
"There is certainly pent-up demand for condominiums in the area because people want to be in this location," Barrentine said. "To be in this location and still to be able to get in near Wilshire Boulevard under a million dollars is appealing."
The rental prices are being watched closely by residents and business owners. Christine Johnson of Miracle Mile Toys and Games looked into renting new commercial space when the apartment buildings opened down the street. The rent was prohibitively expensive.
"The price per square foot was certainly not intended for mom-and-pop businesses," said Johnson, though she understands what landlords are doing.
"I know they're waiting for some kind of big name that's going to be stable. Is that totally a bad thing? They want a business that's going to be in here for the long haul," she said.
Twitter: @TheCityMaven
ALSO
LAPD investigating Boyle Heights vandalism as possible hate crimes sparked by gentrification fight
Feds say 25% of California is drought-free, but state experts are still cautious
San Francisco sues developer over sinking skyscraper
Sign up for Essential California for news, features and recommendations from the L.A. Times and beyond in your inbox six days a week.
You may occasionally receive promotional content from the Los Angeles Times.