Last-minute scheduling of L.A. retail workers soon could be barred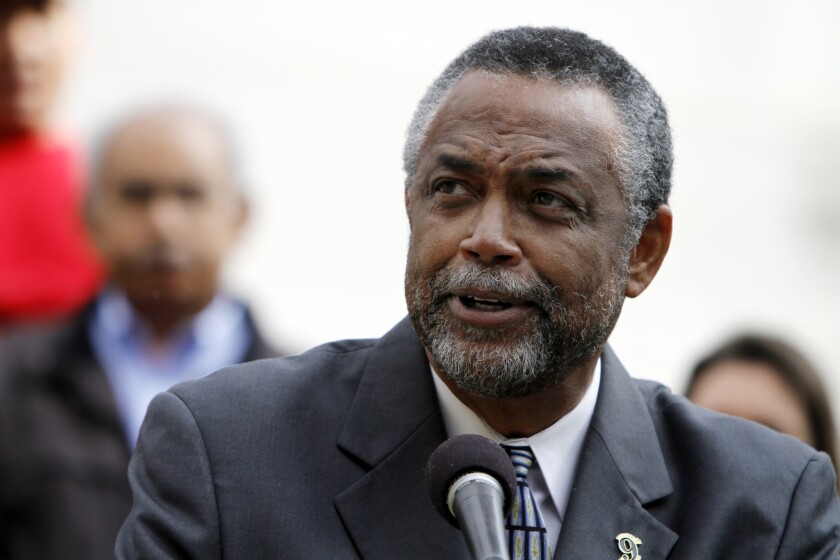 Los Angeles could require retailers to let workers know what days and hours they are scheduled to work at least two weeks in advance, under a plan moving forward at City Hall.
The "Fair Work Week" rules would also require such businesses to give workers the ability to turn down hours before and after schedules are posted, without facing retaliation. Employers would have to provide a "good faith estimate" of weekly hours when a worker is hired.
And retailers would also have to provide workers at least 10 hours to rest between shifts — a rule aimed at the practice of "clopening," in which workers close a store late at night and return early the next morning to work again.
The City Council voted Wednesday in favor of imposing such rules. The proposed ordinance will now be drafted by city lawyers and return to council members for another round of review before it can be approved.
Councilman Curren Price, one of the proponents of the measure, framed it as an important step to follow on boosting L.A.'s minimum wage.
"I've heard from lots of folks who indicated that raising the wage is good, but that doesn't do anything about income security" if worker hours are irregular, Price said at a recent meeting.
The L.A. proposal, which follows similar ordinances in cities including San Francisco, Seattle and New York, is meant to make scheduling more stable and predictable for retail workers.
Some workers are at the beck and call of computer software that is supposed to line up employee hours with customer demand to keep staffing as lean as possible. Labor activists complain that erratic schedules that change at the last minute can make it hard for employees to plan for child care, work a second job, or go to school.
"Even going to church has been a lot of difficulty," said Laura Orantes, who has worked for three decades as a clerk at a Rite Aid in South L.A.
Orantes said schedules are routinely posted just a few days in advance of the beginning of the work week, making it hard to plan time with her family. When asked what it would be like to get her schedule two weeks in advance, her eyes suddenly brightened. She started dreaming up plans out loud.
"I would like to go out camping," she said. "I've never seen snow."
The L.A. rules would apply only to retail businesses with at least 300 employees worldwide — a category that would include major chains such as Target, Ralphs and Home Depot. Backers of the proposal have estimated that it could affect roughly 70,000 workers across Los Angeles.
When asked about how much notice its employees have of their weekly schedules, Rite Aid spokesman Chris Savarese said simply that the chain values its workers and "complies with all state laws regarding schedule notification." He did not provide any comment on the proposed measure.
David Rojas, who works as a grocery clerk in Washington state, said that scheduling protections in Seattle had helped him sleep regularly — an important factor in managing his bipolar disorder. But Rojas said that when he started working at a store outside of Seattle that lacked those rules, he sometimes was short on sleep and "started going through mania again."
"One night they had me close at midnight and come back at 6 in the morning," Rojas said. "Mental health is a big thing that we don't address. People need the sleep."
Stabilizing schedules has an even bigger effect on employee well-being than boosting wages, said Kristen Harknett, a UC San Francisco sociology professor and co-director of the Shift Project. Workers with erratic schedules are twice as likely to go hungry as similar workers with stable schedules, Harknett told a council committee in June.
L.A. organizers decided to launch their campaign with retail workers because many are members of the United Food and Commercial Workers International Union, which has backed the push for scheduling protections, but eventually want to expand such protections to other business sectors.
Business groups have been relatively muted so far in reaction to the measure. Stuart Waldman, president of the Valley Industry & Commerce Assn., said his group has concerns about possible penalties for businesses that need to fill spots when employees call in sick, but was waiting to get more details about the proposed measure before taking a position.
"We don't know exactly what the council will come up with," Waldman said. "If there is complete rigidity on what the employer can do to replace employees … it hurts the employee more."
At a June hearing, a California Grocers Assn. representative questioned why the measure appeared to be singling out particular industries, including grocery stores. Key issues that still need to be resolved include how the rules would be enforced, what kind of penalties businesses could face, and exactly how the city will define "retail businesses."
Researchers at the UCLA Labor Center and the Los Angeles Alliance for a New Economy, an advocacy group aligned with labor, found that 72% of L.A. workers surveyed said their workdays change from week to week. Even more — 77% — said that they got a week or less notice of their work schedule. And 44% said they had worked "clopening" shifts.
At a June hearing, former Whole Foods employee Alissa Harrison said that after she was quoted in The Times raising concerns about irregular schedules at her downtown store, she was "interrogated" by a store manager and a Whole Foods corporate representative about what she had told a reporter.
Harrison said she felt uncomfortable and left her job soon afterward, feeling like she was "under surveillance." Whole Foods did not provide comment on her remarks or the measure before Wednesday's vote.
Workers need "the freedom to voice concerns about scheduling without fear of retaliation," Harrison said.
Times staff writer Margot Roosevelt contributed to this report.
Twitter: @AlpertReyes
---
The stories shaping California
Get up to speed with our Essential California newsletter, sent six days a week.
You may occasionally receive promotional content from the Los Angeles Times.