Boston mayor blames his bad luck for refusal to wager with Garcetti over Dodgers-Red Sox World Series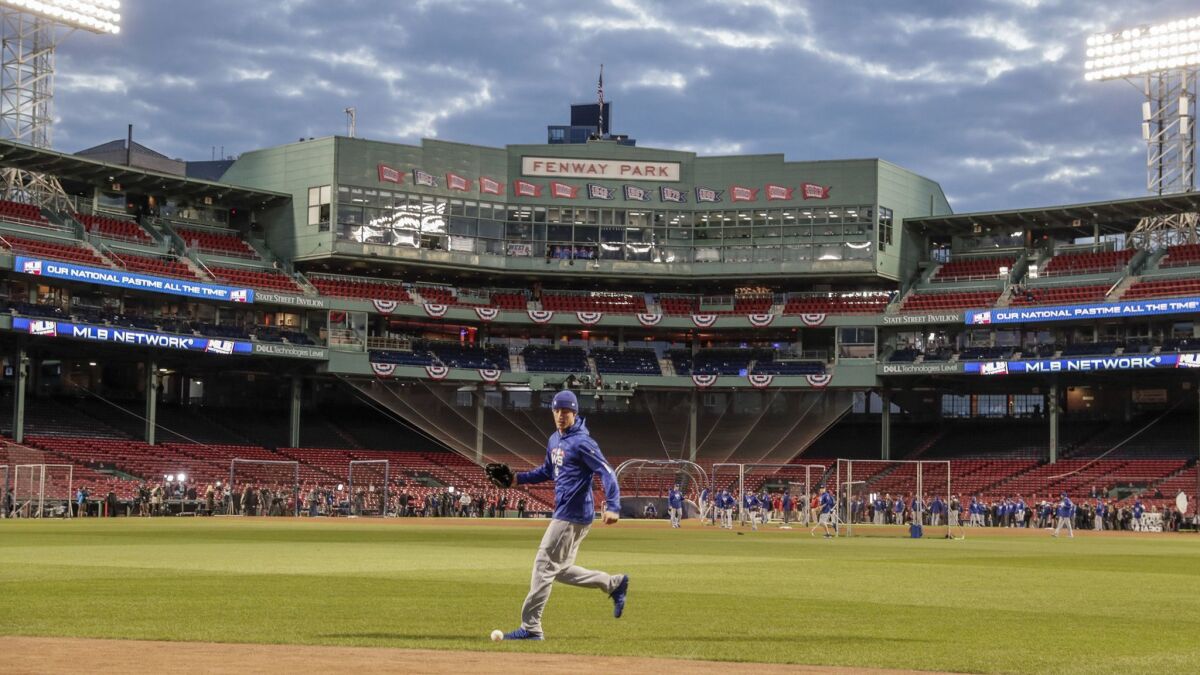 Boston Mayor Marty Walsh has refused to place any bets with Los Angeles Mayor Eric Garcetti over the World Series between the Dodgers and Red Sox because he's too superstitious.
Although it is customary for the mayors of competing cities to place friendly bets on major sporting events, Walsh said Tuesday that he has stopped making sports bets because he lost several after taking office in 2014.
"We did have a conversation yesterday," Walsh said of Garcetti. "He wanted to bet something, and I'm pretty superstitious. I stopped betting after the first three bets when I became mayor."
In 2014, Walsh lost bets on games in which the NFL's New England Patriots, the NHL's Boston Bruins and the Boston College football team all lost. When the Patriots made it to the Super Bowl in 2015, he did not make a bet — and the team won.
The World Series began in Boston on Tuesday. The Red Sox won the first game 8-4.
In a tweeted video directed at the Boston mayor, Garcetti, wearing a Dodgers hoodie, said, "Sorry you don't believe in bets, but I understand superstitions are powerful in the NE. The City of Angels is ready and #LADetermined to win in Boston."
Last year, when the Dodgers faced the Houston Astros in the World Series, Garcetti rankled Los Angeles' budding craft beer community when he said he would send a "uniquely L.A. meal" to Houston Mayor Sylvester Turner if the Dodgers lost the Series. The meal, Garcetti said in a Twitter message, would include beer from Golden Road Brewing and Kogi BBQ.
The Los Angeles County Brewers Guild, a nonprofit group representing nearly 70 local breweries, responded to the mayor on Twitter and urged him to bet an "independent" L.A. beer. Golden Road Brewing, located in Atwater Village, is owned by Anheuser-Busch InBev, which is headquartered in Belgium and owns more than 500 beer brands.
On Tuesday, Los Angeles Fire Chief Ralph M. Terrazas bet Boston Fire Commissioner Joseph Finn that if the Dodgers win, Finn will send Boston Fire Department apparel and New England clam chowder. If the Red Sox win, Terrazas will send LAFD gear and Pink's Hot Dogs.
Terrazas also authorized firefighters to wear Dodgers caps while on duty through the end of the World Series.
U.S. Rep. Adam B. Schiff (D-Burbank) accepted a wager from congressional counterpart Joseph P. Kennedy III (D-Mass.).
"Ok, @RepJoeKennedy it's on," Schiff tweeted. "It's Bean Town vs LA LA Land. If the Sox prevail, sushi is on me. If the Dodgers win, lobster is on you. It's been 30 years since the Dodgers last won, but the drought is over. Get the pot boiling because it's going to be lobstahs galore!"
Kennedy replied that he would be requesting an Atlantic roll.
Pastrami sandwiches and lobster are at stake in the bet offered by Los Angeles Police Chief Michel Moore to Boston Police Commissioner William Gross.
"I've got every confidence in our boys in blue," Moore said in a tweeted video message to Gross. "I know they're going to take this series…. Will, so here's the point: Langer's world-famous pastrami sandwiches for your crew, should you win. And Boston's finest lobsters for me if we win. Or when we win."
Twitter: @haileybranson
The stories shaping California
Get up to speed with our Essential California newsletter, sent six days a week.
You may occasionally receive promotional content from the Los Angeles Times.