Francis Xavier Atencio dies; Disney animator who co-wrote 'Yo, Ho (A Pirate's Life for Me)' was 98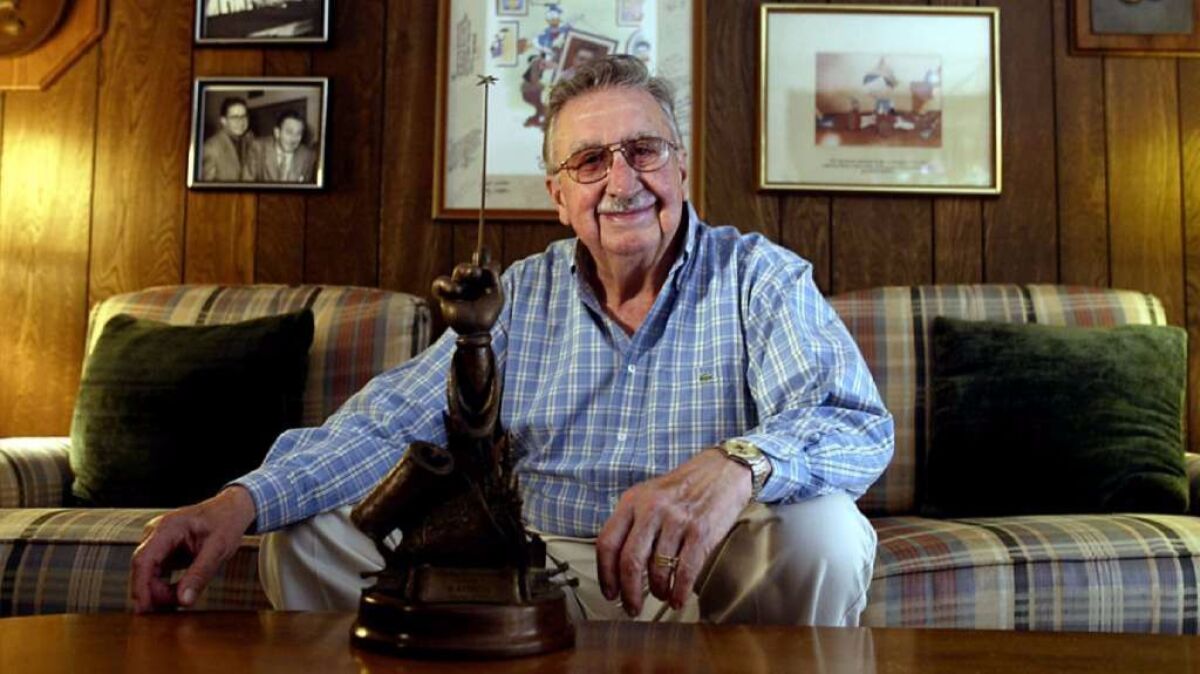 Francis Xavier Atencio, a longtime Disney animator and Imagineer who co-wrote the tune for the "Pirates of the Caribbean" ride, one of Disneyland's most popular park attractions, has died.
Atencio died Sunday at age 98, the Disney Parks Blog announced Monday. No cause of death was given.
A Colorado native, Atencio moved to Los Angeles in 1937 to attend the Chouinard Art Institute. At the time, he thought a job at Disney was unattainable, but an art instructor encouraged him to submit his portfolio.
The following year, he got a job. That kicked off a nearly half-century career with the company.
Atencio, known to his friends and colleagues as "X," first saw his work on screen during the 1940 premiere of "Pinocchio," on which he worked as an apprentice animator. He also worked as an assistant animator for "Fantasia."
He left Disney temporarily to join the U.S. Army Air Corps and returned five years later as an animator, receiving his first on-screen credit for the Oscar-winning film "Toot, Whistle, Plunk and Boom."
He also contributed stop-motion sequences for the films "The Parent Trap," "Mary Poppins" and "Babes in Toyland."
Atencio was transferred in 1965 to WED Enterprises, which later became Walt Disney Imagineering, to work on the Primeval World diorama for Disneyland.
A month after his reluctant transfer, Atencio got a phone call from Walt Disney, who asked him to write the script for Pirates of the Caribbean ride.
"So I said OK, and I put on my pirate hat," Atencio told The Times in 2003. "I researched what I could — 'Treasure Island' and stuff like that — to get the feeling and the jargon of pirates. By the time I finished scripting it, I thought, why not a song?"
Atencio proposed the tune, though he'd never actually written a song before.
"Walt told him to go and do it," Bob Weis, president of Walt Disney Imagineering, told the Disney Parks Blog.
So Atencio co-wrote the lyrics to the ride's theme song, "Yo, Ho (A Pirate's Life for Me)."
"That was how X worked — with an enthusiastic, collaborative attitude, along with a great sense of humor," Weis said. "His brilliant work continues to inspire Imagineers and bring joy to millions of guests every year."
At the beginning of the attraction, which has been one of the park's most popular attractions since it opened in 1967, riders can also hear his voice on a talking skull. Since it opened, Pirates has seen about 400 million riders.
Atencio retired from Disney in 1984, but continued to consult for Walt Disney Imagineering for many years, according to the Disney Parks Blog. He was inducted as a Disney Legend in 1996.
He is survived by his wife, three children, three stepchildren and eight grandchildren.
alene.tchekmedyian@latimes.com
Twitter: @AleneTchek
The stories shaping California
Get up to speed with our Essential California newsletter, sent six days a week.
You may occasionally receive promotional content from the Los Angeles Times.