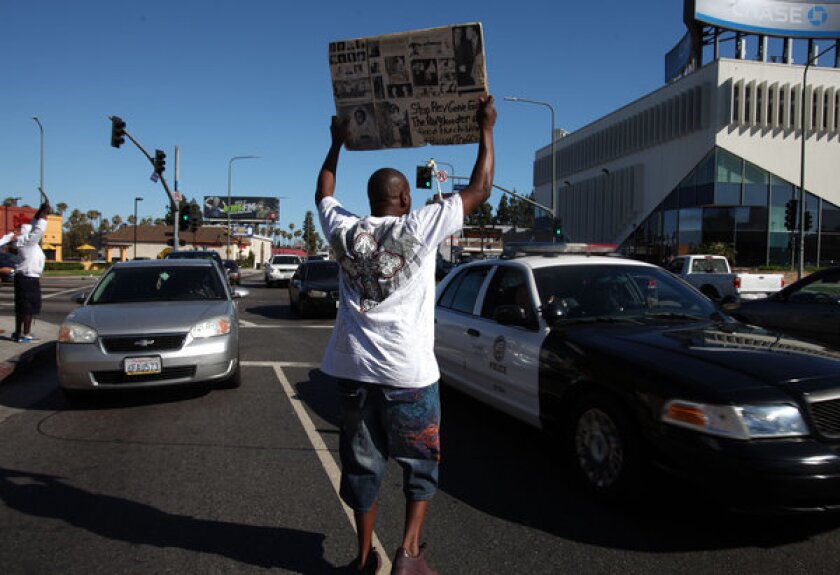 About 200 people protesting George Zimmerman's acquittal Tuesday night marched down Broadway and Spring Streets in downtown Los Angeles, blocking traffic.
The peaceful crowd began the march on the west steps of City Hall and then moved south on Spring Street, past the Los Angeles Police Department headquarters, and then back up north on Broadway. The crowd dissolved around 8:30 p.m.
The mood of the march was peaceful, and the demonstrators were young and old and represented many ethnicities. Residents living in area lofts and people eating at restaurants stood on the sidewalks watching and taking pictures, and a few joined the march.
Among the chants: "Whose streets? Trayvon's streets."
And: "Zimmerman's free? Shut it down. The new Jim Crow? Shut it down. The whole damn system? Shut it down."
Rajeeya Bilal-Varney was one of the marchers in the demonstration.
The Lakewood resident said she had cried and screamed at the television when she learned that Zimmerman, a neighborhood watch volunteer, had been acquitted in the shooting death of Trayvon Martin, an unarmed black teenager, and she felt she needed to register her disgust in a public way.
"I feel like Trayvon is my son," she said. "I feel like this is a racist system and I can't just sit back and do nothing."
Bilal-Varney, 58, who is black, said a couple of weeks ago, her 17-year-old grandson was stopped on his way home from work by police for having no front license plate. He was subsequently put in the back of a police cruiser while officers searched his vehicle.
Bilal-Varney alleged it was racial profiling. "You don't go into white communities and do their children like this," she said.
Bilal-Varney said she was heartened by the peaceful downtown protest Tuesday night -- a sharp difference from the Monday evening violence -- and by its diversity.
"Everybody is tired," she said.
She said she expects the movement to grow in the coming weeks as the marches get more publicity. "I'm ready for the long haul until something changes," she said.
She said she is motivated by the knowledge that if things don't change, "my great-great-great grandchildren are going to be out here, protesting the same thing."
It was the fourth night of demonstrations protesting the acquittal of George Zimmerman in the shooting death of Trayvon Martin. Another protest in South Los Angeles also began peacefully Tuesday night.
Los Angeles Police Department chief Charlie Beck, who monitored the end of the protest, said that even though the demonstrators didn't have permits to protest in the street, the police allowed them to march because they were peaceful and orderly.
He noted the organizers of this protest had experience coordinating large demonstrations. "You have people that understand the process. And those were the people who were here tonight."
The protest began to occupy the streets after 7 p.m., on Spring Street, when about 200 protesters marched in the road and chanted, "No justice, no peace. No racist police."
The demonstration was organized by the ANSWER coalition, a national group that describes itself as anti-war and anti-racist. Members of Occupy Los Angeles and other groups joined in.
Eugene Puryear, an organizer with ANSWER, said the group planned the action at City Hall to shift attention away from Monday night's violence in South Los Angeles. While he said he didn't judge anybody's reaction to the acquittal of George Zimmerman, he said he said his group is non-violent and is "trying to say there is a constructive avenue to organize."
Speaking over a loudspeaker, Puryear said this week's protests aren't going to end until Martin's killer gets his due.
"We won't stop marching until there is justice for Trayvon Martin," he said. "We won't stop sitting in . . . We won't get out of the streets."
He said his group would not heed call by some civil rights leaders to put protests on hold because of last night's violence because that's not what civil rights leader Martin Luther king did when people warned him "it's too hot in the streets."
King, he said, "knew that the most effective way to confront this is not to get off the streets; it's to get in them and start a people's movement, a united people's movement, against the root cause of what's going on."
ALSO:
Zimmerman protests: Peaceful at Los Angeles City Hall
Body found at Manhattan Beach park identified as Long Beach man
8,000-acre blaze in Riverside County destroys seven homes
Twitter: @katelinthicum
---