Column: When Chicago attacks L.A. with lame cliches, this Dodgers fan fights back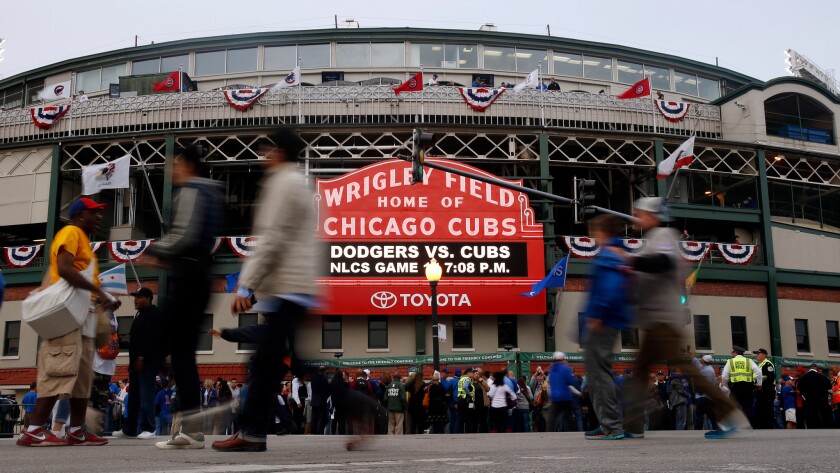 The Chicago Tribune, plumbing the depths of its Midwestern wisdom, has seen fit to publish a column denigrating Los Angeles.
Who is in charge of that operation?
Oh, wait a minute.
I guess the L.A. Times has the same owners.
Anyway, the column in question, published on the eve of the National League playoff series between the Dodgers and Cubs, contains lines like these:
"Known widely today as 'The Birthplace of Cocaine,' Los Angeles is a stunningly unfortunate city on the Pacific Ocean, located in a semi-arid region known as California's Crotch."
Here's another gem:
"Though the city still struggles with whale carcasses, Los Angeles has become a favorite locale for people who enjoy smog and failure."
When editors suggested I respond to the column with one of my own, my first thought was:
Why bother?
My guess is that on the day the L.A. put-down was written, there were fewer than a half-dozen public officials indicted and no blizzards in Chicago, so it was a slow news day.
In the city of Nelson Algren, Studs Terkel and Ben Hecht, standards have fallen.
I'm reminded of my one and only conversation with the late great Chicago columnist Mike Royko, a gruff gent with a good jab and a better roundhouse. He called me "kid," and had but a single piece of advice, which he offered in a low growl:
Don't write so often, he said, that the quality of your work suffers.
Is anyone in Chicago paying attention?
The whole idea of going after another city is to piss it off. So why are we feeling so sorry for Chicago?
Because a great city — yes, we can admit Chicago is a great city, because we have no inferiority complex — deserves better representation.
No self-respecting major league city feels the need to put down another, and do so with a basket of deplorable cliches.
But since you picked a fight, a few thoughts:
If Cleveland is the "mistake on the lake," what do you call deep dish pizza?
No, really, we might try it one day.
It's OK that Chicago's two greatest cultural contributions to the world are dated "Saturday Night Live" skits about a cheeseburger joint and Bears fans dumber than pig leather.
It's OK that Phil Jackson abandoned the Bulls for the Lakers.
It's OK that all the millionaires leave Chicago for Los Angeles so that they can run a newspaper in a first-tier city.
Well, maybe not. We'd trade the whole lot of them back to you for a pack of Vienna Beef wieners and a pony keg of Old Style beer.
In conclusion, please refrain from criticizing Los Angeles, its people, and everything it stands for.
It's what I do for a living, and I don't need the competition.
Go, Dodgers.
ALSO
Dodgers vs. Cubs live updates: Game 1 of the NLCS
Plaschke: Is anyone else sick of the Cubs and their long-suffering narrative?
The battle of the ballparks: Cubs vs. Dodgers and the lost history of L.A.'s own Wrigley Field
---
UPDATES:
This article was updated at 8:30 p.m. to remove a reference to Chicago homicides that could have been misconstrued as making light of the problem.
---
The stories shaping California
Get up to speed with our Essential California newsletter, sent six days a week.
You may occasionally receive promotional content from the Los Angeles Times.