Marni Nixon, whose singing gave voice to Hollywood's leading ladies, dies at 86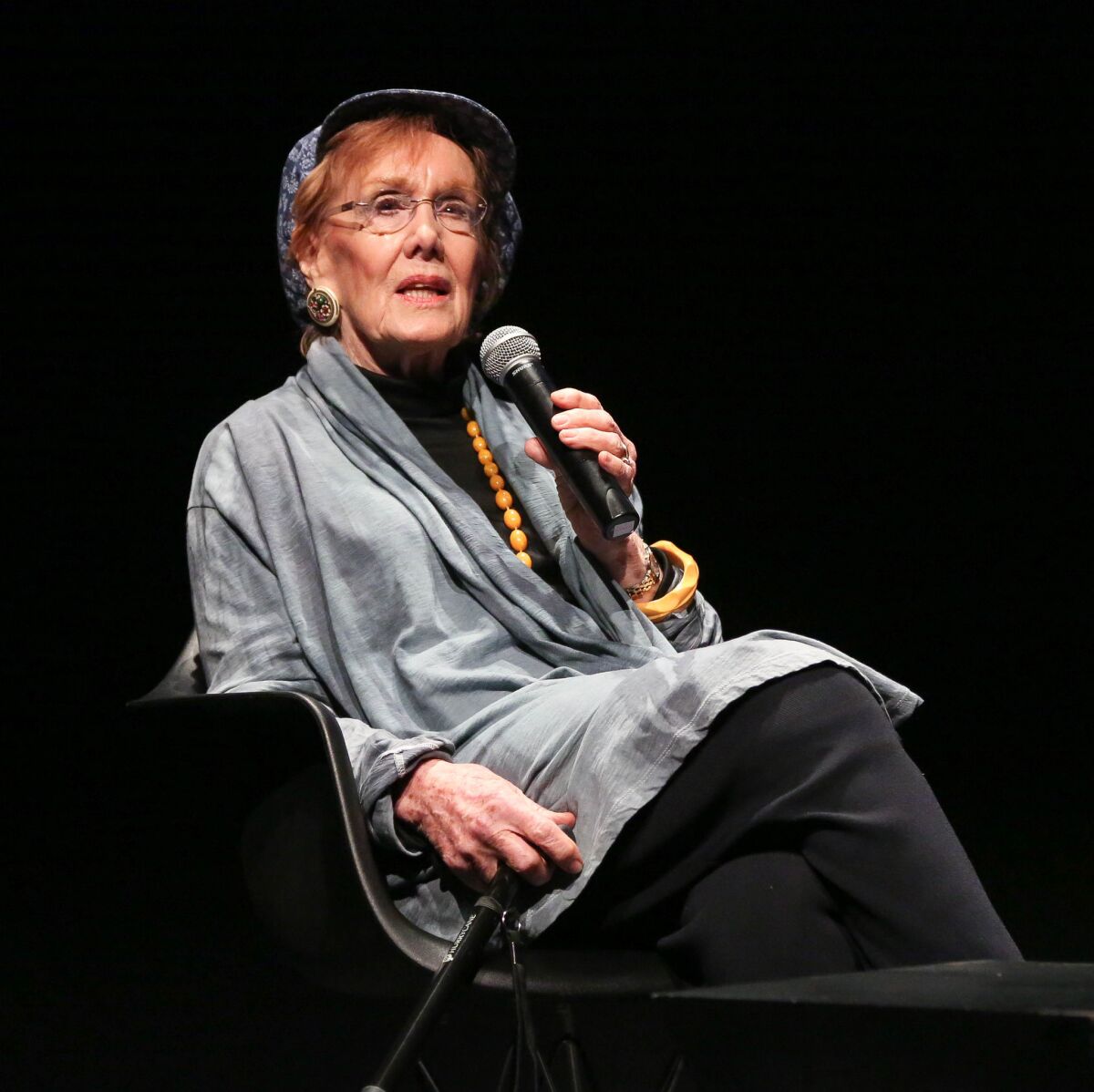 Reporting from New York —
Hollywood voice double Marni Nixon, whose singing was heard in place of the leading actresses in such classic movie musicals as "West Side Story," "The King and I" and "My Fair Lady," has died. She was 86.
Michael Kirsten, senior vice president of Nixon's talent agency, Harden-Curtis Associates, said she died Sunday of cancer in New York. "She passed away peacefully with her family at her side," he said.
Nixon, who was initially uncredited for her work, early on resented the dubbing work but later came to terms with it.
"I realized now that this was something that would outlive me. Something that would last," she wrote in her 2006 memoir, "I Could Have Sung All Night."
In the heyday of the Hollywood musical, studios often paid big money for film rights to hit Broadway shows, then cast them with popular non-singing actors and actresses. Such was the case with the 1956 hit "The King and I," in which filmmakers dubbed Deborah Kerr's voice with Nixon's.
"I was brought in and had to follow along with her, getting her diction and acting style," Nixon recalled in 2004. "She in turn would study how I looked when I hit the high notes."
Nixon did the same for Natalie Wood in 1961's "West Side Story" and Audrey Hepburn in 1964's "My Fair Lady," which had starred Julie Andrews onstage. Earlier, she added a few notes to Marilyn Monroe's "Diamonds Are a Girl's Best Friend," from "Gentlemen Prefer Blondes."
She went uncredited in the films and on their soundtrack albums and was warned by the filmmakers that if she ever let it be known that she was doing the singing, "they would run me out of town." Word began to leak out, however, and Kerr herself blew Nixon's cover by praising her work on "The King and I."
By the late 1960s, the Hollywood Reporter was joking that "they found out who was doing Mr. Ed's voice on the television show; it was Marni Nixon's horse."
Nixon also appeared before the cameras in 1965, in a small role as a nun in "The Sound of Music," and provided the singing voice of Grandmother Fa in the 1998 animated film "Mulan."
As the era of big, traditional movie musicals dried up, so did Nixon's film career. But she kept busy with other work, including starring in her own children's TV show, singing opera, soloing with symphony orchestras, appearing in a road tour of "Cabaret" and teaching at the California Institute of the Arts.
In her later years, she was also popular at nostalgia festivals, where she told audiences: "I allowed all these actresses to dub their bodies to my voice."
She had landed her role in "West Side Story" after Wood's voice proved inadequate for the challenging Leonard Bernstein score. She prepared for it by studying Wood singing the role of Maria before the cameras — and had to then face the exacting task of getting her singing to match Wood's on-screen lip movements.
Hepburn, who had sung "Moon River" in "Breakfast at Tiffany's," had campaigned to do her own singing as Eliza Doolittle in "My Fair Lady." She was able to handle the film's early cockney-accented songs like "Wouldn't It Be Loverly," but Nixon — again carefully matching Hepburn's vocal style — had to be called in for such soaring melodies as "I Could Have Danced All Night."
Both Wood and Hepburn, Nixon wrote, worked hard to learn the songs, and their singing was recorded in the hope that Nixon's voice would be needed only to fill in on difficult passages. But that was not to be. "I heard later that Natalie Wood was very upset and felt betrayed by the powers that be," Nixon wrote.
As for Hepburn, "determined as she was, her vocals were not used."
Nixon recalled that after getting no royalties from the big-selling "The King and I" soundtrack album, she and her manager fought for better treatment for "West Side Story." After some haggling, she wrote, Bernstein made the "incredibly generous gesture" of giving up a sliver of his royalty share. It amounted to a major payday for her, given the album's huge sales.
Nixon was born Margaret Nixon McEathron in 1930 in Altadena.
The nickname Marni came from the first letters of her first and middle names. She took up the violin as a child and later studied voice. Her first dubbing job was for young Margaret O'Brien in the 1949 film "The Secret Garden." Onstage, she made her Broadway debut in 1954 in "The Girl in Pink Tights" and was in the 2001 revival of "Follies" and the 2003 revival of "Nine." She toured with "My Fair Lady" in 2007.
Nixon was married to film composer-conductor Ernest Gold, Oscar winner for "Exodus," from 1950 to 1969. A second marriage, to Dr. Lajos Fenster, in 1971 also ended in divorce. Nixon married flutist Albert Block in 1983. Her son, Andrew Gold, was a rock musician who arranged music for Linda Ronstadt and had a top-10 hit in 1977 with "Lonely Boy." He died in 2011. She also had two daughters with her first husband, Martha and Melani.
ALSO
Betsy Bloomingdale, widow of department store heir, dies at 93
Tim LaHaye, author of 'Left Behind' end-times novels, dies at 90
Longtime UCLA medical school dean Sherman Mellinkoff dies at 96
The stories shaping California
Get up to speed with our Essential California newsletter, sent six days a week.
You may occasionally receive promotional content from the Los Angeles Times.