Authorities arrest dozens in probe of Mexican Mafia control in L.A. County jails
Federal authorities on Wednesday capped a sweeping investigation into the Mexican Mafia with criminal counts against dozens of the organization's members and foot soldiers, saying the charges were a bid to disrupt the gang's control inside Los Angeles County jails.
Hundreds of local police and federal agents carried out coordinated raids in the Los Angeles area Wednesday morning, taking into custody 32 people who are charged in two federal indictments, according to the U.S. attorney's office. About three dozen others who are charged in the cases are currently serving time in state prison or county jails, while more remain fugitives. In all, 83 people were named in the two cases.
"We have made a very substantial blow against this gang," Nicola T. Hanna, U.S. attorney for California's central district, said at a news conference on Wednesday. "We've taken out the leader and associates in the L.A. County jails, and we've taken out quite a few associates who were assisting them."
Most of those charged are accused of crimes stemming from what prosecutors described as the Mexican Mafia's near complete control of criminal activity inside the nation's largest jail system, which houses about 15,000 inmates either awaiting trial or serving sentences.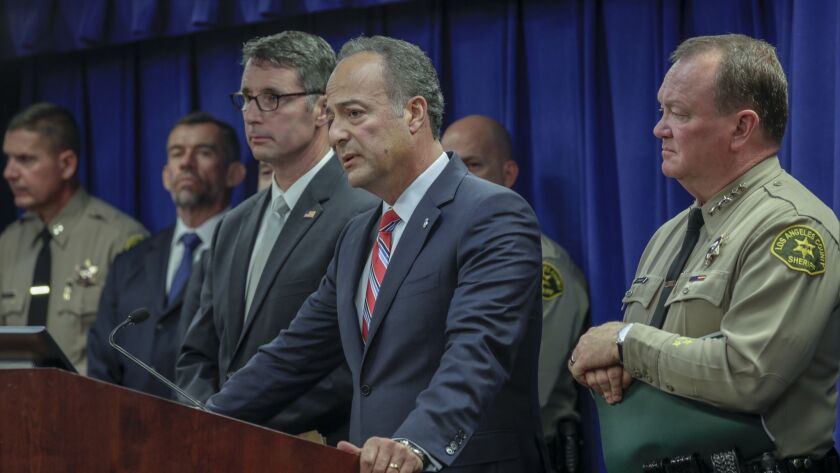 A 136-page indictment details how members of the crime syndicate and associates both inside and out of the jails carried out a brisk drug trade, orchestrated assaults on people who disobeyed the organization's code of allegiance and maintained a steady flow of cash through an intricate system of taxes and fines.
One of the people arrested Wednesday is a lawyer who used his attorney-client privilege with an incarcerated gang leader to conceal messages he was ferrying in and out of the jail, including orders that someone be killed, Hanna said.
Other collaborators smuggled drugs into the jails and communicated with fellow inmates by sending "kites" — containers such as plastic bottles that hold handwritten messages, weapons or other contraband and travel from cell to cell using long pieces of string.
One person transported heroin into a lockup by hiding it inside a greeting card. Another used stolen identities to create fraudulent Verizon phone accounts so that Mexican Mafia agents could make free phone calls, officials said.
The indictment, and a second one that alleges a Mexican Mafia member and his cohort ran roughshod over Latino street gangs in and around Pomona, follows a legal strategy that prosecutors have used for years in their efforts to dismantle gangs: Gang members and their associates are accused of belonging to a formal criminal enterprise and of conspiring together in violation of federal racketeering laws.
In making their case, prosecutors detailed the inner workings of the Mexican Mafia, which they describe as "a gang of gangs."
Formed in the 1950s by young Latino males at a juvenile detention facility, the group has evolved over the decades into a dominant force controlling much of how Latino gangs around the country operate.
Though prosecutors said the group counts only about 140 full members — called carnales, or brothers — the sway it holds is uncontested. From their cells in state and federal prisons, the carnales have divvied up among themselves control of Latino street gangs while also laying claim to the inner workings of California's prison and jail facilities, prosecutors wrote.
The members rely on networks of trusted confederates inside and out of custody to maintain power over their territories. "Shot-callers," prosecutors said, are top lieutenants authorized to conduct business on behalf of members, while "secretaries" are girlfriends, wives and other influential women who are responsible for transmitting information on business matters and orders for beatings or killings to be meted out.
Hanna said the gang members and associates accused in the indictments are being placed in local federal facilities, where it will be more difficult for them to continue their criminal activities. However, the Mexican Mafia has not been "decimated," he said.
The indictments unsealed Wednesday stem from an investigation that federal agents and local police began in 2013, authorities said. Using undercover agents who insinuated themselves into members' trusted circles, informants and surveillance of telephone calls, authorities mapped out the players in scores of alleged drug deals, money transfers, assaults and other crimes all carried out under the Mexican Mafia flag.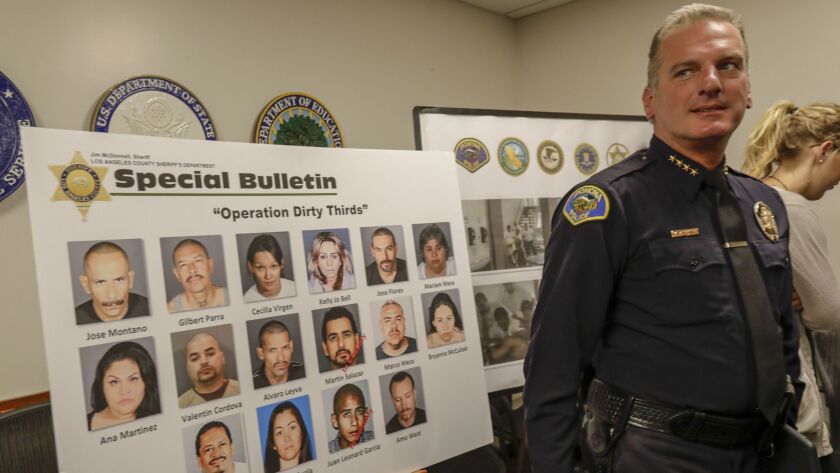 The Los Angeles County jail case focuses on a period beginning in 2012, when prosecutors say Mexican Mafia member Jose Landa-Rodriguez and two now-deceased members made the jails their personal kingdoms.
Landa-Rodriguez, 55, ran the Mexican Mafia in the jail system for at least three years and orchestrated a host of criminal activities, according to the indictment. The inmate, housed primarily at Men's Central Jail, was being held on charges of conspiracy to commit various crimes during the time he ran the operation, said Los Angeles County Sheriff's Cmdr. Joseph Dempsey. Landa-Rodriguez is accused of ordering homicides, as well as several assaults and the kidnapping and planned slaying of the relative of a gang member who had defied him.
A second member, Luis Vega, 33, is accused of ordering a killing and directing assaults against those who showed disrespect or failed to follow Mexican Mafia rules.
At different times, the men oversaw the relentless flow of drugs into county jails. After smugglers carried the narcotics into the jails, often secreting them inside their bodies, the narcotics were sold to inmates, according to the indictment. Other inmates who wanted to sell drugs were forced to wait until the Mexican Mafia supply had been sold and had to give up a third of their stash to the gang. That illicit tax gave authorities the code name for their investigation, "Operation Dirty Thirds."
One of the men charged Wednesday was Gabriel Zendejas-Chavez, an attorney accused of serving as a consigliere to Landa-Rodriguez who helped the member maintain his power. Taking advantage of the privacy protections attorneys and their clients are given, prosecutors said, Zendejas-Chavez conveyed messages and orders from Landa-Rodriguez, traveling to state and federal prisons for meetings with other Mexican Mafia members, according to the indictment. At the meetings, he allegedly passed on names of people potentially cooperating with law enforcement and facilitated a plot to extort $100,000 from another gang.
Los Angeles County Sheriff Jim McDonnell, who runs the jails, said contraband can sometimes go undetected because inmates can choose to be searched directly by custody staff instead of by an X-ray machine, which is better at identifying objects hidden inside the body. Some people commit minor offenses just so that they will be arrested and taken to jail, where they can complete a drug transaction, he said.
"They're willing to do that in order to be able to get the narcotics contraband into the jail environment, which would then be sold," McDonnell said. "So they use the system basically every which way that they possibly can to enhance their revenue."
For more news on federal courts in Southern California, follow me on Twitter: @joelrubin
---
UPDATES:
5:15 p.m.: This article was updated with additional details about the indictments and comments from law enforcement officials.
This article was originally published at 1:25 p.m.
---
The stories shaping California
Get up to speed with our Essential California newsletter, sent six days a week.
You may occasionally receive promotional content from the Los Angeles Times.