How the 'Coachella of Conservatism' fizzled into an 'expensive photo opp' at Berkeley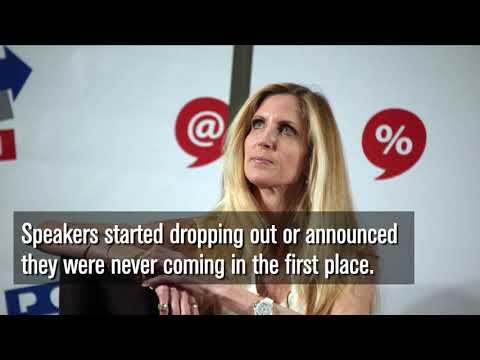 Speakers started dropping out or announced they were never coming in the first place. (Sept. 25, 2017)
Right-wing provocateur Milo Yiannopoulos and his entourage — including a Dutch Shepherd named Duke — arrived at UC Berkeley Sunday in a fleet of three Chevy Suburbans and made their way to the campus' famed Sproul Plaza.
It was a decidedly different entrance than what Mario Savio and other student activists made when they started the free speech movement at the same campus square in the 1960s.
Yiannopoulos had been trying to summon the spirit of those days of free speech activism as he rallied for a week of right-wing dissent. But by Sunday, his grand plans had fizzled and big-name speakers had pulled out. The event itself was canceled.
That left Yiannopoulos to carry on alone. After months of sometimes violent clashes between the far-left and far-right on the streets of Berkeley, Sunday's event was decidedly anti-climactic — with the air of something hyped being deflated.
Even the left-wing "antifa" agitators — whose violent activism fuels condemnation from President Trump as well as liberal Berkeley officials — didn't show up. While hundreds gathered at the plaza, there was no major violence. Without that conflict, what happened next was more surreal than subversive.
Clad in a jean jacket with an American flag hoodie, Yiannopoulos was brought in through the police-guarded barricades and greeted by a crowd of about 150 people who made their way through tight security.
Hundreds more watched from beyond the barricades as police slowly scanned people in line for weapons and other illicit items.
The 32-year-old, whose star dimmed after he resigned from the online news outlet Breitbart for making comments seeming to condone pedophilia, snapped selfies and led the crowd in a rendition of the national anthem.
Then after speaking for 20 minutes, Yiannopoulos was escorted out, and as quickly as he appeared, he was gone.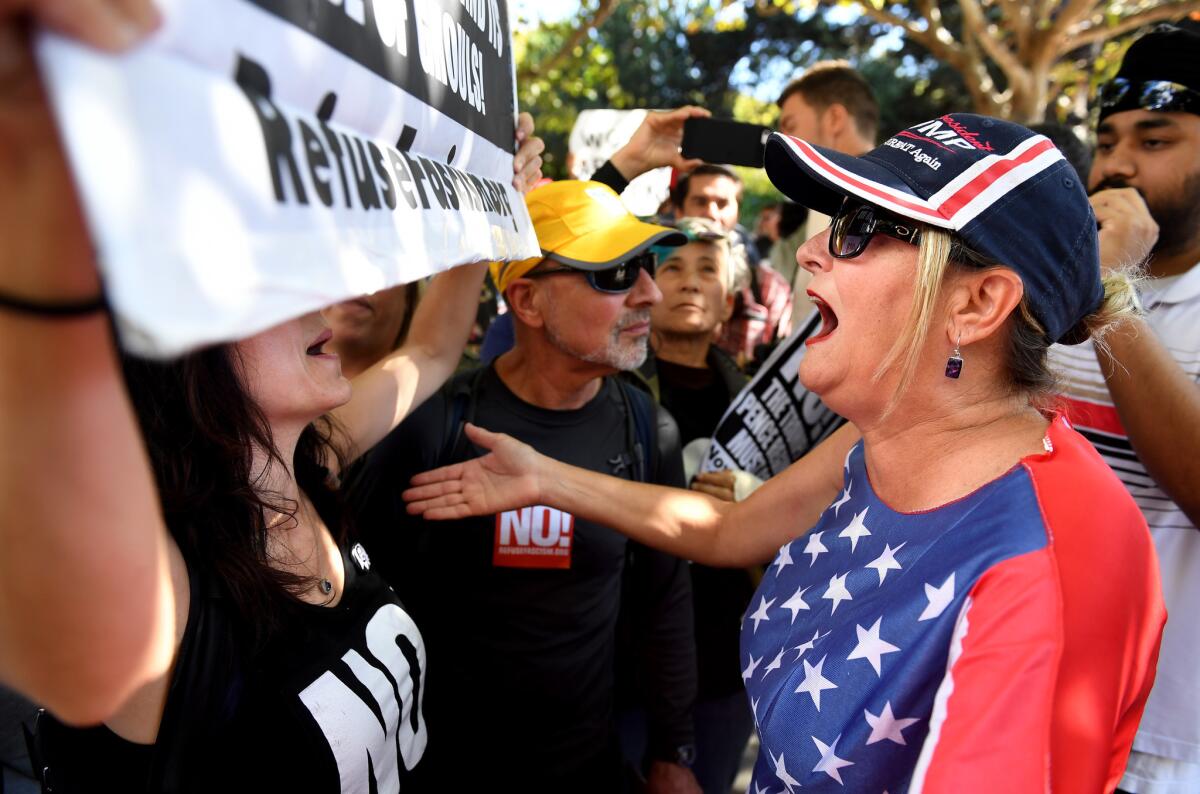 'COACHELLA OF CONSERVATISM'
Grand plans for the far-right to invade Berkeley
Yiannopoulos had much bigger plans just a few weeks ago, trying to capitalize on a visit to Berkeley earlier this year that sparked violence and a debate about free speech after his speech had to be canceled.
The event, called "Berkeley Free Speech Week," was billed as the "Coachella of Conservatism." University officials were preparing for mass protests akin to what greeted Yiannopoulos in February when a planned talk was scuttled by destructive protests.
Yiannopoulos stoked excitement by announcing an all-star speakers list, which included Ann Coulter and former White House chief strategist Stephen K. Bannon — who he affectionately referred to as "Uncle Steve."
Over the past week, the event began to fall apart amid profound disorganization from the student group and Yiannopoulos. Flights for participants weren't booked. Speaker after speaker dropped out or announced they were never coming in the first place, and critics and supporters alike began to question if Yiannopoulos had ever wanted to go through the full-scale event.
In a Saturday email to a UC Berkeley administrator, obtained by The Times, Lucian Wintrich, who was initially among the speakers, said that Yiannopoulos had known for some time that the Free Speech Week event would be canceled.
When asked if this was all "set up," Wintrich responded "yes."
"It was known that they didn't intend to actually go through with it last week, and completely decided on Wednesday," he wrote.
One scheduled speaker who requested anonymity to speak candidly, sensed about 10 days ago that the festivities would not occur.
"Milo definitely intended to do it, but then it went sideways," this person said. "Ann [Coulter] is always big about promoting her events on social media. I took her not confirming as an ominous sign."
Coulter told The Times Friday that she was "never" coming.
During a Facebook Live session Saturday, Yiannopoulos addressed the cancellation and appeared to take some responsibility for the canceled event's chaotic and disorganized rollout.
"I understand there were some hiccups with speakers, which I take personal responsibility for," he said. "Although it was an error of my staff, it's down to me."
THE DRAMA FIZZLES
'The most expensive photo op in the university's history'
Over the past year, UC Berkeley's administration has struggled with balancing the need to foster free speech on campus and securing these types of events. Several speaking engagements that involved figures such as Coulter and Yiannopoulos had to be canceled or postponed because of violence on campus.
The school has incurred at least $1.4 million in security costs since February, when Yiannopoulos' last appearance sparked violent protests. The campus spent $200,000 on security for that event, $600,000 for Coulter, whose event ultimately didn't happen, and an estimated $600,000 for the talk recently by conservative writer Ben Shapiro, according to the university.
Officials shut down a large portion of Berkeley's campus, as well as three city blocks, to prevent the kind of rioting that occurred when Yiannopoulos' February event was canceled.
At a news conference following the event Sunday, UC Berkeley spokesman Dan Mogulof said the school remained committed to hosting speakers of all backgrounds and opinions.
Mogulof called the event "the most expensive photo op in the university's history."
Chief Margo Bennett of the UC Police Department estimated that the cost for the event would be at least $800,000. Eleven people were arrested, according to campus and city police.
Meanwhile, protesters of all ideological stripes spilled into Berkeley.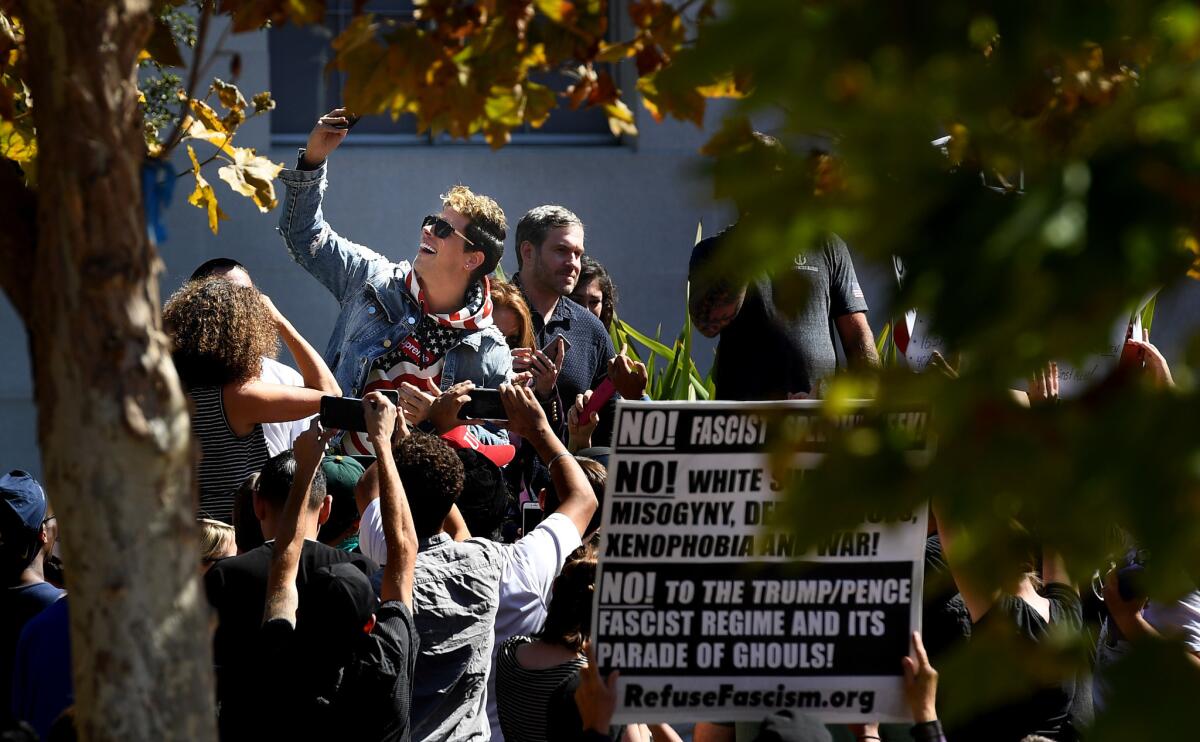 DISAPPOINTMENT ON BOTH SIDES
'All that to say hi and leave?'
Nearly 800 Trump supporters and counterprotesters had amassed Sunday morning in advance of Yiannopoulos' appearance, with shouting and shoving matches breaking out in the crowd. But it was nothing compared with the violence of just a few weeks ago.
Some like Christopher Corsi were fans of Yiannopoulos. The 24-year-old pizza delivery man said he drove overnight from Phoenix to Berkeley for the chance to see Yiannopoulos.
He said he loves how "absolutely outrageous" Yiannopoulos is and how he riles up the left.
"I'm not even convinced he even believes what he says," he said. "He might just be trolling everybody."
Roger Walus, a 25-year-old college student clad in a red "Make America Great Again" hat, didn't get to see Yiannopoulos. He was turned away by security because he had a paintball mask and tactical gloves.
"He disappointed us," he said. "We are mad at him. But we don't need him for this movement. He is not the one who is holding this down."
But to some degree, Yiannopoulos' speaking engagement was irrelevant. Walus said there was value in the fact that Trump supporters from near and far got to meet up and network in Berkeley.
The anti-Trump protesters triumphantly chanted "Immigrants are here to stay, Milo had to run away."
But before he spoke, counterprotester Andrea Grenburg, 34, who lives in Berkeley, explained why she knew she couldn't stay home.
Proponents of hate speech like Yiannopoulos, not free speech, are in her town and she wanted to be out in the streets to make her opposition known.
"If no one speaks up, the hatred festers. And then when you don't do anything, you can't complain," she said.
Many Trump supporters beamed the scene to their online followers on Facebook Live streams and other social media.
Christian Silva, a 29-year-old from Fullerton, drove up to hear Yiannopoulos speak.
After Yiannopoulos finished his brief address, Silva walked away from the crowd and back through security to leave.
"All that to say hi and leave?" he said.
ALSO
As Trump continues his attacks, NFL players protest by kneeling or locking arms
L.A. set to be hot market for marijuana. But there might not be many places to smoke it
'Fuerza Mexico': Earthquake has been the engine of a newfound national solidarity
---
UPDATES:
FOR THE RECORD
Sept. 25, 10:40 a.m. : An earlier version of this story said that UC Berkeley canceled a speaking engagement for Anne Coulter. The university did not call off the Coulter event. It offered another time and place, which she refused.
Sign up for Essential California for news, features and recommendations from the L.A. Times and beyond in your inbox six days a week.
You may occasionally receive promotional content from the Los Angeles Times.