Montecito residents return to 'war zone' of destruction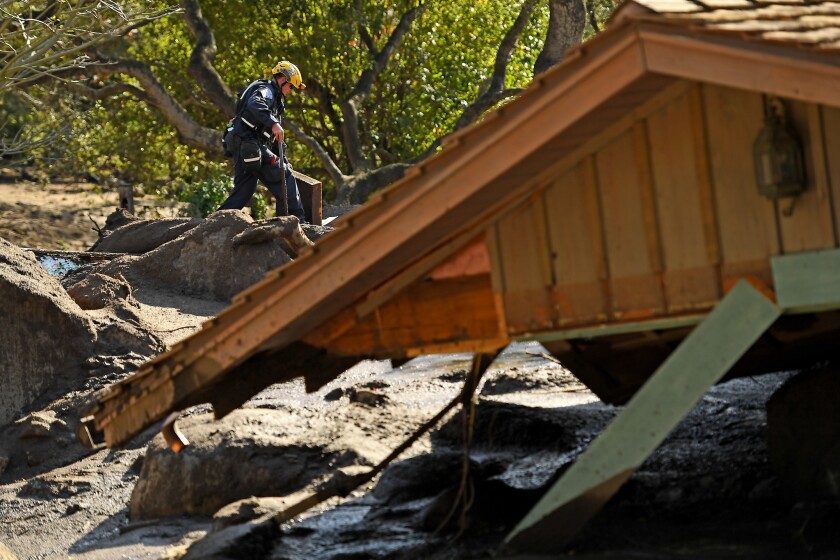 Reporting from MONTECITO, Calif. —
Diane Munro walked her 7-year-old French bulldog, Daisy, down Hot Springs Road on Wednesday, surveying the damage.
"This is a war zone," she said, gesturing along the road. "Ours is like this peaceful rose garden."
Some people did evacuate in her area, but she stayed. She put a ladder against her home, in case she had to get up on the roof.
"I mean, survival and taking it seriously," she said. "I was thinking if worse came to worse and the creek breached, that I'd go on the roof of the house."
The Tuesday morning mudslide left at least 100 homes destroyed and at least 17 people dead. Whole neighborhoods were covered in thick mud and debris.
She said neighbors up the street had lost friends. Walking around the neighborhood, she said, was "sobering." She evacuated during the Thomas fire and was out of her home for about two weeks. She stayed in Goleta.
"We're all just kind of very fortunate that we were able to come out of it this way, but our heart goes out to everybody else," she said. "It's a very humbling experience."
Greg Giloth had also been under a mandatory evacuation. He lives between Para Grande and Hot Springs Road, on a private lane.
"I did not evacuate, because we've been in the area a while and I'm used to the creek. The creek is a problem, but we've never had a burn area above it. That was the key here," Giloth said. "I was thinking it could be bad, I never thought it was going to be this bad."
Giloth had been waiting all day for the rain and there was no rain.
They just received a small amount.
"And then all of a sudden it started coming down hard," he said.
He got on his computer and said you could see the cell, "it was orange and yellow." But it passed through within half an hour."By like a quarter to four, all hell broke loose," he said. "That's when the house started shaking, that's when the actual flood was coming down the creek."
"It was pulling rocks and trees and everything in front of it." He was worried that it might be coming toward his home. There's a row of houses and the creek is on the other side of it. "From what I could tell, it was out of its banks on the other side and moving swiftly. But you could hear the rocks," he said.
When he went out at first light, the house directly across from him had no damage even though it was next to the creek.
"They were lucky," he said. "Across the creek from there were at least three houses that were severely damaged. Roofs moved, floors knocked out, mud up 5, 6 feet up the walls."
Twitter: @brittny_mejia
---
The stories shaping California
Get up to speed with our Essential California newsletter, sent six days a week.
You may occasionally receive promotional content from the Los Angeles Times.