L.A. Zoo wants mountain lion to remain a neighbor despite koala death
The Los Angeles Zoo is taking steps to protect its animals from a mountain lion suspected of killing a koala last week but does not want the predator relocated or euthanized, zoo officials said Wednesday.
Instead of asking for the mountain lion known as P22 to be captured and relocated outside of Griffith Park, or worse, the zoo says it is moving its vulnerable animals indoors at night to protect them should the young male lion find a way through the perimeter fences again.
"It is the zoo's hope that P22 remains in Griffith Park," zoo spokeswoman April Spurlock said. "This is a natural park and home to many species of wildlife. We will continue to adapt to P22 as he has adapted to us."
The killing of the Australia-born koala, Killarney, gave the zoo the right to have P22 removed or euthanized by the California Department of Fish and Wildlife, which has jurisdiction over the estimated 6,000 mountain lions in the state.
"The zoo could ask for a depredation permit and under state law and department policy and we would have granted that permit for the lion to be captured and euthanized," said Andrew Hughan, a spokesman for the state agency. "They did not ask for the permit."
Hughan said the agency believes "the lion poses no harm" at this point but will be monitored closely.
"The attack on the koala, although sad, is normal predatory behavior – essentially a lion being a lion and eating," Hughan said. "But the mountain lion is a wild animal, so there may come a point in the near or far future where we have to revisit that determination."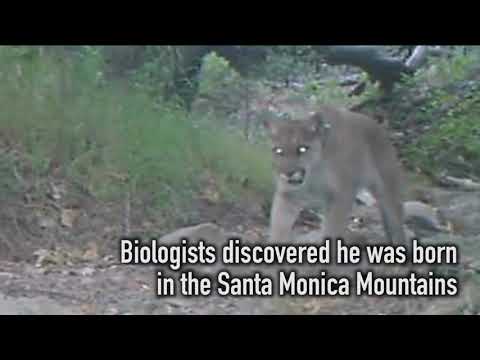 On March 3, one of the Los Angeles Zoo's koalas was killed. Though the attack wasn't recorded, they did find still photos of the likely perpetrator: P-22, Griffith Park's most famous mountain lion.
Belief that P22 may have killed and eaten the koala kicked up a fury of headline news, social media traffic and calls to have the big cat removed from the 4,000-acre park where it has become a formidable living emblem of urban wilderness.
The evidence linking P22 to the attack was circumstantial. Black-and-white photos and video taken by zoo surveillance cameras placed him near the scene the night before the small and elderly koala was discovered missing.
A zoo curator discovered Killarney's mutilated remains on a hillside, 400 yards from the koala exhibit. Most of her face was missing.
The zoo's koalas have been taken off public display and moved to enclosed areas.
Los Angeles City Councilman Mitch O'Farrell, chairman of the city's Arts, Parks, and Los Angeles River Committee, which oversees the city zoo, initially suggested that P22 should be moved to "a safer, more remote wild area where he has adequate space to roam without the possibility of human interaction."
The idea generated intense public backlash. It "went viral," O'Farrell's spokesman Tony Arranaga said. "People misunderstood what he said to mean that we 'must' relocate P22. What he said, in fact, was that we should 'consider' relocating P22."
P22 was born in the Santa Monica Mountains and crossed the 405 and 101 freeways in 2012 to settle in the rugged, chaparral-cloaked slopes of one of the largest municipal parks in the United States. He has remained there since then, hunting mule deer and other animals for food in the natural areas of the park.
California mountain lions are a "specially protected species." Killing a mountain lion without a depredation permit is a misdemeanor punishable by up to one year's imprisonment in the county jail or a fine of up to $10,000.
P22 is the focus of research led by federal biologists trying to "better understand how mountain lions are surviving in increasingly urbanized and fragmented habitat," said Kate Kuykendall, acting deputy superintendent of the Santa Monica Mountains National Recreational Area.
"We've seen no indication from P22 that anyone has cause for concern," Kuykendall said.
Local wildlife advocates could not be happier about that.
"We'd really hate to see P22 go unless there was good reason for it," said Gerry Hans, president of the nonprofit group Friends of Griffith Park.
"I know of nothing that would indicate that there's a tendency for any type of harm to people who use the park," he said. "It has settled back into ancestral habitat, sharing the trails day and night with hikers, equestrians and nature lovers."
"Of course," he added, "all that may change."
Twitter: @LouisSahagun
ALSO
California's June primary just became crucial in the race for the White House
25 years later, a vigil will honor a black teenager killed over a bottle of orange juice
Sign up for Essential California for news, features and recommendations from the L.A. Times and beyond in your inbox six days a week.
You may occasionally receive promotional content from the Los Angeles Times.