Understaffed and overwhelmed, rescuers had to make life-and-death choices as wildfires raged
It was the kind of night that caused the skin on the back of David Shew's neck to prickle.
Dry. And wind so strong the loose boards on his neighbor's fence made a racket.
Twice, the Cal Fire chief stepped out of his house in the Napa Valley to scan the ridges for the orange glow he dreaded.
"Man, if we got a fire right now," he told his wife, "that would be the worst thing ever."
By 9:30 Sunday night, his fears were already playing out.
An October windstorm pushed over trees, snapping branches, downing power lines and blocking roads. Fires popped up across the ridges and valleys of the Mayacamas range, in the dry grass and brush thick from last spring's rains. And each one was threatening to blow out of hand.
There was a transformer explosion near Santa Rosa. Two minutes later, a structure on fire a half-mile north. At the Silverado Resort north of Napa, a PGA tour event had ended and thousands of spectators departed just before workers emptied ice buckets on a temporary pavilion that had begun to burn. They called the fire department. A report of another vegetation fire nearby came in at the same time.
Dispatchers began to juggle engine assignments. But at 9:43 p.m., when a fresh batch of vegetation fires broke out all at once in Santa Rosa, in Napa, in Calistoga and in between, the alarm went out to everyone: "All units … multiple starts. Stand by for fire assignment."
On Atlas Peak high above the golf course, the gusting wind reminded longtime resident Garrett Brown, 73, of a hurricane. He went to bed as the power began to cut on and off.
California Highway Patrol pilot Jan Sears was returning to the Napa airbase when he noted a glow in the distance. He banked his plane toward the remote ridge named Atlas Peak for a closer look.
The stage was set for what in the next hour would become one of California's worst fire disasters, killing at least 34 people and destroying more than 5,000 structures and still largely out of control.
The monster is coming
Sears called in his report of the fire, already kindled to 100 acres on Atlas Peak ridge.
At the other end of the Napa Valley, 24 miles away, a traveling nurse from Mississippi stood outside her rented house in sleepy Calistoga to see what her landlord was calling about. It was the top of a fire the next road over. In 10 minutes, the bright spot behind the trees transformed into a towering, roaring blob that began to move to the left. South.
"Oh, my God," Terry McGregor said aloud as she caught the birth of the Tubbs fire on her cellphone.
Two miles south, a house was burning. A 57-year-old man would later be found dead, the first fatality.
Back across Napa Valley, the Atlas fire was climbing down its own mountain, a repeat performance of a similar fire's behavior in 1981. Thirty-six years ago, when the ridge was sparsely populated, 65 homes were lost. Garrett Brown's homestead survived because his boys threw water from the swimming pool onto the roof.
Now a haven known for wineries, luxury villas and retirees, the stakes on the high rocky ridge were raised.
A NIGHT OF TERRIBLE CHOICES
Chief asked for 100 fire engines, he got 50
Within 20 minutes of that chance spotting by a pilot, wind drove the wildland fire into housing developments. "It looks like the whole mountain is on fire," a fire official radioed in over dispatch. Napa County Fire Chief Barry Biermann, among the first to arrive, called in requests for 100 fire engines, of any type or size. He got 50.
Biermann's request was the fire world equivalent of an SOS, and the beginning of a night of terrible choices.
From then on, decisions had to be made on where to send fire engines, rescuers and resources. The winds, and fires, were popping up across Northern California. Help from the outside could not be expected until morning.
Across the Mayacamas, 79 engines were assigned to the Tubbs and related fires spreading across Sonoma County and the town of Santa Rosa. It would take a week for the firefighting force to reach 500 engines.
Fire engines rolled up Atlas Peak Road to wake sleeping residents and get them out. Biermann followed, even though as chief officer he assumed incident command. Barely a mile up, he was forced to turn around, and fire engines could go little farther.
911 jammed: 'Parents trapped in garage' 'Elderly lady trapped'
Napa County emergency phone lines were flooded with 911 calls, more than operators could answer.
By 10:12 p.m., callers getting through included Atlas Peak residents trapped by the fire, some in already burning houses. In another 10 minutes, the calls included those on the slope's other side, Soda Canyon. Many were elderly: "Parents trapped in garage." "Elderly lady trapped."
CHP paramedic Whitney Lowe and helicopter pilot Peter Gavitte took up the evacuation effort inside the fire line. As their flight instruments recorded wind gusts as high as 75 mph — the equivalent of a Category 1 hurricane — they blared the siren, shouted over the public address speaker and flashed their "night sun" spotlight to wake and warn ridge residents of the fire at their doors.
Then, when they saw a string of eight cars trapped on the mountain, they set down in a field not far from a wall of fire. Lowe ran a quarter-mile down the road to the blocked cars and beckoned the stranded evacuees. They would airlift them out. A few at a time.
The helicopter Gavitte and Lowe flew was one of the few in Napa capable of night flight. But it also had little passenger space, and a wall of medical gear took up hundreds of pounds of load-carrying capacity in the flying ambulance. Lowe told the first group to reach the helicopter, a family of five, that only three could board. Four did.
The fifth, the father, announced he would stay.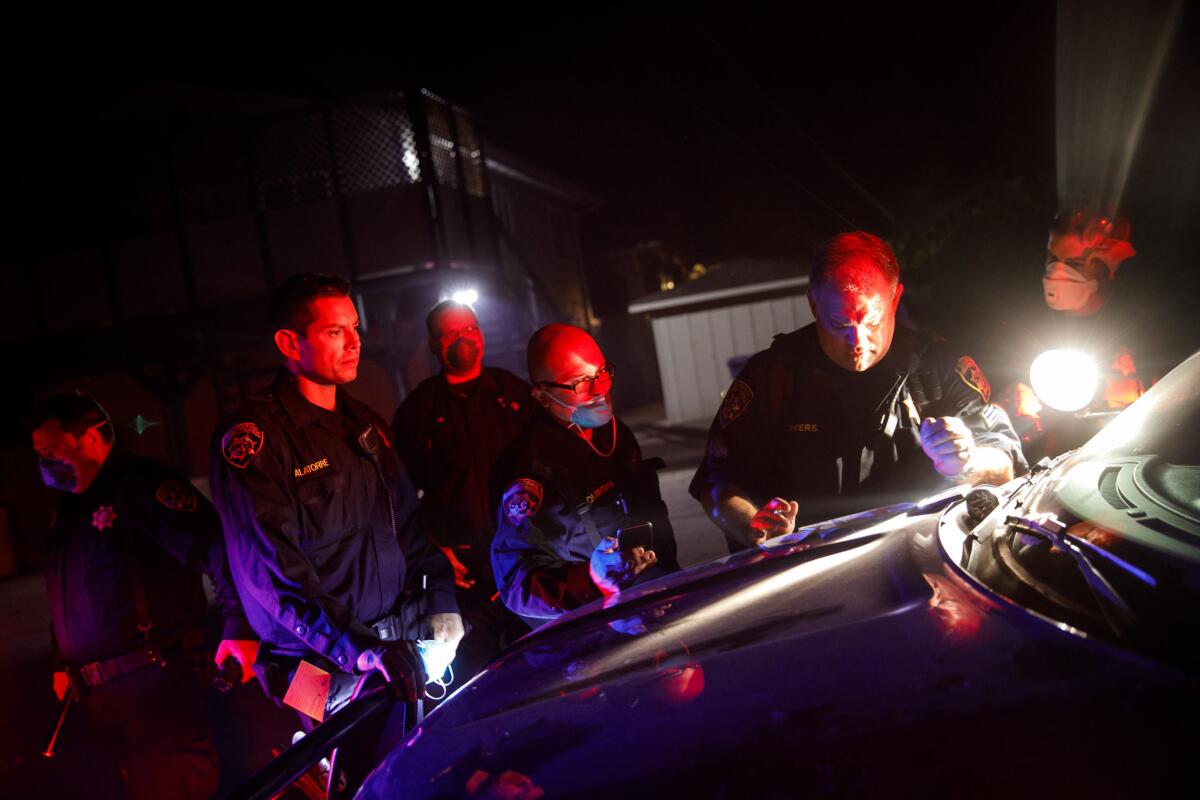 'Forget the dog'
The significance of that instant decision was unspoken, but Lowe saw it clearly. He assured Pepe Tamayo that he would be back.
"We believed 100% we were coming back," the paramedic said, but he could tell the father doubted it. When the crew dropped their passengers at a nearby fire station, Gavitte and Lowe also jettisoned their medical gear and hoists, lightening up to take on maximum human payload, and returned to the fire.
Tamayo was gone. "My heart dropped," Lowe said, "but at that point, we have to continue to do what we are doing." He lifted a 94-year-old woman out of a car and carried her like a baby to the helicopter and onto the lap of her son.
Gavitte and Lowe were on their third round when they saw Tamayo. Lowe ran over and grabbed him by his shirt to pull him to the helicopter. Tamayo asked if he could bring his dog, a 15-pound terrier named Lizzy, and Lowe said no.
"I can't take your dog instead of people," Lowe said.
"Forget the dog. Let's go," Tamayo said.
Lizzy was left in the truck.
A second CHP helicopter joined the shuttle effort, which extended over to Soda Canyon road. The crews listened for calls for help from those in the luxury homes, and found vineyard workers among the grapes. By the end of their flights, 5 a.m., they had picked up 41 people, five dogs and a cat.
From the helicopter, Gavitte and Lowe heard the dispatch calls of Atlas Peak residents trapped in homes that firefighters could not reach. Nor could they. The fire was too intense, or there was nowhere to land. Lowe shared a picture of one roiling mass of flame — a house fully engulfed. There were people on the other side, he said. It haunts him.
'We were overwhelmed. We had to make a decision'
All night, Gavitte and Lowe heard calls coming from the other side of the Mayacamas, where the Tubbs fire razed swaths of the town of Santa Rosa. There were people trapped in swimming pools and other people in a water tank hoping for rescue. And from the air, they could see a third fire moving toward Gavitte's house.
"We were overwhelmed. We had to make a decision, that the people right here are the ones we can make a difference for right now, so that's what we have to do," he said.
Cal Fire Chief Dick Shew said those on the ground worked under the same agonizing cloud.
"There were too many instances that time, where you couldn't get there," Shew said. "It was too, you just, couldn't get there."
To date, the death toll from the Atlas fire stands at two, an elderly husband and wife who lived at the foot of the ridge with their caretaker. But dispatch recordings contain reports of people running back into burning homes, or firefighters reaching the site of a help call to find the house fully engulfed and the fate of its occupants unknown.
Pepe Tamayo's truck withstood the fire that eventually overcame the helicopter field — the char line ran right up to the tires.
She was found two days later, still in the vehicle, apparently having survived on the family's Starbucks drinks.
Sign up for Essential California for news, features and recommendations from the L.A. Times and beyond in your inbox six days a week.
You may occasionally receive promotional content from the Los Angeles Times.