Nipsey Hussle's plan to fight gentrification in South L.A. has made it to Congress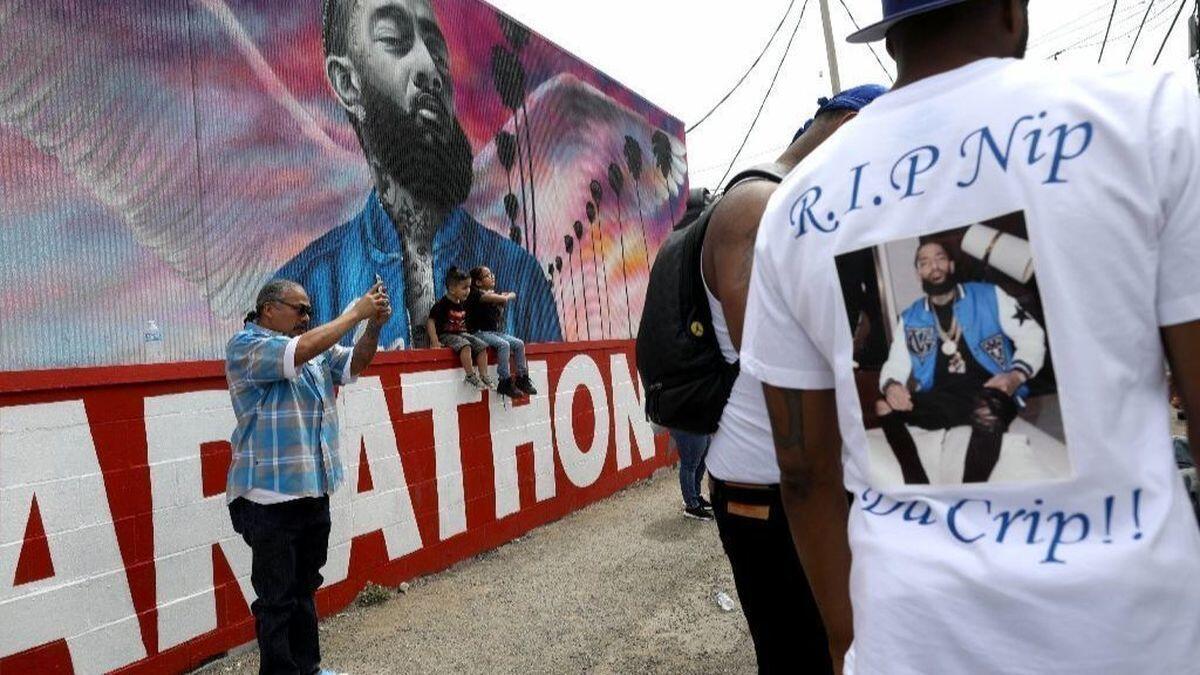 Inside the U.S. Capitol, in a historic room where Abraham Lincoln forged friendships with colleagues from both parties, members of the Congressional Black Caucus huddled Wednesday with an unlikely coalition that included an L.A. city councilman, an Atlanta rapper, a New York radio host and a South Los Angeles developer.
The discussion veered from public policy to the personal as they talked about the economic state of black America and ways that they could work together to uplift their people and their neighborhoods.
And during the almost two-hour meeting, one name came up repeatedly: Nipsey Hussle.
The Los Angeles rapper and activist had a plan to rebuild black neighborhoods in South L.A. and cities across the country, using a new provision in the federal tax code called opportunity zones. He wanted to reverse decades of neglect and disinvestment and had scheduled meetings to discuss his vision with lawmakers in Washington, D.C.
But those meetings never happened. When Hussle, born Ermias Asghedom, was fatally shot outside his South L.A. clothing store on March 31 over what authorities say was a personal grudge, those plans were thrust into limbo.
Now, Hussle's business partners are forging ahead and are continuing the work — the "marathon" — he started.
This week, they launched an investment fund called "Our Opportunity" at a summit organized by Forbes magazine. It will operate by tapping hometown heroes — mostly wealthy black entertainers, celebrities and athletes — to invest some of their money into neighborhoods in their cities using the opportunity zone tax incentive, leading the charge for economic development.
Those involved in the fund so far include Los Angeles City Councilman Marqueece Harris-Dawson, Atlanta rapper Clifford "T.I." Harris, New York radio host Charlamagne tha God (born Lenard McKelvey in South Carolina), and L.A. real estate developer David Gross.
"These folks have things that all of Wall Street's money put together can't buy," Harris-Dawson said, "and that is what's called street credibility. That is what's called skin in the game and that is what's called confidence [in] their community. That when they make an investment or get involved in a business venture it will … serve the community that they are in and leave the communities in a better place."
T.I., who said he has long made investments in the struggling community in which he grew up, said he jumped at the chance to join the "'Avengers of investors" that Hussle assembled in the months leading up to his death.
"Nipsey was the founder of the idea to bring everyone together who may individually be able to do great things and make significant impact on their own in their communities," he said. "But for us to come together, we can impact so many more communities and spread our efforts so much wider."
The group of businessmen then gathered in the Lincoln Room at the U.S. Capitol, with Reps. Karen Bass (D-Los Angeles), Hakeem Jeffries (D-N.Y.), Joyce Beatty (D-Ohio), Steven Horsford (D-Nev.), Frederica Wilson (D-Fla.), Cedric L. Richmond (D-La.) and Antonio Delgado (D-N.Y.) and Majority Whip James E. Clyburn (D-S.C.).
What had been scheduled as a 30-minute meeting morphed into an hour and 45 minutes of "tight-knit conversation," said Gabrielle Brown, communications director for the Congressional Black Caucus.
"We can help get things done on the federal level in terms of when we do opportunity zones, that they are implemented in a way that help black communities," she said.
The provision was created as part of the Trump administration's 2017 overhaul of the federal tax code to lure Wall Street to invest in low-income, struggling, often majority-black communities.
Investors can take proceeds that would normally be subjected to hefty capital gains taxes — such as those from the sale of a business, stocks or an investment property — and put them into an opportunity zone investment fund, deferring or potentially reducing those taxes. To see the full tax benefit, the funds must be invested for a decade.
Treasury Secretary Steven T. Mnuchin has predicted that the opportunity zone could bring in an estimated $100 billion of investments. So far, the federal government has designated 8,700 such zones across the country, including parts of Hussle's Hyde Park neighborhood in South L.A. T.I. also said he was born in what is now an opportunity zone.
Critics of the provision fear that the influx of money and the resulting development will be a catalyst for gentrification and displacement in communities of color.
Clyburn has said that he worries the current language about opportunity zones is too broad, allowing investors to receive tax credits for luxury projects in low-income communities that could push out residents living there. Such projects include upscale apartments in Wilmington, Del., a boutique hotel in downtown San Antonio and luxury towers in downtown Houston.
"I support the investments in the black community that Mr. Gross discussed," he said in a statement. "But the investments that are being made today in opportunity zones are totally different, and the question is whether or not the decision-makers will allow that to happen."
Efforts are underway to bring more accountability to opportunity zones.
The provision's main backers — Sen. Tim Scott (R-S.C.) and presidential candidate Sen. Cory Booker (D-N.J.) — have introduced legislation to add reporting requirements to track how developers are using the incentive.
Hussle's business partners also met individually with Booker on Wednesday. Video from that meeting circulating on a social media shows Harris-Dawson invoking Hussle's name.
"Nipsey is not going to allow certain things to happen in his name," he said to Booker in one clip. "It's just not going to go down, so as opposed to after the fact, the city government coming in and putting in cumbersome regulatory impediments or barriers, we can do it right, right from the start."
Hussle and Gross saw opportunity zones as a way to redevelop South L.A., as well as other largely forgotten, low-income communities in 11 cities as well as in Washington, D.C. and Puerto Rico.
"This is really a big moment, a big opportunity to seize the brute strength of this legislation to leverage it to do good in our communities," Gross said.
For more California breaking news, follow @AngelJennings. She can also be reached at angel.jennings@latimes.com.
Sign up for Essential California for news, features and recommendations from the L.A. Times and beyond in your inbox six days a week.
You may occasionally receive promotional content from the Los Angeles Times.