Oakland school got a $2.8-million gift of Chinese paintings. Turns out they were fake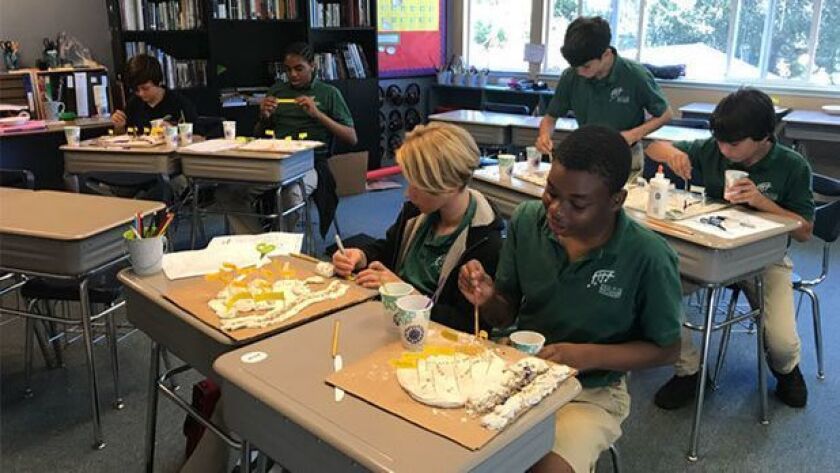 A year and a half ago, a small, private all-boys school in Oakland thought it had landed a huge windfall.
A New York man who had sung in a boys choir as a child had inherited some Chinese art from his parents and was interested in donating four to support the music-education-focused school, Pacific Boychoir Academy.
Two independent appraisers estimated that one painting by Li Keran, of a waterfall, was worth about $2 million. With the three other paintings donated over the course of 2017 and 2018 by such noted 20th-century Chinese artists as Fu Baoshi and Shi Tao, school officials were looking at $2.8 million.
For a school with an annual budget of a little more than $1 million, receiving a donation nearly three times that amount was incredible, said Ron Cohen, a member of Pacific Boychoir Academy's board.
The school made some immediate investments, borrowing $400,000 against the art to hire a communications director and make part-time Admissions Director Janelle Geistlinger full-time.
The investments paid off. The school, which is celebrating its 20th anniversary this year, serves 24 students now but expects to enroll nearly twice as many next year.
But it all came crashing down in late January, when the school took the paintings to Bonhams, a fine art auction company. The appraisers cast doubt on the paintings' authenticity.
"They're very beautiful but we found they were not authentic," Cohen said. "Instead of being worth hundreds of thousands, they were probably worth $500 — something in the really beautiful poster category and not in the really high-end collector category."
The Wall Street Journal reported in 2001 that 20th century Chinese painters such as Fu Baoshi and Li Keran earned growing recognition in the 1990s, and as their fame grew, so did a forgery problem.
Political and social upheavals in China meant scholarship and record-keeping for art were patchy. Art dealers often turned to family members of the artist to settle disputes over paintings, according to the Wall Street Journal.
Officials from Pacific Boychoir Academy declined to name the donor, saying he had made the donation in good faith.
The school went into survival mode, short $270,000 it needs to make it to the end of the school year. The board laid off three administrators, including the head of school, administrative director and the recently hired communications director. All staff received a 20% pay cut.
Some teachers took on additional responsibilities that had belonged to the laid off administrators. Everyone is working longer hours with significantly less pay, Geistlinger said.
Summer Dittmer, a math teacher who took on the head of school's responsibilities told the San Francisco Chronicle that she wasn't sure the school would be able to stay open.
But an outpouring of support from the community in recent days has made Geistlinger more hopeful.
"The community response has been one of sadness. And kind of a collective gasp," Geistlinger said. "There's also been — right behind that — the rolling up of sleeves. I'm getting calls of 'What can I do? How can I help?' "
A Go Fund Me has raised nearly $50,000, the school has received checks totaling $16,000 so far, and an anonymous donor has pledged to contribute $100,000 if the school manages to raise $170,000 on its own, according to Development Director Johanna Ortis.
With enrollment projected to rise and additional tuition money coming in, Geistlinger said she expects the school will be able to stabilize its finances in the next academic year, even if it lost the millions it thought it had.
---
For reporting and exclusive analysis from bureau chief John Myers, get our California Politics newsletter.
You may occasionally receive promotional content from the Los Angeles Times.