Off-roaders face ban at Oceano Dunes: 'This is like the Wild West. Anything goes'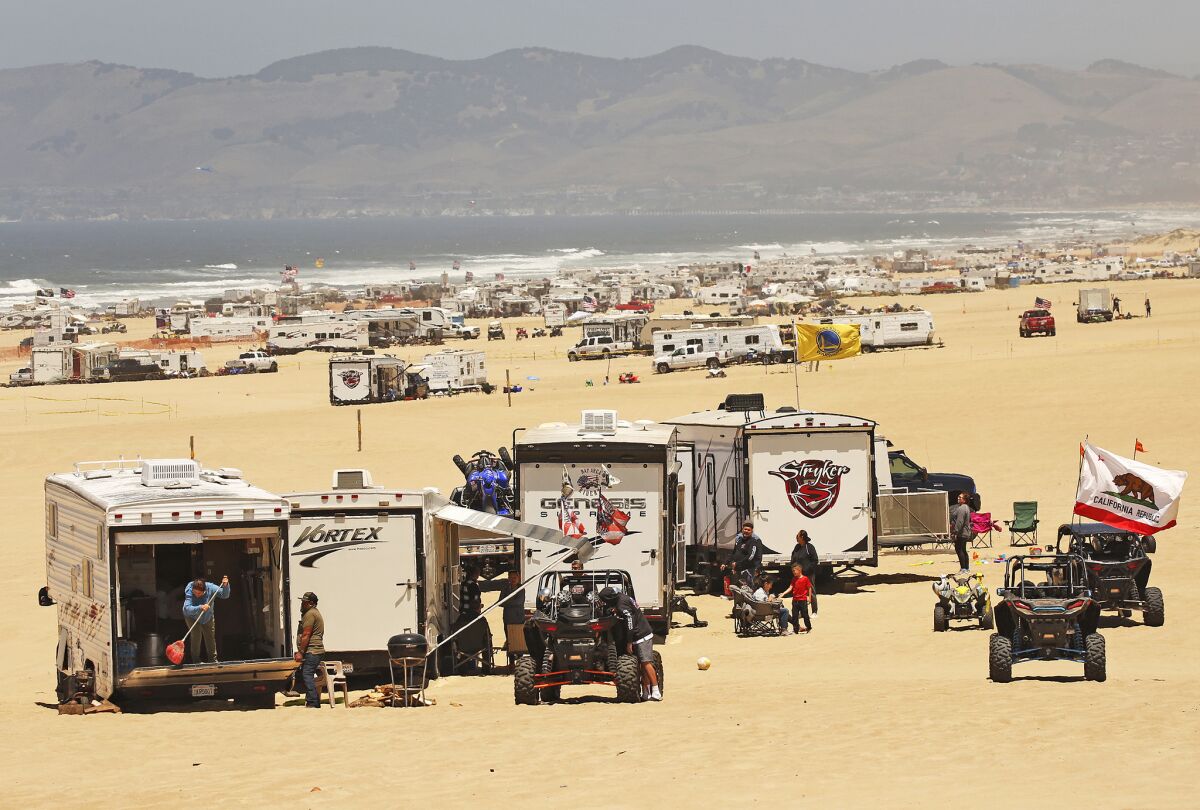 Reporting from Oceano, Calif. —
For generations, off-road vehicle riders have flocked to this windy stretch of the Central Coast to camp on the shore, build bonfires in the sand, and gun their engines in the only state park in California that allows motor vehicles on the beach and dunes.
And for nearly as long, the surfside playground of Oceano Dunes has generated anger among residents and conservationists, who complain that off-roaders have crushed endangered species beneath their wheels, disrupted sensitive habitat and sent clouds of unhealthy dust billowing into their neighborhoods.
Now, the staff of California's powerful Coastal Commission is saying enough is enough.
On Thursday, the commission will consider a staff recommendation to begin phasing out off-highway vehicle use at one of the state's busiest parks — a proposal that is reigniting long-running debate over beach access, and whose interests deserve protection.
On one side of the battle is the Dunes Alliance, a coalition of community groups and environmentalists who welcome the move as long overdue. They say the crush of RVs, quads, side-by-sides, dirt bikes and dune buggies has harmed the coastal ecosystem and saddled nearby towns with noise, danger and pollution.
"This is like the Wild West. Anything goes. And it's vehicles first," said Cynthia Replogle, president of the Oceano Beach Community Assn. and a resident of the small gateway community next to the park. "We're basically the doormat of the dunes — we get all the negative impacts."
On the other side of the debate are the Friends of Oceano Dunes, off-road enthusiasts and campers who have spent years fighting efforts to restrict their use of the state vehicular recreation area, only to see more land fenced off to protect endangered birds and air quality. They have accused coastal regulators and detractors of elitism and overreach.
"It has been a nonstop battle, a whittling away," said Danny Hensley, an Oceano native with the Jerk Pirates Offroad Group — a volunteer organization that collects trash along the beach and helps riders who get stuck in the sand. "Now they think they can shut our park down."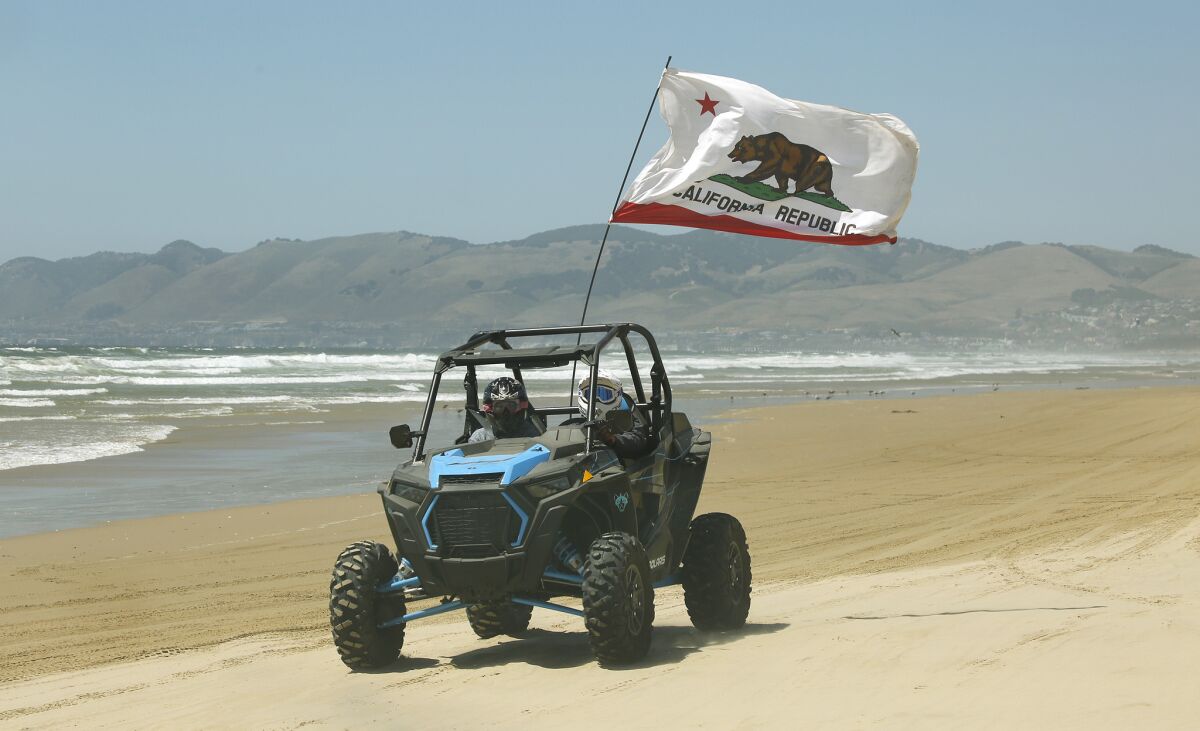 Off-road enthusiasts have flooded state officials with phone calls and letters and circulated a petition to protect vehicle access to the dunes. They are urging the state parks department, whose off-highway division has long advocated for them, to stand up to the Coastal Commission.
The Oceano Dunes are just a few miles south of Pismo Beach, off Highway 1, and draw visitors from across the state. For $10 a night, visitors can camp at one of 1,000 dispersed sites and ride all kinds of vehicles along the "Sand Highway" and the dunes it traverses.
The park draws roughly 2 million visitors a year, and for busy weekends and holidays, reservations can fill up six months in advance.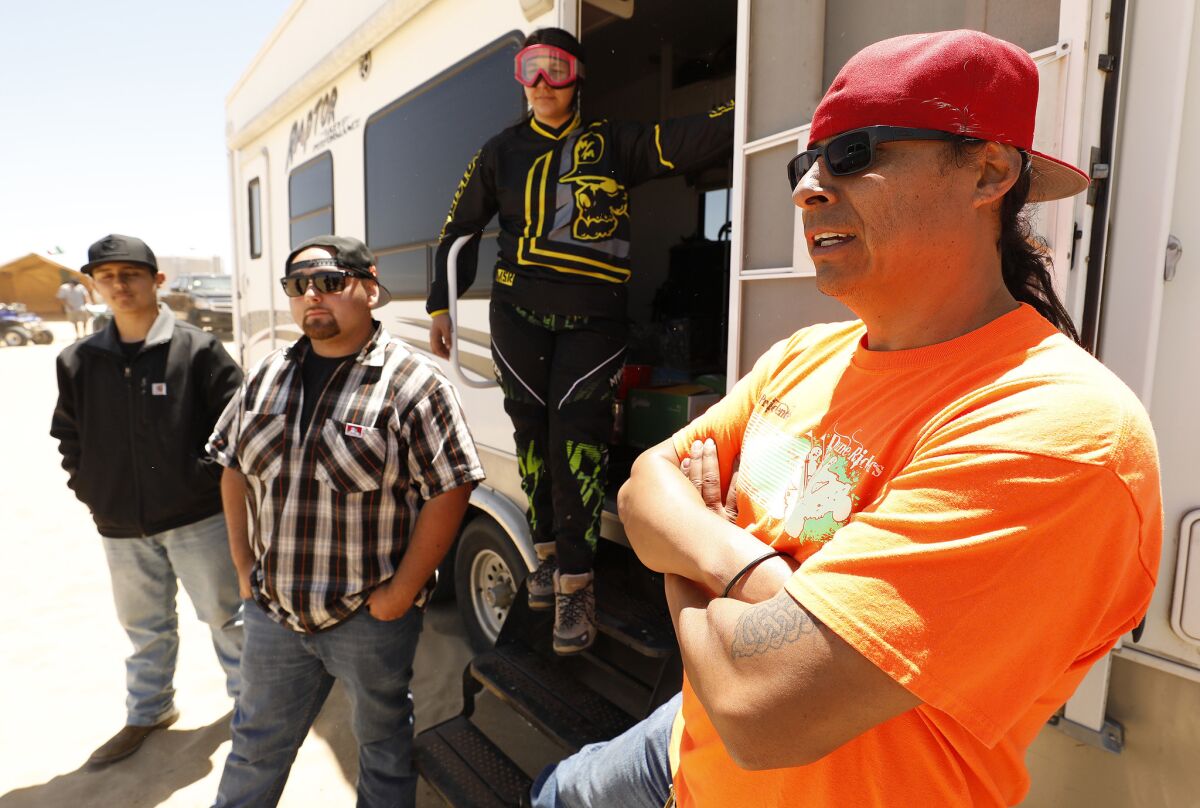 In a staff report issued last month, regulators wrote that the environmental impacts of all that activity "warrant elimination" of off-highway vehicle use and a transition to "other less intensive forms of public access and recreation."
Dan Carl, director of the Coastal Commission's Central Coast District, says off-road vehicles have been motoring through the dunes under a temporary permit issued in 1982, despite the fact that allowing such activity in environmentally sensitive habitat violates the 1976 Coastal Act.
Carl pointed to several vehicle-related problems that have grown in intensity in recent years, including public health effects from the dust, the killing of endangered birds "and then that age-old question of how is this even allowed in environmentally sensitive habitat under the law?"
To access riding areas, vehicles must cross Arroyo Grande Creek, a perennial stream that empties into the ocean and supports tidewater goby and steelhead trout, fish that are listed under the federal Endangered Species Act.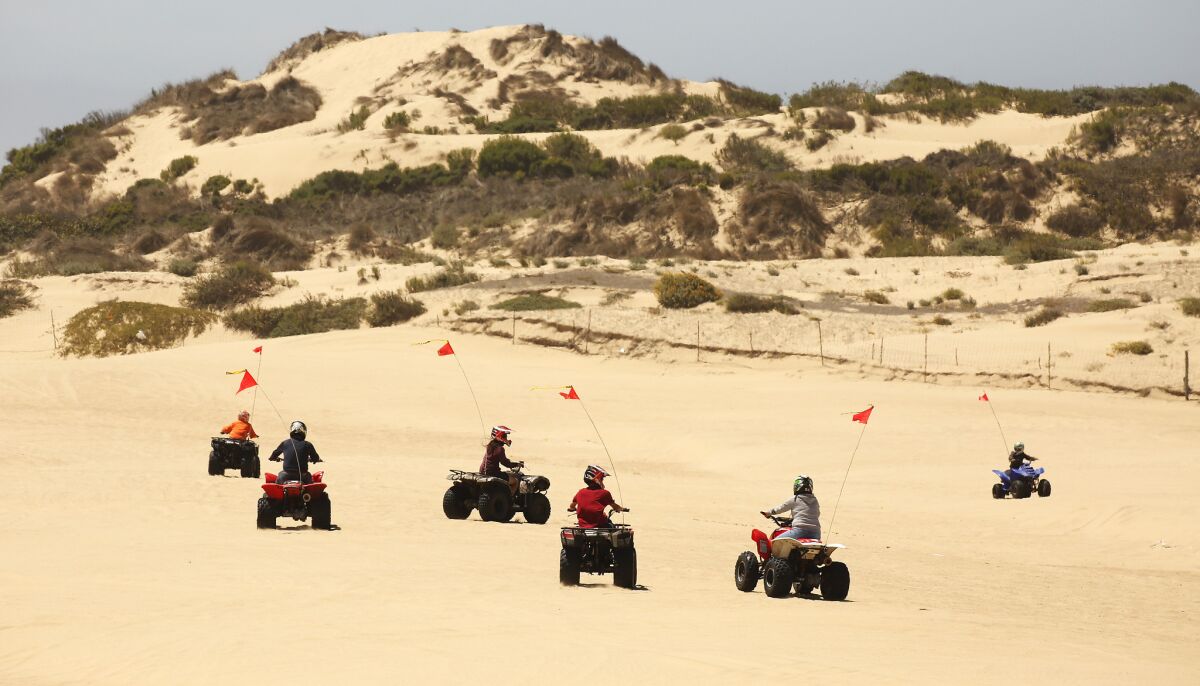 The park also cordons off some 300 acres for much of the year to protect endangered snowy plovers and California least terns during breeding season. The birds, however, keep getting killed outside those areas. Last year, 15 plovers were found dead, eight of them "crushed next to tire tracks," according to the Coastal Commission's staff report.
"We've tried every trick in the book. But even with our best efforts, it has happened," said Ronnie Glick, a senior environmental scientist for the state parks department, who argues that off-roading can effectively be balanced with habitat conservation. "You have intense recreation and intense conservation. And you have them side-by-side."
Coastal Commission staff wants state parks to impose a list of near-term restrictions it says are necessary to protect the environment and the public. Among them, reduce the number of vehicles allowed in the park, prohibit them from crossing Arroyo Grande Creek when it's flowing, and make permanent the seasonal area fenced off to protect endangered species.
In addition to effects on wildlife, Coastal Commission staff has highlighted riding areas' disproportionate impacts on neighboring towns.
"These adjacent communities, particularly less affluent communities of color, are forced to bear the problems and degradation associated with that use," staff wrote. "Unlike the more affluent, adjacent beach communities, such as Avila Beach and Pismo Beach, the residents of Oceano have no non-motorized beach access options fronting their community, and the downwind, inland residents residing under the dust plume receive no benefit."
Oceano is an unincorporated community of about 7,800 that is 50% Latino, with about 1 in 5 residents below the federal poverty line.
"In my lifespan it's changed drastically, and our dunes can't take that amount of people and destruction," said Allene Villa, a lifelong Oceano resident who supports ending off-highway vehicle use at the park. "Look at other beach communities in California — they're thriving. But ours isn't doing too well. It's only doing well for the off-roaders."
Off-roading proponents say the park draws so many visitors that it lifts up the local economy — citing a parks-commissioned study that opponents criticize as inflated. They insist the off-road riders are the ones being discriminated against.
"The Coastal Commission is supposed to protect public access, but they are not considering OHV culture as a type of access they should protect," said Lyndi Love-Haning, part of an off-roading family that moved to the area four years ago to be closer to the dunes. "Under the guise of protecting low-income folks, they could shut down a whole community."
"There's this vision that we have no respect for the earth," she said. "But it's not this angry mob of folks that want to be lawless. The majority of us are just friends and families that want to follow the rules, hang out and make memories."
Regardless of what the Coastal Commission decides, pollution concerns are already requiring more riding areas be fenced off.
Air quality in the nearby Nipomo Mesa routinely exceeds state health standards for particulate matter when the wind blows across the dunes. Residents have long complained of a fine, talcum-like dust.
Under an order of abatement signed with air quality officials last year, state park operators agreed to reduce dust emissions from the dunes by 50%. That will require closing off more riding areas to make room for native dune vegetation, wind fences and straw bales — dust control measures that could finally improve air quality in neighboring communities.
"We understand that they deserve to be able to recreate, but we deserve to breathe clean air," said Paul Stolpman, a retiree who has been fighting for action to curb the pollution since moving into the Trilogy at Monarch Dunes development downwind from the park over a decade ago.
There are also public safety concerns.
Fatal accidents involving off-highway vehicles at the park are not uncommon, with four so far this year. A shooting at a campsite in May wounded five people.
Some riders say that fencing off areas of the park have made it more crowded, and therefore more dangerous.
State parks officials, however, insist they have things under control.
The off-highway-vehicle community that frequents the park has an undeserved reputation "as being rednecks and wild and relentless, without regard for anything else," said Kevin Pearce, the park's chief ranger. "But you spend a little time here and you learn it's not crazy, it's just different."
The Coastal Commission has raised the possibility of a compromise, writing in a report that street-legal vehicles could be allowed to continue on a portion of the beach "to provide a unique, lower-cost, overnight coastal camping opportunity."
Common ground may be hard to find. In past public meetings, attendees have divided themselves into visible camps, with off-road opponents donning green shirts and supporters wearing blue ones.
Replogle said it was clear to her that off-roaders were "not willing to give up an inch" of riding area.
And in a Facebook video last month, Friends of Oceano Dunes President Jim Suty of San Jose cautioned his members that any compromise that closed more area to vehicles would still amount to a loss.
"It's time for us to roll up our sleeves and fight," he said. "It's death by a thousand fence posts. And we're going to lose the park over time unless something drastically changes."
The stories shaping California
Get up to speed with our Essential California newsletter, sent six days a week.
You may occasionally receive promotional content from the Los Angeles Times.