California's ocean waters due for a cooling trend after period of damaging heat, scientists say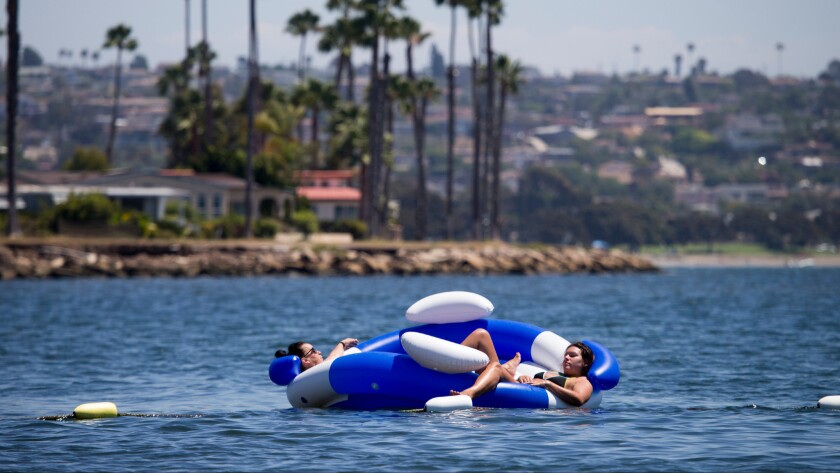 As a series of marine heat waves linked to climate change has thrown ocean ecosystems out of whack from Australia to the coast of California, a cooling trend called La Niña has given scientists hope that water temperatures could come back into balance.
But so far, the cooling weather pattern — predicted to follow as a result of last winter's El Niño — remains squeezed by warmer ocean temperatures along a narrow stretch of the Earth's equator.
That might be good news for California's marine life, if not the drought. Winters, when the state usually has its best chance for substantial rain and snowfall, are often bone-dry during La Niñas. However, the cooling ocean waters also usually boost nutrient-rich conditions that can help sea life that has been suffering of late, including the kelp forests along San Diego County coast.
"La Niña is embedded in this pool of really warm water in the eastern, tropical Pacific," said Art Miller, head of the ocean and atmosphere section at UC San Diego's Scripps Institution of Oceanography. "You can see the cooling right along the equator, but there are these vast spaces of really warm upper-ocean conditions that it's trying to push its way through."
La Niña conditions typically peak between December and February, at which point the ocean may have released a significant amount of heat into the atmosphere or redistributed the warmer water around the globe.
That's hardly guaranteed for this coming winter. The planet is coming off of one of the strongest El Niño periods on record. While the ocean-warming event didn't deliver the succession of powerful rain and snowstorms many predicted for Southern California, water temperatures in the Pacific are still elevated.
The higher ocean temperatures persist in large part because of a separate series of marine heat events starting in 2013 often referred to as "the blob." These marine heat waves have been linked to global warming and are credited with wiping out large kelp forests in Australia.
"These are really strong anomalies," Miller said. "They're far larger and more persistent and spread out over larger areas than we think we've ever experienced."
Kelp forests also have taken a hit up and down the Pacific coast of the United States. Those along Catalina Island off Los Angeles have suffered significant damage in recent years, allowing invasive seaweed species to move into the area.
"Catalina looks quite different than it did several years ago," said Colleen Wisniewski, regional manager for the Reef Check Foundation. "Kelp prefers areas where it's cooler and has that nutrient-rich cooler water that's upwelling. With that warm water blob, that mixing wasn't happening for the most part."
Underwater forests in San Diego County have been stressed in recent months, too. "There's zero kelp canopy, so no kelp is growing to the surface right now — at least from La Jolla to the [U.S.-Mexico] border, which is pretty bad because our kelp forests are usually pretty sturdy," Wisniewski said.
At the same time, some scientists warn that a full-blown La Niña may not be what California needs. Seven out of the past 10 such events created dry conditions in the southern part of the state, said Bill Patzert, climatologist with NASA's Jet Propulsion Laboratory.
"El Niño was a dud for Southern California rainfall, so maybe a wannabe or puny La Niña could deliver a much needed wet winter," he said. "If I sound desperate, I am. A sixth [consecutive] dry year would be punishing."
Joshua Emerson Smith writes for the San Diego Union-Tribune.
ALSO
Mold and fungi lurking in instrument blamed for death of bagpipe player
Scientists unlock a secret to Latinos' longevity, with hopes of slowing aging for everyone
EpiPens' price jumped more than 500%, and lawmakers want to know why
---
The stories shaping California
Get up to speed with our Essential California newsletter, sent six days a week.
You may occasionally receive promotional content from the Los Angeles Times.