Paintball attacks have nearly tripled in past year, LAPD says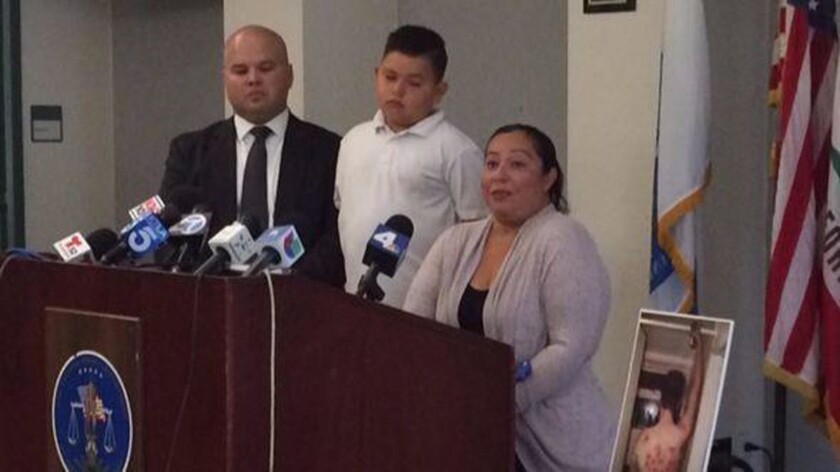 Aron Marrujo was playing in the frontyard of a friend's house when paintballs began raining from a passing car.
His cousin tried to shield him. But Aron, 9, was hit above his right eye. The wound required nine stitches. An inch lower and he might have lost his eye.
Aron, who is mildly autistic, is afraid to play outside now. He asks his mother whether the scar will ever go away.
In South Los Angeles, paintball attacks have nearly tripled in the past year, with the Los Angeles Police Department's South Bureau counting 68 paintball victims, compared with 24 at this time last year.
The attacks can cause serious harm. At a news conference Friday, LAPD officials displayed photos of a victim whose back was pocked with dozens of circular red welts. Another victim's chest and stomach were covered with similar wounds.
Some shooters post videos of their exploits on social media, potentially inspiring others to use paintball guns to commit robberies, vandalize buildings or injure strangers, said Deputy Chief Phillip Tingirides.
"It's almost become a fad, if you will," said Tingirides, who heads the South Bureau.
In paintball matches, players wear protective vests and helmets. Victims of street attacks have no such protection. On release from paintball guns, the balls can travel 300 feet per second, said Capt. Leland Sands of the LAPD's Southwest Division.
Paintball guns have improved in accuracy and velocity, making them more likely to inflict serious injuries, Tingirides said.
Some paintball guns look like real assault weapons. LAPD officials fear that an officer might mistake a paintball gun for a real gun and shoot the person wielding it. They are urging people to report tips about paintball crimes.
Four teenagers, ages 14 to 18, have been charged with assault with a deadly weapon in the attack on Aron. Investigators believe the shooting was random and that the teenagers were not targeting anyone else at the house.
"Whether or not they choose to use these because they're more accessible than getting an actual handgun — the fact of the matter is, it's still a crime," Sands said.
At West 92nd and South Figueroa streets last week, LAPD vice officers witnessed a prostitute being shot with a paintball gun, Tingirides said. The same officers had also seen a homeless man targeted by paintball shooters. Several people were arrested in each attack.
Paintball shooters tend to be young, between f 17 and 20, Tingirides said. Police believe that some gang members have switched from real guns to paintball guns, because they know the penalties are lighter and because they may want to shoot without killing.
"There's been enough talk in gang intervention circles — 'Why are we killing ourselves?'" Tingirides said.
The paintball attacks have mainly taken place in South L.A. Through the end of July, there were 93 paintball incidents in the South Bureau, according to LAPD statistics, including vandalism as well as attacks on people. The number was 25 for the first seven months of 2016 and 15 for that time period in 2015.
Citywide, there have been 116 paintball incidents through the end of July.
Aron's mother, Kenya Guzman, said she initially thought her son had been shot with a real gun in the July 13 attack.
She wants the shooters to "think about what you're doing."
"He was covered with blood. I saw the hole in his eye, and I was terrified," she said.
To read the article in Spanish, click here
For more news on the Los Angeles Police Department, follow me on Twitter: @cindychangLA
ALSO
Sex, joy rides and car chases: Scandal in LAPD youth cadet program sparks alarm and calls for reform
Should the LAPD use drones? Here's what's behind the heated debate
LAPD review of cadet scandal finds inadequate supervision, other deficiencies
---
The stories shaping California
Get up to speed with our Essential California newsletter, sent six days a week.
You may occasionally receive promotional content from the Los Angeles Times.