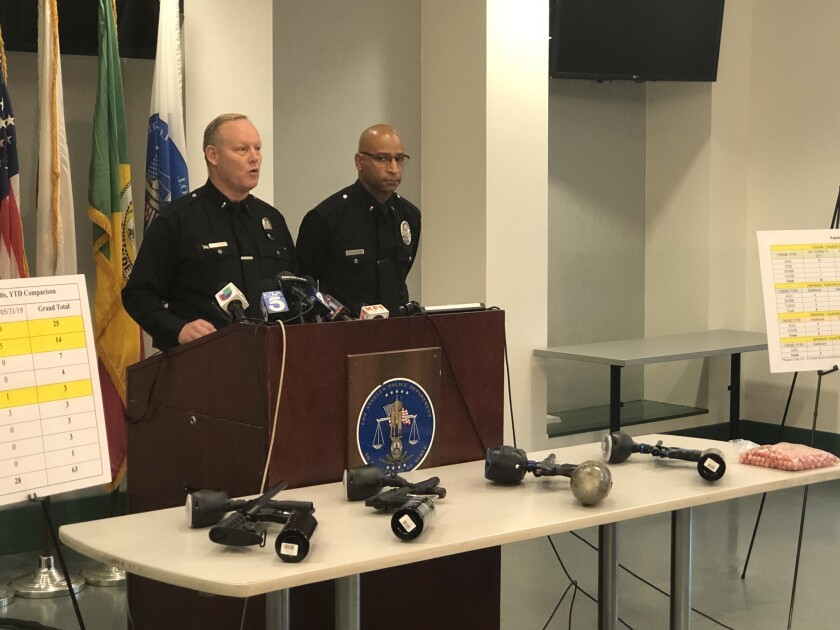 Paintball-wielding assailants have been attacking and robbing unsuspecting residents on city streets and in many instances posting the attacks on social media, Los Angeles police said.
Citywide this year, the culprits have randomly assaulted 28 people walking to stores, riding bikes and standing on street corners, police said. Victims have included a 12-year-old boy and an 80-year-old man.
The bulk of the assaults have occurred in South Los Angeles, police said at a news conference Thursday.
"Innocent residents were assaulted walking to schools, riding their bikes or just walking to the store," said LAPD Lt. Jeffrey Bratcher of the 77th Street Division.
Some shooters are recording the paintball gun assaults to post on social media, potentially inspiring others to copy their deeds.
"You can hear the suspects laughing (on the videos) as the victims cry out in pain," Bratcher said. "These assaults are no jokes. They're serious crimes."
The attacks can cause serious injuries. At the news conference, LAPD officials displayed photographs of victims' bodies covered with multiple circular red welts—many larger than quarters.
Paintball matches in controlled settings require players to wear protective vests and helmets. But victims of street attacks have no such protection or warnings before being pelted.
Bratcher described a recent video posted to social media in which shooters pelted young children waiting outside a school with paintballs. The video depicted "a party environment inside the car," he said.
When fired, the balls of paint can travel 200 feet per second, said Lt. Perry Griffith of the Southwest Division. Shooters also freeze paintballs to inflict more pain on victims, Griffith said, adding: "It will be like a marble hitting you."
Some paintball guns mimic real assault weapons when the hoppers, which hold the balls, and air cartridges are removed. LAPD officials fear officers could mistake a paintball gun for an actual gun and shoot the person wielding it.
Individuals are also using paintball guns, along with BB and pellet guns and air-soft rifles, to commit robberies, Griffith said, noting that at least four such incidents have occurred this year in the Southwest Division.
The city experienced an uptick of crimes with paintball guns in 2017, when attacks in South Los Angeles nearly tripled from the same point during the previous year. The assaults, police said, declined after the public was warned.
With hundreds of thousands of young people on summer recess, police pleaded with parents and other adults to ensure that paintball and other air guns are used only in appropriate settings.
"If you know anyone that has possession of these [weapons] … inform them of the danger that could occur if used irresponsibly," Griffith said.
---