Three young kids, no insurance and 'starting from the bottom again' after the Camp fire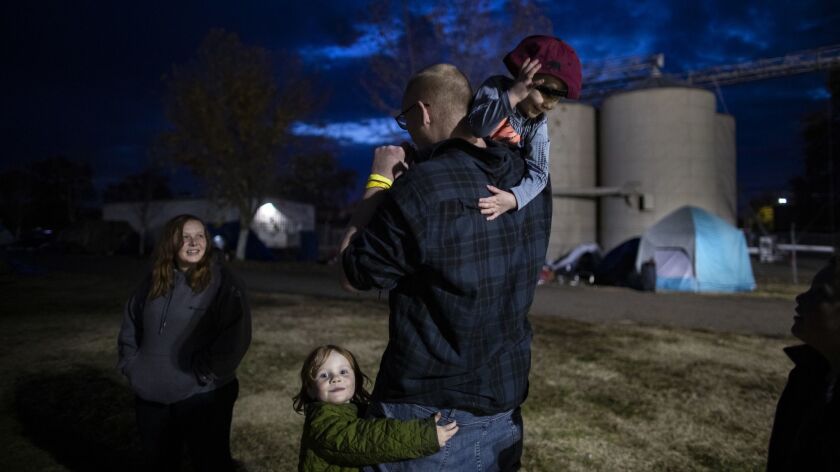 Reporting from Paradise, Calif. —
Nathan Thomas wanted to give his three young children the life he never had — a stable home with two loving parents, maybe a backyard for them to play in and a spot for him to grill.
After a few false starts in Lake Tahoe, Alabama and Nevada, he found what he was looking for last year in Paradise atop a hill off Angel Drive.
Then the fire reduced the city to rubble.
The tin roof lies on the yard next to the charred remains of his toddler's tricycle. Nathan, his wife, Suzie, and the three children fled in their Jeep with a husky, four cats and a change of clothes. Everything else is gone.
Two cars. The wedding rings they slid onto each other's fingers this year. The mobile home they bought outright with cash from an inheritance but had not insured.
The family of five were on the financial edge before the Camp fire. Suzie earns $11.50 an hour at the Dollar General; Nathan was trying to start a home repair business.
Now they survive off the kindness of strangers. The packs of socks and boxes of snacks that litter their Jeep, the pillows and balls the kids tossed around Sunday in a field of dead grass and hay at the Butte County Fairgrounds: all were donated.
The first days after the fire, they hopped from hotel to hotel until they maxed out their credit card. They slept in the Jeep for a few nights before deciding to pitch tents on the fairground, near free meals, bathrooms and hot showers but far enough away, they hope, from the close quarters where some of the displaced have contracted norovirus.
Earlier in their lives, each move felt like an adventure — a new opportunity, a fresh start. Now that their fourth chance has burned down, they wonder where they will find their fifth.
"We're at a loss," Nathan, 27, said from the back of the Jeep as he dragged on a cigarette. "We kinda don't know what to do. We're starting over.
"Starting from the bottom again."
Paradise was a refuge for those seeking to escape the big city and make their dollar stretch. It attracted retirees and young families alike. Most people were just getting by, and that was comparatively easy to do there.
The median home price was $250,000, but a trailer could cost a third of that.
Homeowners insurance in a wildfire-prone area can be expensive. Mortgage companies require fire coverage to protect a home loan.
The California FAIR Plan, a private association of insurers, offers bare minimum fire insurance for homeowners who cannot find coverage in the open market. Fewer Californians are turning to the FAIR Plan, said Nancy Kincaid, a spokeswoman for California's Department of Insurance. But those who do, she said, increasingly live in high-risk fire areas.
The number of homeowners in wildfire areas covered by the FAIR Plan jumped by about 33% from 2014 to 2017.
Once a home is paid off, coverage is optional.
Retirement communities tend to have higher rates of people living in mortgage-free homes and surviving on fixed incomes, said law professor Kenneth Klein, making them more likely to forgo insurance.
"No data I know of has been accumulated on the Camp fire," Klein said, who teaches at California Western School of Law. "But I think there's an even higher than normal incidence of people who have no insurance."
Almost half of Paradise's 26,000 residents are over 55. The median income is $48,000, well below the state median. As of 2016, more than two-thirds of residents were homeowners — and 40% of owner-occupied homes were mortgage-free.
Brian Boyd, 56, paid off his home in Paradise years ago. He said he upgraded his coverage last year only to see his policy canceled a month later.
"The insurance agent said it was almost impossible to get insurance in the last year or two," Boyd said. "The companies would say no when they saw your address was in the middle of that town."
He lost his home in the fire, along with his prized Beatles albums, his grandfather's Stetson hat and his baseball card collection.
"My entire identity is erased," he said.
Boyd hopes the Federal Emergency Management Agency will help make him whole.
More than 17,000 households — including the Thomas family — have registered for assistance from FEMA so far, agency official Kevin Hannes said. So far, about 260 households have been approved for the maximum grant of $34,400.
No figure has been released on the total assistance dollars available in response to the Camp Fire. Officials said they will offer some grants and connect people to institutions that can provide low-interest loans, but "the grants will be well short of the money to rebuild if someone is completely uninsured," Klein said.
Even those who do have coverage might struggle to afford the full cost of rebuilding and replacing everything they have lost, Klein said.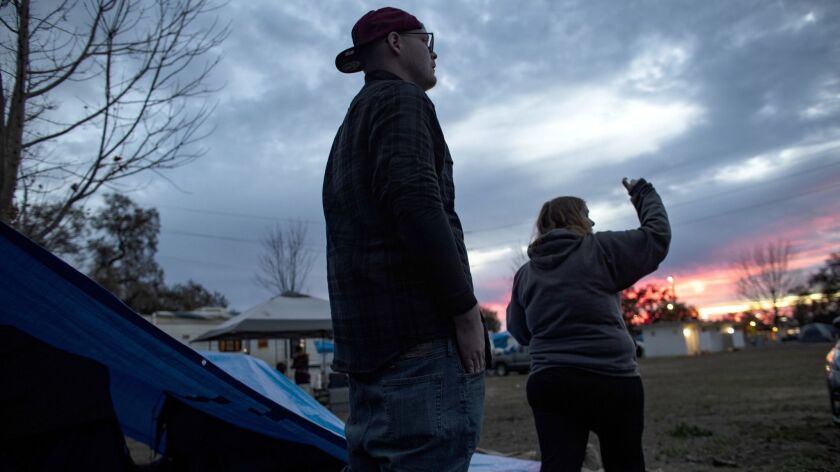 Nathan and Suzie were young, each trying to find themselves, when they found each other.
As a child, Nathan moved constantly around Oroville with his family, chasing cheaper rent and evading evictions. Suzie lived a hard life 25 miles south in Chico in the foster care system. Both sought a different life for their kids.
Their paths crossed in 2010 when Nathan's sister brought Suzie over. Within a year they were welcoming their first son, Nathan II.
They lived paycheck to paycheck. Nathan washed crops, built equipment for fruit and nut farms and took odd jobs to put food on the table.
They struggled to gain their footing and keep their relationship together as they both tried to grow up while raising kids. They packed up to new places hoping a change of scenery would bring better fortunes. Then in 2015, Nathan said "let's go home."
They arrived July 4 and watched the fireworks burst over Oroville Dam. It felt like a homecoming.
A year later, Nathan's father was killed in a car crash, leaving an inheritance that was "enough money to get a good start," he said.
Nathan wanted to use it to put down some roots. He toured several homes before a realtor told him about a place on Angel Drive.
It seemed like fate.
His only daughter, a strawberry-blond fireball with a dust of freckles on her cheeks and nose like her mom, is named Angel.
As he drove up, tall trees offered little glimpse of what was hidden behind. At the top of the hill, trees hugging the driveway looked like they were inviting him in.
"It was beautiful," he remembered. "It looked like paradise."
He bought it, cash.
Nathan upgraded the fixtures himself, textured the walls and converted a nook into a private bedroom for Angel. He painted the room bright purple and filled it with her favorite characters from the Disney movie "Frozen."
The kids — Nathan II, 7; Angel, 5; and Wyatt, 3 — had some dirt to play in and their father had a deck to grill on.
Nathan said he called around for homeowners insurance but gave up after several rejections.
Shell-shocked, they don't know where to begin now.
"It's something else to see your whole life burnt to the ground," Nathan said. "Especially after overcoming everything that we have.
"It's definitely different picking up and carrying on."
But they know they will. They have to, for their kids.
Suzie's workplace survived the fire but officials have not yet deemed the city safe for residents or visitors. Downed power lines litter the sidewalks. Businesses have been flattened. Chimneys are the only things that remain where homes once stood.
At last count, at least 88 people have died and 158 remain missing. About 14,000 homes have been destroyed.
Suzie's manager said she can transfer to another location. In the six months she has worked at Dollar General she has moved up from a cashier to a key holder and was on track to become an assistant manager. She was looking forward to the added responsibility and the raise that was expected to bring.
Now she struggles to see that future without a home. To talk about what's next freezes Suzie in thought.
They have no idea how long they will stay in the tents on the fairgrounds. Or where they will go when it's time to move on.
Her last paycheck hit her bank account the day the fire ripped through town. She hasn't worked in three weeks. The car payment is due. So is car insurance, the cellphone bill and the payment on the credit card that has reached its limit.
They put up for adoption the husky, along with three of the four cats. They kept one, a reminder of their old life.
She tries to keep it together for the kids. To them, it feels like a camping trip.
But she can't shake the worry.
Class resumes for Nathan II on Monday. She has to enroll him in a new school. His old one was destroyed. She added her family's name to a long list in hopes of receiving a donated or borrowed trailer to keep the family away from the rain and cold nights.
When asked how she feels, she lowers her eyes and says "fearful."
As the afternoon sun warmed the fairgrounds field where the children played, three women from a Rocklin, Calif., church walked over and handed Suzie an envelope with gift cards inside. They offered to pray with them.
Suzie wrangled the kids. They formed a circle. She crouched down on her knees and bowed her head.
Twitter: @AngelJennings
---
The stories shaping California
Get up to speed with our Essential California newsletter, sent six days a week.
You may occasionally receive promotional content from the Los Angeles Times.