After losing her home to wildfire, Paradise postal carrier finds comfort in her route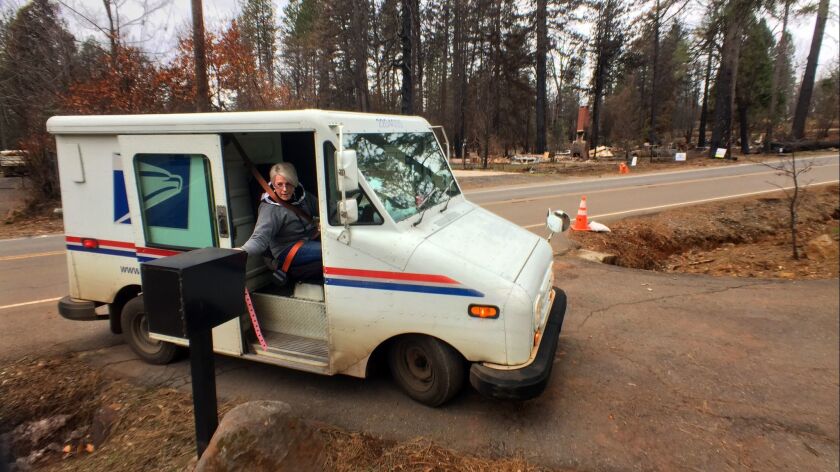 Reporting from Paradise, Calif. —
Theresa Knowles pulls her U.S. Postal Service truck up to a quaint beige ranch home on Gate Lane and honks.
Colleen Bottini opens the front door. "I have a package for you," Knowles calls as Bottini makes her way through the yard. "How've you been holding up?"
"We're hanging in there," Bottini says, taking a stack of envelopes from Knowles and clutching them to her chest. "One day at a time. We're still real concerned about the water. … Cold showers when its 28 degrees out is a little tough."
The mail carrier knows that the Paradise Irrigation District has advised residents to drink bottled water and take lukewarm showers. The tap water still was testing positive for the carcinogen benzene.
"Hopefully it'll get better," Knowles says. "I'm sure it will."
The women discuss when internet service might be back, how many lots have been cleared in the neighborhood, and who is selling or planning to rebuild.
Three and a half months after California's deadliest wildfire swept through this rural hamlet in the Sierra Nevada foothills, many of the conversations Knowles has with her customers go something like this one.
The few people she comes across on her 14-mile mail route sometimes haven't seen a familiar face — beyond their own family members — in days. Knowles' presence represents life before the inferno, a glimmer of normality.
For her, that first week back on the route in mid-January was the hardest.
In nearby Chico, where Knowles has lived since the Camp fire destroyed her home in neighboring Magalia on Nov. 8, she could avoid seeing the wreckage and the loss. Now she has no choice but to be immersed in it as she drives through a post-apocalyptic landscape, surveying shadows of the past: the gym on Skyway where she'd work out after her shift, now all ash and crumbled concrete. The orchard where the owner loaded her up with apples and peaches whenever she delivered mail.
Knowles, 52, had taken these roads six days a week for five years. After the fire, she felt estranged from her surroundings. She would stop in front of certain properties and gape at the ruins, disoriented as she tried to figure out who had lived there.
Out of the 832 homes Knowles delivered to before the fire, 106 remain standing. She knows which customers have moved back and who checks their mailboxes regularly. Many of the brick mailboxes survived the fire even if the homes did not.
Her truck kicks up a cloud of orange dust as she turns onto Wagstaff Road. When it's cloudy and cold on her route, as it is now, she tends to feel melancholy.
Today, however, she's buoyed by the signs of progress around her: the newly reopened animal hospital, the line of idling trucks waiting to receive debris, the buzz of an electric saw shredding through a tree trunk.
And these days there are more people around, people like Janet Thorup, who is puttering around outside her sage green Victorian home on Puddle Duck Court. The women say hello to each other, and Thorup tells Knowles that she's here to feed the feral cats, wild turkeys and a buck that have taken up residence on her property since the fire. The buck ate her roses and scraped the bench on her porch with his antlers. "He must be rutting," Thorup says.
She hasn't been able to move back yet because the house still needs a thorough cleaning — it came up positive for asbestos fibers during an inspection — and the blown-out windows need to be replaced.
"For some reason they haven't gotten to ours yet," Thorup says of the workers tasked with removing hazardous materials. "They keep skipping us."
"You just need to be a little more demanding," Knowles responds.
Small talk with customers has been replaced with these longer conversations, a luxury Knowles has the time to indulge. Her route once took five hours; now it takes just one.
She can sense that her customers need someone to talk to.
Some open up a little bit at a time, while others seem breathless to share their latest battle with the insurance company or rehash their harrowing escapes.
They are the sort of stories she's heard time and time again over the past months, but that's OK. The 23-year veteran of the postal service also finds comfort in these interactions. She has her own loss to process.
Knowles wasn't sure at first whether she still wanted to live here. She and her husband, Allen, toured a house for sale in nearby Forest Ranch just after the fire. It was beautiful, but it wasn't home.
"I need to go back to our property and just sit there," she told her husband, and that's what she did. She sifted through the rubble, searching for anything that might have survived. A peace settled over her. Stay, her gut whispered. Rebuild.
She wheels around a cul de sac where, miraculously, no homes were burned. An older woman in a plaid housecoat stands in her front window and waves.
Knowles waves back. She is happy to see that others are also choosing to stick around. She's happy to know she's needed.
laura.newberry@latimes.com | Twitter: @LauraMNewberry
---
The stories shaping California
Get up to speed with our Essential California newsletter, sent six days a week.
You may occasionally receive promotional content from the Los Angeles Times.