Ailing musician died next to his service dog in Paradise fire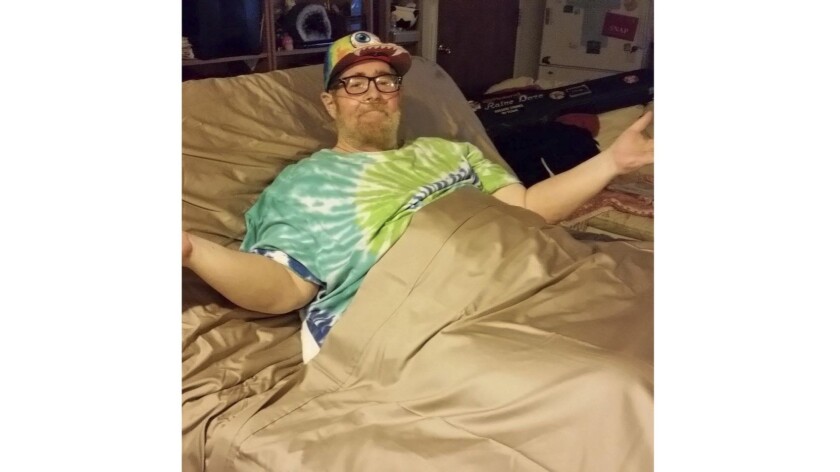 A rock 'n' roll musician, Ernie Foss had lived in San Francisco all his life until being priced out of the city a decade ago.
He'd become a father at a young age, said daughter Angela Loo, and gave up his band lifestyle to raise three children on his own.
Eventually, Foss moved to Paradise, Calif. According to Butte County authorities, he was killed in last week's Camp fire — one of at least 48 people to die in California's worst wildfire, with scores still missing.
The 63-year-old played a variety of instruments. Guitar was his favorite, but he also played drums, bass guitar and the saxophone, Loo said. He taught lessons out of their San Francisco cottage, and helped her with her violin. Music runs in the family.
"He had a beautiful voice, his mom was a trained opera singer," Loo said. "He had a crazy wild life, and then he had kids, and then he did his best to do right by us … being a single dad."
These are the victims of the California wildfires »
Foss always tried to help people, she said, opening his home to those in need even when he didn't have much himself.
Authorities told Loo that Foss' body was found outside his home near his minivan, next to the body of his service dog, Bernice. He probably died on the morning of Nov. 8, around 9:45 a.m., when flames overtook that part of Edgewood Lane, she said. He lived there with his stepson and caretaker, Andrew Burt, who was still missing as of Tuesday.
Foss wasn't afraid of death, Loo said — for the last 10 years he had been living with a debilitating condition called lymphedema that left him bedridden. Loo doesn't know how he was able to even get out of the house when the fire hit; it's possible that her stepbrother had gotten him into a wheelchair and out near the car, she said.
For the last decade, according to Loo, her father had been preparing for his death.
He had left specific instructions for his instruments and wanted to pass his extensive vinyl collection to a friend. But he had told Loo to go through it first.
"I hid stuff for you in the dust jackets," he told her.
She hasn't been to Paradise yet to see the damage, but has heard that Foss' home, and everything in it, is gone.
"For this to happen, it just sends me off my center of gravity," she said. "I'm not prepared for this."
The family is asking for donations for funeral expenses through GoFundMe.
---
The perils of parenting through a pandemic
What's going on with school? What do kids need? Get 8 to 3, a newsletter dedicated to the questions that keep California families up at night.
You may occasionally receive promotional content from the Los Angeles Times.