As pepper-spray use surges, auditors advise a ban at L.A. County juvenile facilities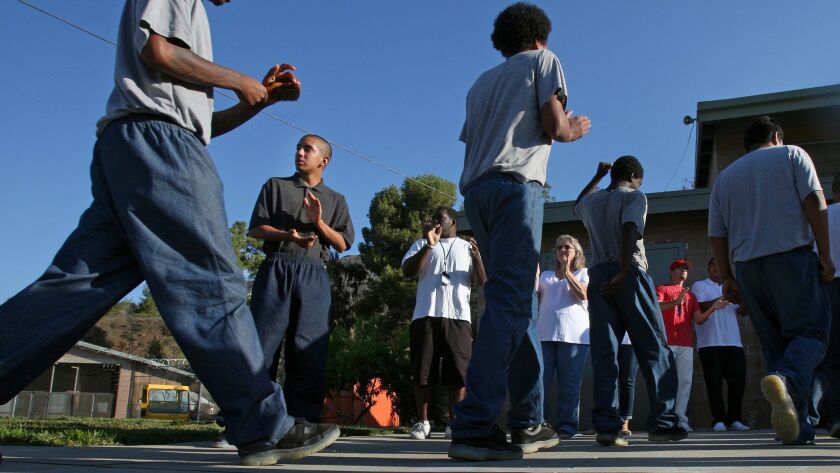 Presenting a report on a rash of pepper-spray use at juvenile detention facilities in Los Angeles County, an internal oversight agency on Tuesday advised the Board of Supervisors to consider restricting or banning the practice.
The supervisors, though alarmed by the county Probation Department's practices, appeared unwilling to take either step — at least for now.
"As this investigation by the Office of Inspector General reveals, the need for reform, investigation and oversight may never have been as vital as it is now," said Supervisor Mark Ridley-Thomas, whose concern about pepper-spray use prompted the report.
To that end, the supervisors asked a newly created probation reform committee to hold a public hearing, and the board members delayed a decision on studying potential policy changes until Feb. 19.
At issue is the recently reported surge in the use of pepper spray in four of the county's numerous juvenile halls and detention camps — part of the nation's largest juvenile probation operation.
The report, which involved scrutiny of more than 20 cases and interviews with probation staff and detainees, found a pattern of inappropriate and avoidable uses of "oleoresin capsicum," or OC, commonly known as pepper spray, to subdue youths.
On occasion, the practice violated rules mandating it be used only as a last resort when physical intervention is required to break up fights or to protect staff members.
"In some cases, staff appeared to be engaged in an over-reliance on OC and, at times, have deployed OC where there does not appear to be actual or potential threat of harm by youth," said Cathleen Beltz, an assistant inspector general who helped write the report.
The report also raised concerns about whether those hit with the spray had been given the opportunity to clear their eyes and skin.
"Youth can be seen on video attempting to self decontaminate with water from a toilet," she told the supervisors.
The review listed potentially restricting or banning the use of pepper spray at juvenile detention facilities, as San Francisco and dozens of states have done. But the authors also acknowledged that doing so quickly and without other intervention options or increases to staff or training might undermine detention officers who are trying to maintain order.
"Youth can be seen on video attempting to self decontaminate with water from a toilet."
Cathleen Beltz, Los Angeles County assistant inspector general
Still, juvenile-justice advocates and the county's chief legal advocate for indigent criminal defendants, Public Defender Ricardo Garcia, used the report to urge a ban, calling the practice a danger to young offenders both physically and mentally.
Those who have experienced it say the spray causes intense pain and swelling around the eyes and irritation to the skin — effects that linger if decontamination doesn't happen quickly, experts say.
"It was just burning all over," Kent Mendoza, 25, a former gang member who was sprayed in 2009 at a county juvenile detention camp, said Tuesday. He has become an outspoken critic of the practice. "I just remember screaming and going crazy, running from a fan to water because I didn't know how to stop this."
The department has been dogged by controversy about its use of pepper spray for more than a decade. Its current leadership, which wasn't in place during past controversies, told supervisors that the Probation Department is working to reduce its use.
But they, too, cautioned against rushing to ban its use, which allows detention officers — who are sometimes outnumbered by large, aggressive detainees — to safely quell violence.
"We are committed to giving the staff the tools they need to work with our youth, but also working with our staff to explore avenues to curtail and eventually eliminate the need for use of [pepper spray] in juvenile detention," according to a statement released after the meeting by the department's Chief Probation Officer, Terri McDonald.
"But a change of this magnitude will require thoughtful analysis, planning, training and potentially increased resources to ensure institutional safety."
The department's three unions, which represent rank-and-file detention officers and their managers, testified that they are united in wanting to improve conditions for the juvenile offenders.
"The OIG report really confirms what we've been saying for decades concerning inadequate training, chronic understaffing and a lack of consistent policies and reporting standards," said Hans Liang, president of the AFSCME Local 685 union, which represents detention service officers.
Liang's comments were echoed by the report's authors, who said they found numerous examples of detention officers who maintained positive relationships with youths under their supervision. Yet, the report outlines what the authors describe as a culture of punishment, in which detention officers issued blanket warnings about pepper spray use at the beginning of their shifts.
As the supervisors consider their next move, the county's Probation Department pledged to study the recommendations in the report and continue efforts to change the culture inside juvenile detention facilities, including releasing a new use-of-force manual.
"We owe it to our youth, our staff and the community to do better," McDonald said.
---
The stories shaping California
Get up to speed with our Essential California newsletter, sent six days a week.
You may occasionally receive promotional content from the Los Angeles Times.