Asylum seekers are being sent back to Mexico from U.S. under Trump policy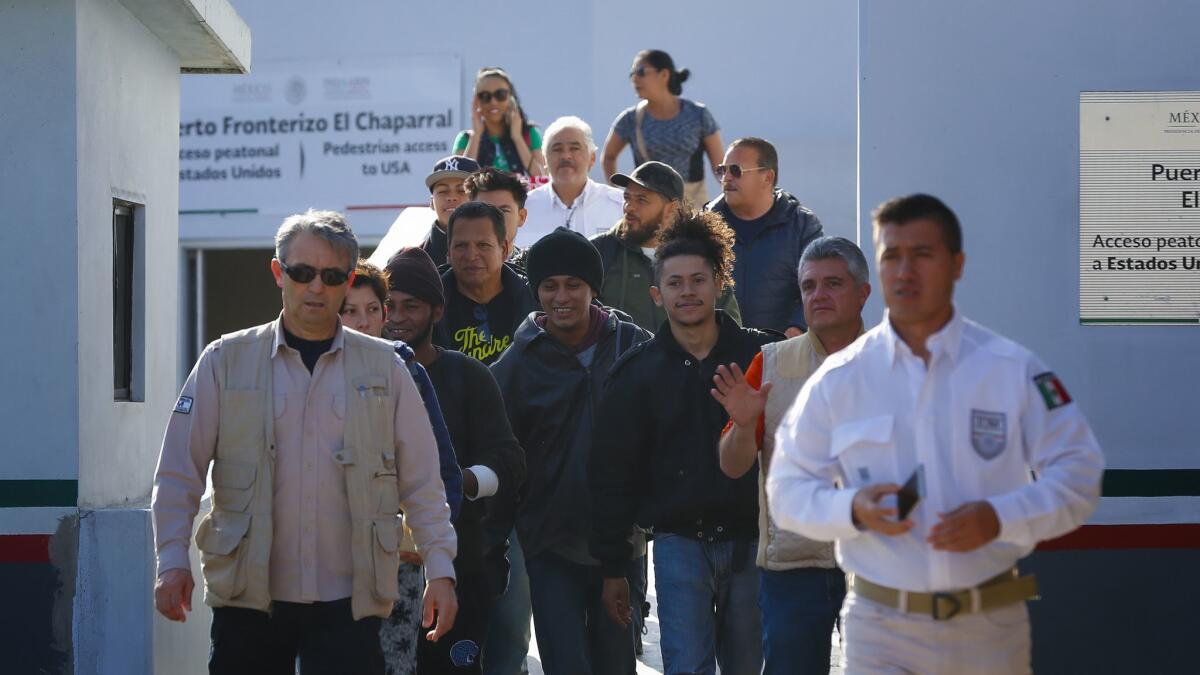 San Diego Union-Tribune
Border officials in the U.S. returned about a dozen people, mostly men, to Tijuana on Wednesday on the second day of the Trump administration's policy that requires asylum seekers to remain in Mexico for their immigration court proceedings.
The pilot program began Tuesday with one Honduran man crossing back to the plaza at El Chaparral where asylum seekers line up each morning to wait their turn in a months-long queue to ask the United States for protection. Those crossing back will face another wait in Tijuana until they return on their court dates to see immigration judges in the U.S.
Immigration officials on both sides of the border said that 11 more returned on Wednesday. Activists and observers in the plaza said they counted at least 17 who had come back that day.
Some crossed back through PedWest at the San Ysidro Port of Entry to El Chaparral alone or in small groups. Others came back as part of a large group led by Mexican immigration officials late in the afternoon.
A 19-year-old Honduran named Marlon who arrived with the most recent migrant caravan was among those in the large group. He was glad to be back in Tijuana, he said.
"I didn't want to be there, above all because of the food. They had us locked up," he said in Spanish. "It's better to be here than there locked up."
He, like the others, was given a court date for March. He plans to stay in a shelter at a church while he waits, he said.
Another Honduran man, Douglas, who had arrived with the caravan was similarly relieved to be free in Tijuana compared to his experience in holding cells at the port of entry.
"For us, it's an advantage," he said. "The rest will be waiting two months in prison, and we're here free and can get work in Tijuana while we wait."
Douglas is a youth pastor who fled death threats after he was severely beaten by gang members for working to get security cameras installed in his neighborhood. He carries the proof in both photos and scars.
He said that once his name was called on Tuesday from the wait list, he and the rest of the group of 45 were taken to the east side of the port of entry in the afternoon to be processed.
Officials took their backpacks, shoelaces and jewelry, he said.
They were asked their names and where in the United States they wanted to go. Officials took their fingerprints and checked their names and tattoos, if they had any.
Then they spent about 14 hours in the holding cells. Douglas was split from the friends he entered with, and at first he wanted to cry, he said, but then in the holding cell he found other people he knew from the recent caravan.
Then an immigration official took them for interviews and asked about why they wanted asylum in the U.S., he said. That official told Douglas he would have to go back to Mexico to wait for his court date.
He learned that he would need to find an immigration attorney in the U.S. to help him with his case. The official told him that he should have that attorney before his first court hearing in a month and a half.
He wasn't sure how to go about finding one, he said. The challenge of finding an attorney in the U.S. while living in Mexico didn't seem to deter him.
"We have another wait," Douglas said. "We have another opportunity to keep going with our case. We're hoping we won't have to go home and will have an opportunity for life."
He will stay with an American who lives in Tijuana and helped him during his wait to ask for asylum.
He acknowledged that his friendship with the American will make his stay in Tijuana easier than it will be for those who are relying on shelters for places to sleep.
"We have this little part of the United States here with us, giving us a voice and supporting us so we can continue with our cases," he said.
Morrissey writes for the San Diego Union-Tribune.
Sign up for Essential California for news, features and recommendations from the L.A. Times and beyond in your inbox six days a week.
You may occasionally receive promotional content from the Los Angeles Times.