Scenes of 'zombie apocalypse' left in the path of California wildfires
Reporting from Santa Maria, Calif. —
The pool, the dining hall and a single cabin are all that remain of the 290-acre Boy Scouts facility at Rancho Alegre, which the Whittier fire swept across Saturday.
Most of the property, nestled in the Los Padres National Forest, was gutted or reduced to ash. Gone from the 52-year-old grounds were the yearlong staff residences, classrooms, even the camp pets — two snakes and an iguana.
"It brought me to tears," said Carlos Cortez, who oversees Boy Scout activities in Santa Barbara and San Luis Obispo counties. He returned to the camp on Sunday morning and tried to salvage equipment and files, to little success.
"Thinking about all the history we had there for 50 years and all the memories people built there, and how it went in about an hour — that was pretty sad," Cortez said.
Residents slowly returned to their homes to take stock of the damage after firefighters increased their containment of destructive wildfires in central California on Wednesday, aided by cooler temperatures and slight humidity.
In some ways, the two counties were lucky. There were no reported fatalities and few injuries. And the fires stayed clear of towns and housing developments.
But for many who visit or live in the coastal mountain areas, the fires were a dramatic wake-up call — and left some indelible memories.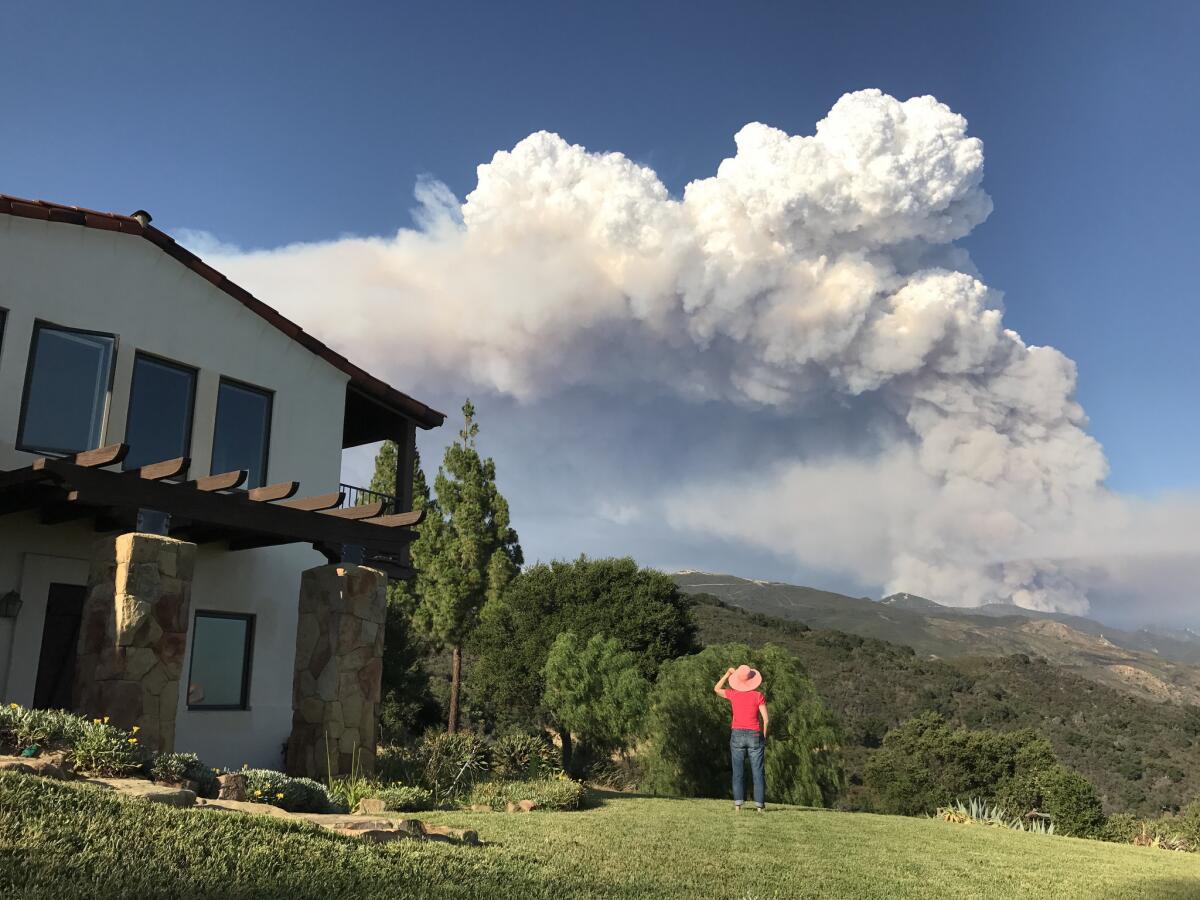 'It was a little spooky'
The Whittier fire in Santa Barbara County forced thousands of visitors to evacuate from a Lake Cachuma campground. In their hurry to leave, campers left coolers and picnic tables set for lunch.
"It was a little spooky," said Jeff Lindgren, Santa Barbara County parks operation manager. "It was kind of like a zombie apocalypse movie, where everything but the people was still there."
As of Wednesday evening, Santa Maria's 29,000-acre Alamo fire — listed as 70% contained — had destroyed two homes. The Whittier fire, 48% contained, had destroyed eight homes and spread through 12,000 acres. Hundreds of miles to the north, the 6,000-acre Wall fire had destroyed 41 residencies and damaged three others. It was 60% contained.
"There is certainly a lot of active fire out there, but we have a pretty good plan in place for keeping it slow," Lee Beyer, a spokesman for the U.S. Forest Service, said of the Whittier fire. The activity over the last two days, he said, had been "what we expected."
The blazes had spread rapidly during a heat wave, with the Alamo fire growing by thousands of acres overnight Friday. The slight weather cool-down kept activity at a minimum Tuesday and Wednesday, allowing firefighters to improve their containment lines.
Evacuation orders were reduced to warnings Wednesday for the Alamo fire and the Wall blaze. Several locations remained closed because of the Whittier fire. One evacuation order for a road just outside Goleta was reduced to a warning.
Some residents were allowed to return to their properties, but officials urged them to be careful and avoid fallen trees and electrical wires.
'It was all black and charred'
Rancho Alegre staff members — who were allowed to return to retrieve their belongings — found piles of ash and warped metal. Each of their living quarters had been destroyed.
Ben Spring, education director of the Outdoor School, a four-day program aimed at teaching children about nature, lived in Rancho Alegre with his girlfriend. All the fire had left him was a surfboard and some camping equipment.
The 34-year-old had been leading a kayaking tour near Santa Cruz Island on Saturday when he saw a plume of smoke lifting from the mountains across from the Santa Barbara Channel. The cloud appeared close to Rancho Alegre, but it was so large that Spring thought it was the Alamo fire. He continued kayaking.
Only when he finished, about 4 p.m., did he learn his home had burned.
Girlfriend Karis Joldersma, 30, who was at the beach when the fire roared through, said the location of their home was stunning. The evening before, she and Spring had walked to the top of a hill overlooking nearby Lake Cachuma and gazed out at the landscape, taking in the colorful flowers and birds.
"We were thinking how beautiful a place it was where we were living," Joldersma said. "Then the next day it was all black and charred."
Lindgren said the fire had damaged about 50 campsites in a remote area near the lake. The campground issued refunds to visitors who evacuated and to people who had intended to camp this week. Lindgren hopes the campground will reopen next week.
Near Santa Maria, the Alamo fire had snaked through Tepusquet Canyon, charring farmland and demolishing two houses.
Bob Acquistapace never left his cattle ranch, even after officials issued an evacuation order. Instead, he helped firefighters navigate the steep, rugged terrain of the canyon and cut fences so bulldozers could roll through.
He "put too much sweat and blood into this ranch," which has been in the family for generations, to leave. His wife and two young children, on the other hand, evacuated Friday afternoon.
On Tuesday, Acquistapace stood on a hill overlooking his property, where he estimated 1,800 acres had been engulfed in flames. Just days before, its rolling hills were tinted a hazy ochre and studded with grazing cows. Now they were charred black and dusted with gray-white ash.
"It's a moonscape," Acquistapace said, shaking his head. "It's all but gone."
He lost several important water sources to the fire, miles of barbed wire fence, at least one cow and one calf. Now that the fire had slowed, Acquistapace said, he planned to spend the next few days assessing the damage and figuring out how to rebuild.
A flag as a symbol of hope
The destructive weekend was not without its glimmers of hope.
On Saturday, firefighters battling the Wall fire took time to protect an American flag that was hanging from a house balcony. Their actions, documented by freelance photographer Josh Edelson, won widespread praise across social media.
Russell Fowler, a battalion chief with the California Department of Forestry and Fire Protection, said the crew of three firefighters had been tasked with clearing out brush and items that could ignite homes in the path of the wildfire.
"We're not going to let the symbol of Americans' freedom perish in the fire," Fowler said.
Times staff writers Joseph Serna and Veronica Rocha in Los Angeles contributed to this report.
Sign up for Essential California for news, features and recommendations from the L.A. Times and beyond in your inbox six days a week.
You may occasionally receive promotional content from the Los Angeles Times.