Santa Monica tries a balancing act as it deals with burgeoning street vending along beaches, pier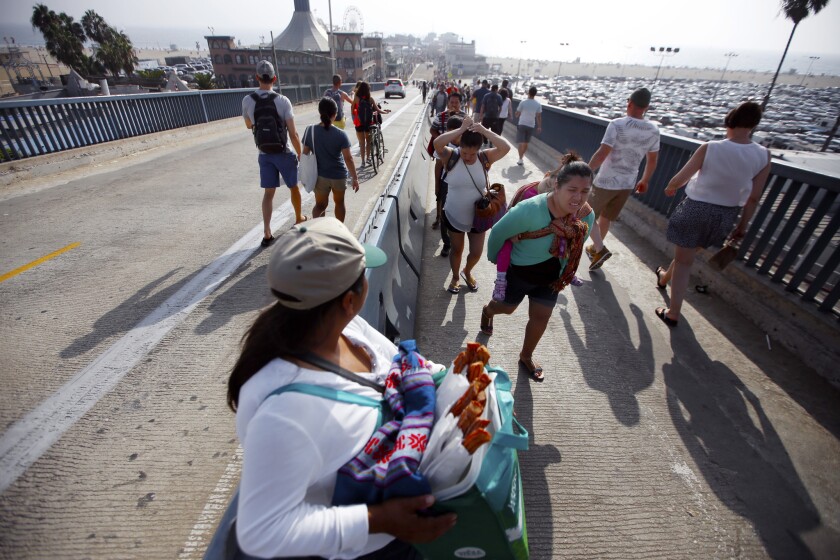 The sun set over the Santa Monica Pier as Ana Ortiz sold fresh fruit to tourists and kept an eye out for police.
The 21-year-old and her mother, uncle, cousin and other family members earned a living in the city as street vendors.
"It's like a regular job," she said. "But you get paid the same day."
But because it's most often illegal, street vending comes with a virtual guarantee that sooner or later city code enforcement officers or the police will show up and you'll have to make an escape or end up getting fined up to $1,000.
"For me, it's fun because I like to run," Ortiz said with a smile. "You meet new people."
Santa Monica has wrestled with street vending for years. On the one hand, the coastal city wants to curtail the activity, arguing that the sale of unregulated food can cause health risks.
"If someone wants to vend food products, state law and local law requires that the vendor obtain a Los Angeles County health permit," said Yibin Shen, Santa Monica's chief deputy city attorney. "Folks could easily eat that food and be ill, especially in light of the current hepatitis outbreak."
But Santa Monica officials say they share some of the worries of those in Los Angeles, which decriminalized sidewalk vending out of concern that convictions could make immigrants who ply their trade vulnerable to deportation under the Trump administration.
Santa Monica is not decriminalizing street vending like L.A., but officials say they are rolling out an enforcement program that relies largely on administrative citations rather than criminal ones.
"Very few vending cases end up in the prosecutorial world. It's extremely uncommon," Shen said. "I don't know if we've ever had a prosecution that's resulted in jail time."
In an email, Santa Monica Mayor Ted Winterer said, "It's my hope we can come up with street vending policy which provides opportunity while balancing the interest of our residents, local businesses and visitors."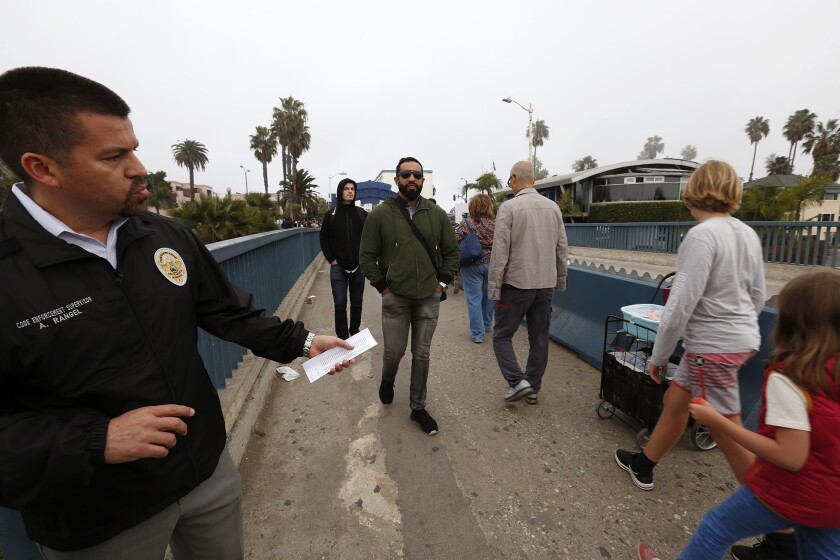 In L.A., street vendors often work in the heart of residential neighborhoods, but those who work in Santa Monica concentrate on the city's beaches and pier, where tourists and large crowds of visitors from throughout Southern California gather. Some vendors, including those selling fruits and ice cream, will often push carts directly into the sand.
A dense fog settled over the pier on a recent weekday as visitors filed in and out over its narrow bridge. Standing at the pier's entrance, code enforcement supervisor Armando Rangel surveyed the scene, taking note of street performers and vendors.
Although vending enforcement makes up only a small percentage of Rangel's duties, he said he's noticed an increase in street vending along the beach and pier in the last year.
First-time violators are generally not cited, and vendors may be warned multiple times before receiving a citation, he said.
"We may educate the person and let them know their vending is in violation," Rangel said.
Rangel keeps an eye on a pier parking lot, where he's observed plastic-wrapped fruit trays stored in vehicles for hours. He's also seen some street vendors bury their goods in the sand or occasionally store them in a Bubba Gump Shrimp Co. trash enclosure for safekeeping.
Vendors hoping to ply their trade legally must go through a rigorous selection process.
In addition to a $1,000 security deposit, the monthly license fee for vendor carts on the pier ranges from $669.33 during off-peak season to $1,338.65 during the summer. Currently, the city licenses nearly 150 vendors that comply with existing rules, but it is not accepting new applications for the pier.
For many street vendors, those costs are beyond their means. So they take a chance.
"If [police] don't see us with the churros, they'll pass us by," said Sofia, a 49-year old vendor from the Mexican state of Oaxaca. Almost every day, Sofia and her three sisters travel an hour by bus to work together in Santa Monica. On a good day, they earn $50 to $60 each.
Pressed against the railing on the bridge to the pier, she sells the churros she bought for 50 cents each in downtown L.A. for a dollar out of an insulated Whole Foods bag.
The sisters, who are in the country illegally, are in constant fear that their work could get them in serious trouble. When they spot a police officer, they quickly cover up their goods and begin walking, hoping to disappear into the crowd.
Sofia began selling at the pier in 2016, after work in downtown L.A.'s Fashion District dried up. She said vending is one of the few jobs, besides cleaning houses and working in the garment industry, that she can do with little to no scrutiny given her legal status.
"It's the reality of the immigrant workers," said street vending activist Tony Bernabe. "That's why they see street vending is an option for them to get money in a different way…. Basically they have more freedom."
Last March, Sofia's sister, Barbara, received an administrative citation and was charged with two different Santa Monica municipal code violations. The fines totaled $575.
With the help of pro-bono attorney Cynthia Anderson-Barker, her fines were reduced to $150. She was also asked to write a letter of apology to the city of Santa Monica for her crime as part of the agreement.
"I apologize [for] not having enough money and selling 'churros' for $1.00 in the City of Santa Monica where this is not allowed," she wrote in the letter addressed to two city attorneys.
Ortiz says her fruit is cheaper than the licensed cart on the pier, where prices range from $7 to $10. She initially offers her product for $7 and sometimes barters down to $5.
Michelle Ramirez, 15, watched the sunset while eating pieces of mango with chili powder she bought from Ortiz's uncle.
"I was really hungry, and they're usually cheaper," she said. "I don't think it should be illegal. But people should be cautious about what they're buying from random people."
It's my hope we can come up with street vending policy which provides opportunity while balancing the interest of our residents, local businesses and visitors.
Santa Monica Mayor Ted Winterer
Anderson-Barker believes that Santa Monica should help put vendors on the path to becoming legal entrepreneurs. She referenced a pilot program in the MacArthur Park area.
"They purchased booths for the vendors, gave them infrastructure and now … they can sell on their own spaces," Anderson-Barker said. "I think the city of Santa Monica needs to explore options so that vendors can sell legally."
Nearly 30 years ago, Santa Monica implemented its own experimental program to permit outdoor food vendors. A city spokeswoman said the program marked the beginning of the existing ordinance.
But until recently, other issues in the city, such as street performers and homelessness, have taken priority over vending.
"It really hasn't been much of an issue in the last two decades," said Rick Cole, Santa Monica's city manager.
Over the next year, the city plans to assess its street performer lottery program, in which performers are assigned and rotated through spots on the pier, to see if it could also work for street vendors.
Meanwhile, officials will monitor and evaluate the administrative citation program.
"We want to see how this works," said Deputy City Manager Anuj Gupta. "Like everything we do in Santa Monica, we'll be looking at feedback we get from the community."
---
The stories shaping California
Get up to speed with our Essential California newsletter, sent six days a week.
You may occasionally receive promotional content from the Los Angeles Times.