L.A. schools police will return grenade launchers but keep rifles, armored vehicle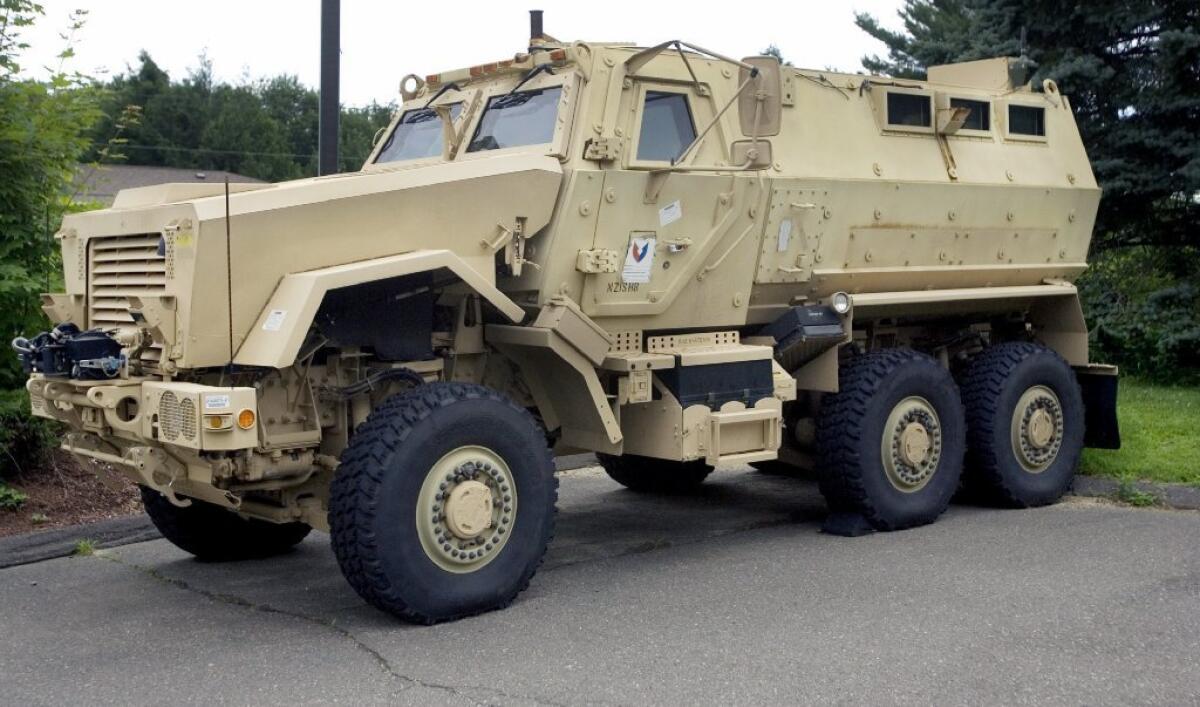 Los Angeles Unified school police officials said Tuesday that the department will relinquish some of the military weaponry it acquired through a federal program that furnishes local law enforcement with surplus equipment. The move comes as education and civil rights groups have called on the U.S. Department of Defense to halt the practice for schools.
The Los Angeles School Police Department, which serves the nation's second-largest school system, will return three grenade launchers but intends to keep 61 rifles and a Mine Resistant Ambush Protected armored vehicle it received through the program.
L.A. Unified is one of at least 22 school systems in eight states that participate in the program, which provides law enforcement agencies with the extra military-grade gear at no charge.
The program gained notoriety and received sharp criticism after recent unrest in Ferguson, Mo., in which local police deployed armored vehicles, wore body armor and carried assault rifles while attempting to quell protests after the shooting death of a black 18-year-old by a white police officer.
More than $5 billion in surplus military equipment has been distributed to law enforcement agencies nationwide, including school police, since 1997.
School police departments have increased their presence and force in recent years, particularly after the 2012 massacre in Newtown, Conn., in which a gunman killed 26 people — 20 of them children — at Sandy Hook Elementary School.
The shooting spurred debate nationwide over whether armed school guards could prevent mass shootings. In California, at least half a dozen school districts allow campus officers to carry high-powered rifles.
School officials argue the guns and other equipment are needed to prevent potential tragedies.
In a letter to the Department of Defense's logistics agency, a coalition of education and civil rights groups said the presence of weapons on campuses will only intensify existing tensions at schools and exacerbate punitive atmospheres that criminalize and stigmatize students of color.
Deborah Fowler, deputy director of Texas Appleseed, a social justice nonprofit, said in a statement that other more common weapons used by officers and security guards, such as Tasers and pepper spray, have been misused in schools. Much of this excessive force is targeted at students of color and those with disabilities, she said.
"Military-grade weapons have no place on our public school campuses," Fowler said. "We're simply calling for a return to common sense when it comes to the way our schools are kept safe," she said.
L.A. Unified says that the M-16 automatic rifles, which were modified to semiautomatic since they were acquired in 2001, are "essential life-saving items" and will continue to be available to trained officers. The armored vehicle will be used only under extraordinary circumstances, officials said.
The Baldwin Park Unified School District Police Department received three of the rifles.
The Oakland School Police Department received a "tactical utility truck," according to the state. The department remodeled the vehicle, which is used as an attraction at school events and parades, Sgt. Barhin Bhatt said.
"It's a rolling public relations vehicle," Bhatt said. "We end up having to bring out a gas can and jumper cables every time we want to drive it — it's only used twice a year."
The department has no plans to acquire any high-powered weapons, Bhatt said.
In Stockton, the school police department was given less-controversial equipment — including a podium, an exercise bike and a pair of televisions.
But the desire to have the tools to adequately protect the public is shared by all law enforcement — especially school police, said Stockton school police Chief Bryon Gustafson. His department has about a dozen AR-15 semiautomatic rifles for its officers that were purchased outside the federal program.
"The job of police officers and the standards are the same whether you are Stockton police or Stockton school police … even if we have very different missions," Gustafson said. "My job is about facilitating education and making sure that students are safe at school."
The program can be a boon for cash-strapped departments that can arm themselves with lifesaving equipment at no cost.
"You hope you never need that kind of equipment," said, adding that the department has purchased about a dozen semi-automatic rifles. "But if you do and you don't have it — it's a shame."
Twitter: @stephenceasar
Sign up for Essential California for news, features and recommendations from the L.A. Times and beyond in your inbox six days a week.
You may occasionally receive promotional content from the Los Angeles Times.